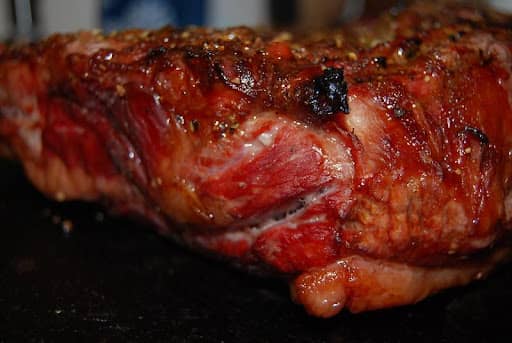 Prepare your meat smoker or grill because we're breaking down all the steps and tips you need to know to smoke tri tip steak. We promise it's worth the wait to take a little extra time to smoke tri tip, which can be notably tender and flavorful when cooked with care.
This small portion of meat comes from the bottom sirloin. Despite being relatively underrated and affordable compared to other steaks, it can offer the same amount of flavor and versatility as some of your other favorites, like sirloin steak or strip steak.
Continue reading this guide to learn how to smoke tri tip steak like a pro.
Why Smoke Tri Tip Steak?
Smoking steak introduces a smoky flavor to the meat that you can't quite get when you sear it in a pan or roast it in the oven. Smoking cooks the steak over a longer period than you would with these other methods, too, giving it plenty of time to soak up the flavors of the smoker. As a bonus, smoking is a relatively easy way to cook tri tip steak, because you don't have to keep a close eye on the meat like you would with grilling or pan-searing.
Smoked Tri Tip Steps
Here, we break down each step of the smoking process for tri tip steak. After reading through, try it for yourself using our easy-to-follow recipe below.
Trim the Tri Tip
Tri tip steak typically comes with some fat, which some people like to leave in place. This is entirely up to your preferences. Some of this fat may cook down as the meat smokes, but thicker pieces of fat may not. If you'd like to trim the fat, use a filet knife to do so, carefully gliding the knife along the underside of the fat until you remove it all.
Season the Tri Tip
First, season the steak with salt on both sides. Then, we suggest leaving it at room temperature for about 45 minutes, allowing the meat to warm up slightly. This helps it cook evenly from outside to inside.
Just before adding it to the smoker, season the tri tip with your other choice of seasonings, like ground black pepper, garlic powder, or a sprinkle of cayenne pepper.
Best Dry Rubs for Tri-Tip
Alternatively, a dry rub can add bolder flavor to your tri tip steak. Any of your favorite steak rubs can work, but we especially enjoy those that already add some smokiness to the meat from paprika, chili powder, or similar spices. While there are plenty of rubs available on the market, you can fine-tune one to fit your tastes by making it yourself. Try our beef brisket rub recipe, which is perfect for smoking.
Smoke the Tri Tip Slowly with Low Heat
Smoked tri tip typically takes between 1-2 hours to cook. We like to set the temperature as low as possible to get close to the two-hour mark, which allows the meat plenty of time to soak up flavors and tenderize. Set the grill or smoker to 225 degrees, and check its temperature with a thermometer at about the one-hour mark. For medium-rare, the meat should reach 125 degrees before removing it. Continue smoking until ready.
Sear the Tri Tip
This step is optional, but searing tri tip after cooking it helps lock in flavor and juiciness. Preheat a skillet over medium-high heat with a drizzle of oil, or fire up the grill to high heat. Sear the steak for 2-3 minutes on each side until a crispy, golden-brown crust forms.
Rest the Meat, then Slice the Tri Tip
Set the meat on a clean plate tented with foil to rest at room temperature for 10-15 minutes. Then, you can slice the roast against the grain before you serve and enjoy.
Tips and Tricks for Success
Follow these tips to get the best smoked tri tip results:
Use a thermometer: Consider using a smoker-safe meat thermometer that can remain in the meat as you cook it, allowing you to see its temperature without having to open the smoker door or grill lid. A digital meat thermometer also works. Begin checking the temperature at about the one-hour mark.
Time everything wisely: While having your roast rest after salting, you can use that time to preheat the smoker. And, once the tri tip roast gets close to your goal temperature in the smoker, preheat the skillet so that it's ready to go as soon as the smoked meat is ready. This will help you save some time preparing your meal.
Slice against the grain: After cooking and resting a tri tip roast, slice it against the grain. This means going the opposite direction with the knife as the lines in the meat. It helps break down tough fibers for a more pleasant texture when chewing.
Smoked Tri Tip Recipe
Try the following recipe using a meat smoker or grill with a lid to make smoked tri tip steak at home.
Ingredients
3-6-pound tri tip roast
Salt
2 tbsp olive oil
Ground black pepper
Fresh thyme or rosemary leaves
2 tbsp butter
Instructions
Trim the fat from the meat, if desired. Sprinkle a generous amount of salt on all sides of the roast. Leave at room temperature for 45 minutes.
Prepare the smoker or grill. Add wood chips of your choice. Preheat the smoker or grill to 225 degrees.
Brush olive oil on all sides of the meat before adding black pepper and thyme or rosemary. Transfer the roast to the smoker or grill, close the door or lid, and cook for about 1-2 hours, depending on your preferred doneness level. Medium-rare tri tip should cook to 125 degrees before removing it.
Preheat a skillet to medium-high heat with butter. Sear the roast for 2-3 minutes on each side.
Place the roast on a clean plate tented with foil for 10-15 minutes before slicing and serving.
How to Smoke Tri Tip Steak
If you enjoyed this guide and recipe, we suggest browsing Steak University, Chicago Steak Company's online database of recipes, cooking tips, and guides to help you cook delicious steak meals at home. We also have articles about other types of steaks, like filet mignon, ribeye, and strip steak, giving you several options for your next steak dinner.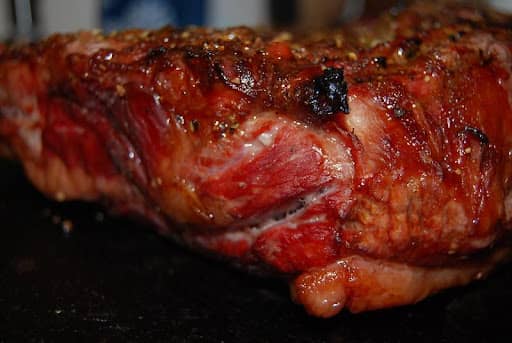 Smoked Tri Tip
Ingredients
3-6

lb

tri tip roast

salt, to taste

2

tbsp

olive oil

ground black pepper, to taste

fresh thyme or rosemary leaves

2

tbsp

butter
Instructions
Trim the fat from the meat, if desired. Sprinkle a generous amount of salt on all sides of the roast. Leave at room temperature for 45 minutes

Prepare the smoker or grill. Add wood chips of your choice. Preheat the smoker or grill to 225 degrees

Brush olive oil on all sides of the meat before adding black pepper and thyme or rosemary. Transfer the roast to the smoker or grill, close the door or lid, and cook for about 1-2 hours, depending on your preferred doneness level. Medium-rare tri tip should cook to 125 degrees before removing it

Preheat a skillet to medium-high heat with butter. Sear the roast for 2-3 minutes on each side

Place the roast on a clean plate tented with foil for 10-15 minutes before slicing and serving