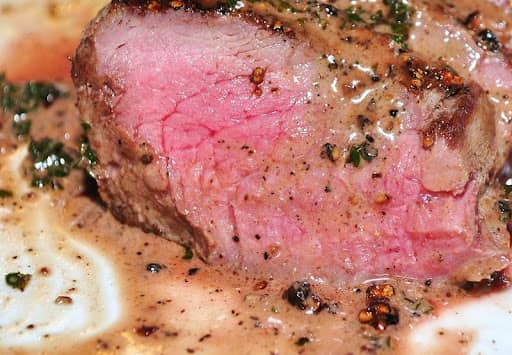 Many will say that a good steak doesn't need any sauce to enhance its flavor or elevate the dish. And, in most cases, those people are correct. However, that doesn't mean that adding a sauce is completely off the table, especially when you're cooking filet mignon steaks for dinner.
Filet mignon is one of the most decadent, luxurious steak cuts. But, as delicious as it is, it has a notably milder flavor than many other steaks, making it an excellent steak to top with a sauce. Of course, you can always opt for a more minimalistic salt and pepper seasoning, but filet mignon sauce can give your steak dish a simple, tasty upgrade.
Filet Mignon with Red Wine Sauce
Red wine and filet mignon pair wonderfully with each other. The wine helps bring out some flavor in the steak without overpowering it. Typically, a red wine sauce for filet mignon is thin, similar to an au jus, but some people prefer a thicker, creamier red wine sauce.
Our instructions below are for a thinner, reduction-style red wine sauce. You can add a few tablespoons of heavy whipping cream while bringing the mixture to a boil if you'd like a creamier version.
Ingredients
2 cups of red wine
4 tablespoons of salted butter
Instructions
After cooking the steak, add wine carefully to the same pan. Bring to a rolling boil, gently scraping up the bits of steak at the bottom of the pan.
Reduce the heat to low, allowing the mixture to come to a simmer.
Allow the sauce to reduce by about half. Add butter to the sauce, whisking gently until melted.
Remove the pan from heat, allowing the sauce to thicken slightly for about five minutes before serving.
Filet Mignon in Mushroom Sauce
A creamy, savory mushroom sauce also works well with filet mignon. This sauce is a good alternative to serving sauteed mushrooms and onions with filet mignon, adding a bit more depth and visual appeal to your dish.
Ingredients
3 tbsp butter
8 oz sliced baby bella mushrooms
1 tsp minced garlic
½ tbsp chopped thyme
1 cup beef broth
1 tsp Worcestershire sauce
½ cup heavy whipping cream
Salt and pepper, optional
Instructions
Melt butter in a skillet over medium-high heat. Add mushrooms, sauteeing for about 4-5 minutes until browned and softened.
Stir in garlic and thyme. Simmer for 1-2 minutes until garlic is fragrant.
Carefully add beef broth and Worcestershire sauce. Stir, and bring to a boil for 1-2 minutes, stirring frequently.
Add whipping cream. Stir, and reduce the heat to low. Simmer for 3-4 minutes until the sauce thickens. Add salt and pepper, if desired.
Filet Mignon with Peppercorn Sauce
Freshly ground pepper is a must-have addition to filet mignon without sauce. If you're a true pepper fan, this peppercorn sauce might become your new favorite pairing to serve atop filet mignon.
Ingredients
2 tbsp peppercorn medley, crushed
2 tbsp butter
½ cup beef broth
¾ cup heavy whipping cream
Instructions
After cooking filet mignon, use the same skillet to melt the butter. Scrape up any leftover cooking bits as the butter melts, stirring them into the butter.
Add peppercorns, stirring them into the butter for one minute.
Slowly add beef broth to the pan. Stir, and bring to a boil for 2 minutes.
Stir in the cream; let boil for 1 minute, stirring continuously. Reduce heat to low, and simmer for another 5-7 minutes.
Remove the pan from heat and allow the sauce to rest for 1-2 minutes until thickened.
Filet Mignon with Horseradish Sauce
Want some heat on your medium rare filet mignon steaks? Top it with this homemade horseradish sauce after cooking it in a cast iron skillet.
Ingredients
½ cup sour cream
2 tbsp horseradish
1 tbsp dijon mustard
1 tsp lemon juice
¼ tsp salt
¼ tsp ground black pepper
¼ tsp ground dill seed
1 tbsp fresh chives, chopped finely
Instructions
Stir together the sour cream, horseradish, mustard, lemon juice, salt, pepper, and dill seed until thoroughly combined.
Add in about half of the fresh chives, and stir. Top the sauce with the rest of the chives.
Serve sauce on the side for dipping, or smear a small portion on each plate to serve with the filet mignon steaks.
Filet Mignon with Blue Cheese Sauce
This simple blue cheese sauce recipe is a good one to use when you're short on time but want to add special flavors to your filet mignon steaks.
Ingredients
1 cup blue cheese, crumbled
¼ cup sour cream
¼ cup heavy cream
½ cup mayonnaise
1 tsp vinegar
Salt and pepper, to taste
Instructions
Add sour cream and heavy cream to a medium saucepan. Bring to a low boil, stirring continuously.
Reduce the heat to a simmer. Stir in blue cheese and allow it to simmer until cheese melts, stirring every 20-30 seconds.
Add mayonnaise, vinegar, salt, and pepper to the mixture, and stir to combine. Continue simmering for 5-10 minutes, stirring regularly, until the sauce thickens.
Bearnaise Sauce
Last but certainly not least is a bearnaise sauce, which is creamy, tangy, and an excellent topper for mild filet mignon.
Ingredients
2 sticks of unsalted butter, melted
2 tbsp scallion greens, finely sliced
½ cup white wine vinegar
3 egg yolks
Splash of lemon juice
Salt and pepper, to taste
Instructions
Melt 1 tbsp of the butter in a small saucepan with 1 tbsp of scallion greens.
Stir in the white wine vinegar and bring just to a boil. Then, reduce the heat to low and simmer for 4-5 minutes. Pour the mixture into a small metal bowl.
Use the same saucepan to melt the rest of the butter until slightly bubbly. Turn off the heat.
Meanwhile, use a separate bowl to combine the egg yolks and lemon juice, whisking until foamy and well combined. Slowly pour the butter into the egg mixture, whisking until combined. If necessary, use an immersion blender to combine the ingredients.
Pour in the vinegar and stir until smooth, again using the blender if needed. Season with salt and pepper, to taste.
Ingredients Needed to Cook Filet Mignon
Cooking filet mignon doesn't require many ingredients, especially when you're topping it with a sauce. You'll need olive oil for searing the steaks and some salt and pepper to season them with on both sides. Then, sear the filets over medium-high heat, flipping once during the searing process.
Filet Mignon Doneness Temperatures
It's possible that you'll need to cook filet mignon in the oven to finish it off after searing in a cast iron skillet. This is especially true if you're cooking past medium rare. Whatever your preferred doneness level, be sure to remove the steaks from the heat when they reach a specific internal temperature, as outlined in the chart below. Then, rest the steaks for another 5-10 minutes before serving.
Rare: 115℉
Medium rare: 125℉
Medium: 135℉
Medium well: 145℉
Well done: 155℉
Experiment with Filet Mignon Sauces
Now that you have a few ideas for sauces to make with filet mignon, you can experiment with other flavors and ingredients you like. But first, order some home-delivered filet mignon. Chicago Steak Company has bone-in and boneless filet mignon steaks from 5-10 ounces. Each steak is flash-frozen and individually wrapped to preserve its quality and freshness until you're ready to enjoy it.
Pan-Seared Filet Mignon
Ingredients
2

6oz

filet mignon

1

tsp

salt

2

tbsp

salted butter

1

tsp

freshly ground black pepper
Instructions
Remove filet mignon from the refrigerator. Salt all sides generously and allow them to sit at room temperature for 45 minutes

Preheat the oven to 400 degrees

Add butter to a cast-iron skillet and heat to medium-high until butter is fully melted

Season filets with pepper before placing them in the pan. Sear for 2-3 minutes until golden-brown crust forms. Flip to the other side using tongs and sear for another 2-3 minutes

Turn off the stove and move the skillet to the oven's middle rack. Continue cooking for 5-6 minutes in the oven for medium-rare, or leave in for another minute or two for medium doneness

Place steaks on a cutting board or plate tented with foil for 5-10 minutes to rest before serving