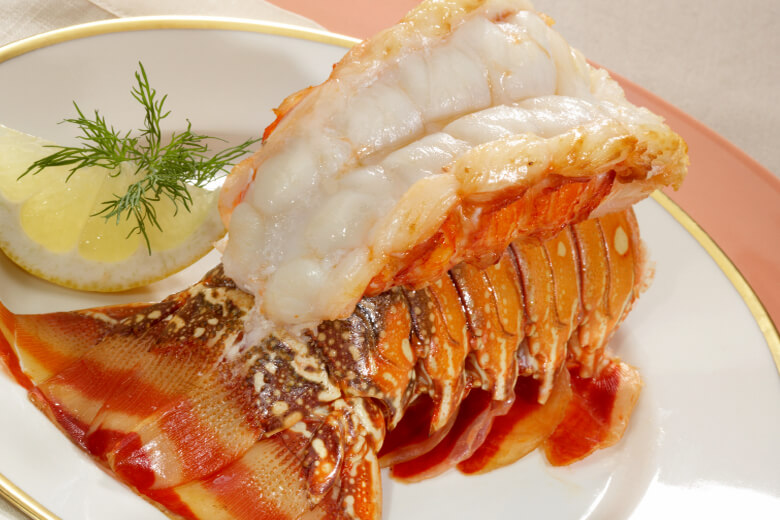 Steak is to lobster as peanut butter is to jelly! If you haven't yet tried this match made in dinner heaven, then it's time you do. Steak and lobster tail tend to scare people away in the kitchen, as they're often thought of as complicated proteins to cook. But, we assure you that they're not as challenging as they seem. Read on to learn more about this power duo and how you can cook it at home.
Steaks to Pair with Lobster Tail
You can use just about any steak you'd like with lobster tail. But, since lobster is so decadent and luxurious, we prefer using steaks that match up! For that reason, our top picks to pair with a lobster dinner are filet mignon and ribeye steak. They're both tender and rich, and their flavors complement lobster meat well.
If you like more subtle steak flavors, go with filet mignon. It's one of the most tender cuts you'll ever eat, but it's not quite as beefy-flavored as other steaks. However, if you want a full-of-flavor steak and lobster experience, opt for ribeye. When cooked to medium rare, it's super tender, and it offers more of the steakhouse flavor some people prefer.
Sides to Pair with a Steak and Lobster Tail Dinner
Steak and lobster tail pair so well together that you can serve a meal with both of them paired with just about any side that you'd serve with either of them separately. For example, roasted garlic potatoes or mashed potatoes are the perfect side dishes for this meal. You can also serve them with roasted asparagus drizzled with fresh lemon juice and sprinkled with fresh herbs or your favorite pasta salad.
You can also go hearty and rich with macaroni and cheese or a smooth risotto. Most salads work well with this dinner, too. Try a refreshing tomato and cucumber salad, a mixed greens salad, or a Caesar salad.
Frozen Lobster Tail Cooking Instructions:
Lobster tail comes to you frozen, whether you buy it online or from the store or seafood market. Cooking frozen lobster tail isn't quite the same as cooking a live lobster. So, before we get into a lobster and steak dinner recipe, let's go over some basic cooking instructions for frozen lobster tail.
Preparation
As to preparation, you can thaw them in the refrigerator for 8 to 10 hours or in a microwave oven (especially if it has an auto-defrost setting). You can cook the lobster tails frozen, but they tend to be more tender if thawed first. Many people would broil them, but it's hard to keep sections from overcooking.
Baking
You can bake lobster in a 400F (205C) oven for 8 to 10 minutes (if they were thawed in advance; longer if they go into the oven. Serve with lemon juice, butter, or a fancier sauce, such as hollandaise or beurre blanc. You can also make a broiled lobster tail in the oven using the oven's broiler setting. Set the oven broiler to 500 degrees and place an oven rack close to the broiler, about 5-6 inches away. 
Steamed Lobster Tail
Steam the tails for about 5 to 7 minutes. They will curl up as they steam, so for the sake of presentation, you can run a wooden skewer through the length of each tail. The steaming liquid (a cup is enough) can adjust be water, but if you use white wine, you could also use it to make a sauce when the lobster is done. Reduced the liquid in a saucepan and add a few tablespoons of tarragon, parsley or chervil and finish the sauce with a little butter or cream.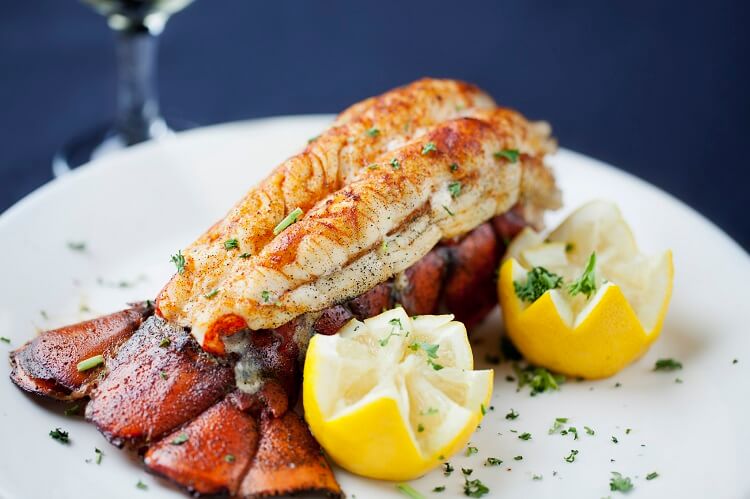 Grilling Steak & Lobster Tail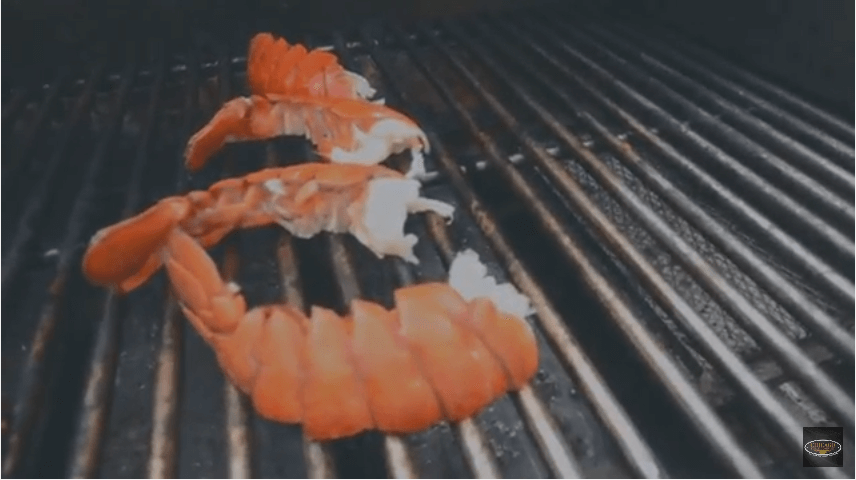 You can also grill lobster tail (oil the grill surface first to keep them from sticking), but it will take a deft touch to keep them from drying out. Lobster also typically takes less time to cook on the grill than grilled steak does, so avoid adding the lobster tail to the grill until the steak has already cooked for a few minutes. 
Once you've figured out the cooking method you'd like to use for your lobster, you now have to decide what to do with it! There are plenty of options for lobster tail after you cook them. While we're going to tell you how to make a lobster and steak dinner, you can make a delicious lobster stew, bisque, salad, or pasta.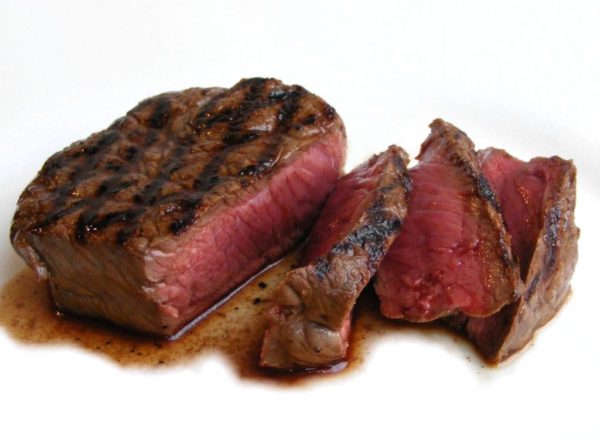 4

8 ounce

Top Sirloin Steaks

1

tbsp

Chicago Steak Company Seasoning

2

tbsp

Worcestershire sauce
4

8 ounce

Top Sirloin Steaks

1

tbsp

Chicago Steak Company Seasoning

2

tbsp

Worcestershire sauce
Sprinkle each side of steak with Chicago Steak Company Seasoning and Worcestershire sauce

Fire up the grill to high heat

Grill steaks for 3-4 minutes per side (based on 1" thick steaks)

Use meat thermometer to ensure internal temperature is between 130-140 degrees Fahrenheit (Keep in mind the inside of the steak will continue to cook a bit longer once it is removed from the grill)

Remove steaks from grill and let sit for 3-5 minutes and enjoy!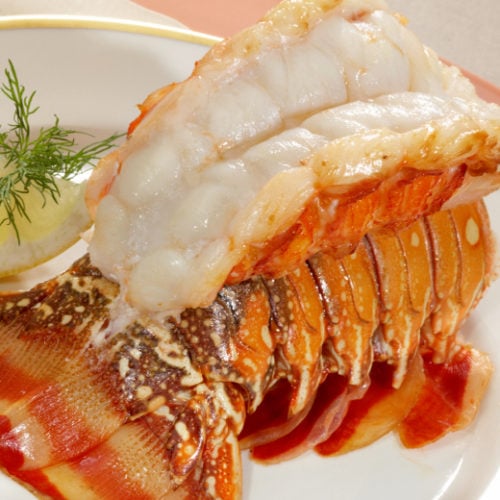 Basic Steak and Lobster Tail Recipe
Steak and lobster tail is also known as a surf and turf meal, and it's one of the yummiest concoctions to eat when you can't decide between a juicy steak and lobster meat. The recipe below is a super simple recipe for steak and lobster tail that serves two and can be made in less than 30 minutes.
Ingredients  
2

8oz

premium angus ribeye steaks

2

6oz

frozen lobster tails, thawed

4

tbsp

butter, melted, plus 2 tbsp butter

2

tsp

lemon juice

2

tsp

garlic powder

1

tsp

parsley

1

tsp

tarragon

1/2

tsp

chives

2

tbsp

olive oil

2

tsp

minced garlic

1

tsp

rosemary

1

tsp

thyme

salt

black pepper
Instructions 
Preheat your oven to 425 °F. Rinse the lobster tails under cool running water for 1-2 minutes.

Using kitchen shears, cut the shell of the lobster tail down the center, stopping at the base of the tail. Use your fingers to separate the lobster meat from the tail, pulling slightly up on the meat.

In a small bowl, combine the 4 tablespoons of butter, lemon juice, garlic powder, parsley, tarragon, and chives. Brush the butter mixture on the lobster meat, ensuring that you've covered all the meat thoroughly. Place on a baking tray and set aside.

Preheat a cast iron skillet over medium high heat. Add olive oil to the pan.

Meanwhile, pat ribeye steak dry and season with as much salt and pepper as you'd like.

Mix together minced garlic, rosemary, and thyme. Cover each steak with the spice mixture, pressing it into the meat.

Add steaks to the pan with 2 tablespoons of butter. Place the baking tray with lobster in the oven on the middle rack. Set a timer for 10 minutes.

Sear the steaks for 2-3 minutes on each side until they develop a golden-brown crust. Spoon the butter over the steaks as they cook to keep them moist. Turn the temperature down to medium low and continue cooking until the meat reaches a medium-rare doneness (about 135 °F).

Remove steak from the pan and let rest for at least 5 minutes.

Check the lobster tail after 10 minutes. The lobster meat should be opaque and feel firm to the touch. If not, put it back in the oven for another minute or two.

Splash a little lemon juice or a drizzle of garlic butter over the lobster just before serving with the steak. Enjoy!