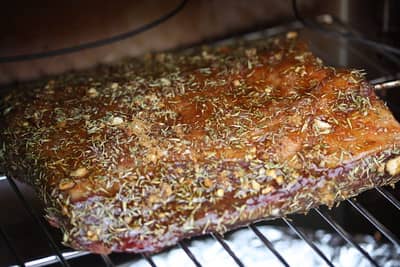 Ready to fire up the grill? If you're looking for that special dish that's sure to spice up your next barbeque, try this quick and easy beef brisket rub recipe. It will impress even your family or friends with the most sensitive palates! With a few key ingredients, this brisket rub recipe will have your guests returning for seconds and planning the next barbecue long before the party ends! So go ahead, keep reading this article to get started.
Brisket Rub Flavor Variations
Ready to take your beef brisket rub up a notch? Try one of these unique brisket rub ideas!
Maple-Bacon: Add a teaspoon of maple syrup and 1/4 teaspoon of smoked bacon bits to get that sweet and smoky flavor combination – it's just like comfort food in a brisket!
Chipotle-Cumin: For a spicy kick, combine 1/2 tsp chipotle powder with 1/2 tsp ground cumin. The strong flavors will surely wake up the taste buds.
Fresh Herb Rosemary and Garlic: An old-time classic, this recipe mixes fresh chopped rosemary with minced garlic for that light yet savory kick.
Citrus Twist: Brighten up your dish with this citrusy blend—combine 1 tsp finely grated orange zest, 1 tsp lime zest, and a pinch of sea salt for an unexpected zing. Level up by adding some lemon or lime juice and olive oil for a wet rub that will cause flavor explosions in your mouth.
Tips for the Perfect Brisket Rub
To turn your good brisket into the perfect brisket, follow these simple brisket rub tips:
Always wait around 30 minutes after mixing all your ingredients together before you apply them to the meat.
Always season your brisket liberally — briskets are thick cuts of meat, so you want the seasoning to penetrate the muscle fibers for more flavor.
Use a light hand when seasoning; too much rub and you could end up with lumps of uncooked seasoning on the brisket's surface.
If you don't want to use your hands, consider a brush. Using a brush can help you get the rub on the brisket more evenly.
After applying the rub, let the brisket sit in a covered dish in the fridge for 1-2 hours before cooking.
Grill over medium-high heat until meat is cooked to the desired doneness. Use an easy-read thermometer as your guide. Remove from the heat, rest, and enjoy!
How Long Should Dry Rub Be on the Brisket?
A dry rub is a great way to add flavor and texture to your brisket. But how long should you leave the rub on the meat?
The answer depends on the specific cut you bought and how much time you have for cooking. Generally, if you have more than 8 hours before cooking, let the rub rest on the brisket overnight. If you don't really have the luxury of time, 30 minutes to an hour should be more than enough.
Chili Mustard Brisket Rub Recipe
Here's a delicious brisket rub recipe that'll leave your guest amazed and wanting more:
Ingredients
2 tablespoons paprika
1 tablespoon garlic powder
1 teaspoon black pepper
1 teaspoon onion powder
1 teaspoon chili powder
½ teaspoon cumin
½ teaspoon dry mustard
¼ teaspoon cayenne pepper
Instructions
Combine all ingredients in a dish and mix thoroughly, making sure there are no lumps.
Rub the mixture generously on your brisket and let sit for at least 30 minutes before cooking.
Grill or bake until the desired doneness (medium rare is preferable) is achieved.
Remove from the heat source, rest, slice, and serve.
Nutritional Benefits of Brisket
Brisket is a cut of meat taken from the chest of a cow. Like other meat cuts, it's an excellent source of protein, with a single serving providing around 20 grams. Additionally, unknown to many, brisker is a great source of essential vitamins and minerals such as B vitamins, zinc, and iron.
Contrary to what many people know about fat, a brisket's healthy fats can help regulate cholesterol levels. They also contain conjugated linoleic acid (CLA), which has been linked to reduced cancer risk. Finally, the lower calories in brisket make it a lot healthier than other cuts of red meat.
These nutritious benefits make brisket an excellent choice for people looking to incorporate more lean meats into their diet without sacrificing texture or flavor.
Conclusion
Brisket is a delicious cut of red meat that is as flavorful as it is nutritious. With the right rub, preparation, and cooking method, you should be able to enjoy this delicious meal with your loved ones without sacrificing any health benefits. So don't delay; shop for a beef brisket today and try out our featured brisket rub for that deep, beefy goodness!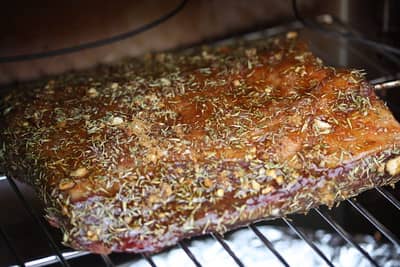 Chili Mustard Brisket Rub
Ingredients
2

tbsp

paprika

1

tbsp

garlic powder

1

tsp

black pepper

1

tsp

onion powder

1

tsp

chili powder

1/2

tsp

cumin

1/2

tsp

dry mustard

1/4

tsp

cayenne pepper
Instructions
Combine all ingredients in a dish and mix thoroughly, making sure there are no lumps

Rub the mixture generously on your brisket and let sit for at least 30 minutes before cooking

Grill or bake until the desired doneness (medium rare is preferable) is achieved

Remove from the heat source, rest, slice, and serve