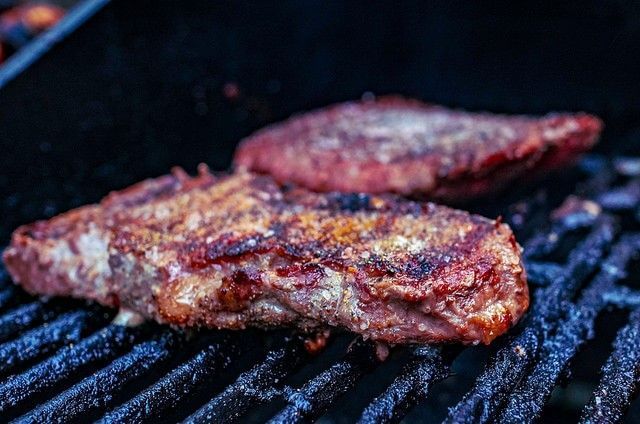 Photo by Ted Eytan licensed under CC BY-SA 2.0
If you're looking for the perfect gifts for Dad this Father's Day, look no further than your own doorstep. Chicago Steak Company can have top-quality beef delivered right to your door in just a few days with plenty of time to spare before Father's Day.
Why Online Steak Delivery?
Ordering steaks online is not only one of the easiest ways to grab a gift for dear old Dad, but it's also one of the best ways to ensure that he absolutely loves what you picked. Our beef is flash-frozen and then vacuum sealed to lock in all the flavors and juices that it would have if you picked it up from the local butcher. However, ordering steak online means that you'll never have to make a trip further than your computer to get the exact type of steaks you want.
Are you struggling with Father's Day dinner ideas? Our steaks can help you there too. Chicago Steak Company has a wide range of steak cuts to choose from as well as best-selling gift sets that include different cuts that can please Dad's palate even after the holiday is over.
When you order the Father's Day Gift Box, for example, you'll get two Premium Angus Beef Filet Mignons and two Premium Angus Beef Boneless Strips. That's the perfect amount for you to treat your dad to an incredible steak on Father's Day and let him save the rest for another night.
What are the Best Steaks for Dad on Father's Day?
Obviously, the best steaks for your dad are going to be whatever cuts he loves the most. But we don't always know what kind of beef Dad prefers and the last thing you want to do is ruin the surprise. Here are a few of the most popular steak choices for this manly holiday that can show your dad just how much you appreciate him:
Filet Mignon
If you're going to splurge on Dad, then you might as well go big with the filet mignon. This piece of meat deserves every penny you spend on it, though, with its melt-in-your-mouth texture that you can't find anywhere else. Pair it with a creamy butter sauce or wrap it in some bacon and let Dad go to town.
Ribeye
The ribeye is one of the most common steaks to order at a steakhouse. That's because you practically can't beat its perfect marbling throughout almost every bite. The fat that winds through the ribeye gives it its flavorful punch and, as it renders while cooking, makes the meat super tender.
T-Bone or Porterhouse
The T-bone and Porterhouse are similar in that they both include a strip on one side and a tenderloin filet (basically, a filet mignon) on the other side. You basically get two cuts in one. The difference is that the Porterhouse is a bit larger, usually because it has a larger filet cut, which means that you'll pay a bit more for this one.
Both cuts have a lot of flavorful meat on them and cook perfectly in a skillet or on the grill.
Bone-In Strip
The bone-in strip steak is similar to the ribeye in that it has rich marbling throughout the cut, but it tends to be a little less tender with slightly more chew. If your dad likes a cut with a little more bite, then he'll probably love the strip, especially if he prefers the beefiest flavor possible when he eats steak.
Conclusion: Online Steaks Delivered Just in Time for Father's Day
What dad doesn't love a good piece of beef? Give your dad the perfect gift this Father's Day with a special delivery from the Chicago Steak Company. You'll get to choose from a vast selection of USDA Prime and Angus beef and your dad will get to dig into a delicious meal he didn't have to pay for. Check out our selection of gift sets to find a gift for Pops and have it shipped to your door in time for the big day.