Before we delve into our newest flavor-filled Steak University article topic, first, a disclaimer.  If you're a steak purist, the type that believes that meat should be naked, un-sauced, cheesed or otherwise boosted with a heaping accompaniment of flavor packing goodness, look away now.  Today's addition to our educational masterclass in all things steak is all about the sauce.
Easy steak sauce recipes with basic seasonings will abound.  Steak sauce recipes that can double as side dishes with the addition of everything from mushrooms to red wine, will definitely be on our list.  And don't forget the classic pepper sauce recipes for your steak, a favorite pairing that we're sure will also have your mouth watering.  So to the brave of experimentation and the lovers of bold flavors, read on; this is the kind of saucy article you've been waiting for!
Why You Should Sauce
Now that we've ditched those aforementioned steak purists, let's get real.  Yes, a good, quality, juicy gourmet steak (like those sold by Chicago Steak Company hint hint) needs little more than salt, pepper and the proper application of heat to create a memorable and tasty dining experience.  But why limit yourself to vanilla when there's chocolate, strawberry and Neapolitan out there?  A quality, gourmet steak on its own is an amazing culinary treat.  A steak dressed with a balanced steak sauce recipe containing just the right amount of complimentary flavors is the like the cherry on top of an otherwise delectable sundae.
Steak Sauce Recipes
You've read this far which means you're either a verified sauce convert or at least open to new experiences when it comes to dressing your steak.  While there are a variety of recipes for steak sauce available online, at Steak University we've done the legwork for you and have put together a few of our favorites sure to please even the pickiest of taste buds.  To kick things off, this easy steak sauce recipe will have you up and running in no time and all and you probably already have most of the ingredients in your kitchen pantry.
| | |
| --- | --- |
| | |
Combine all ingredients and enjoy. Make ahead and store in refrigerator for your go-to steak sauce!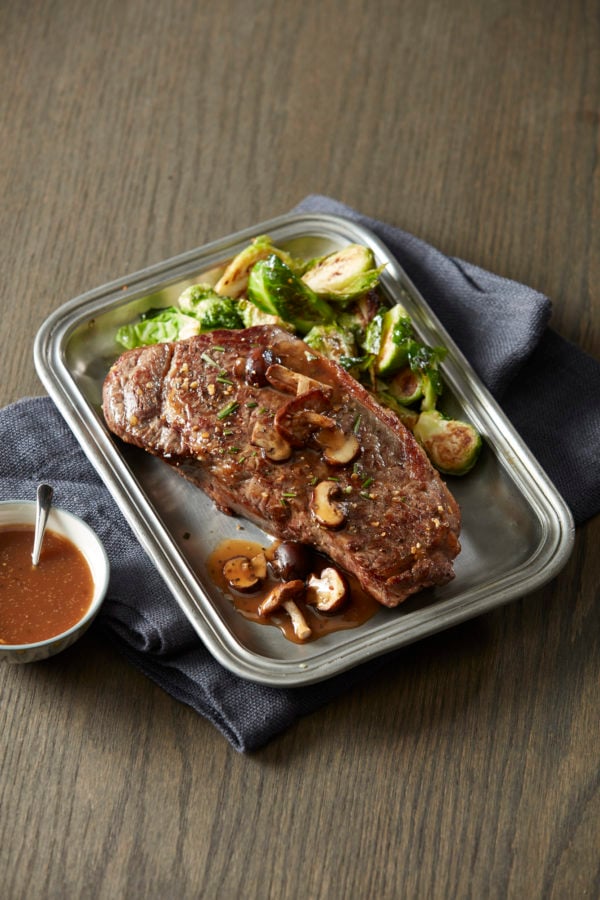 | | |
| --- | --- |
| | |
Sautee mushrooms in a heavy bottom pan or skillet for 4-5 minues

Reduce heat and allow to simmer on low to medium for 10 minutes

Combine flour and water in a separate bowl

Slowly whisk in flour/water combo into the sauteed mushrooms to thicken sauce

Add sauce on top of steaks and enjoy
| | |
| --- | --- |
| | |
Using a mortar and pestel, pepper grinder or other preferred method, crush peppercorns and set aside

In a heavy saucepan combine the butter, boullion, mustard and brandy or port

Bring to a light simmer for 2-3 minutes

Add the heavy cream last, followed by the peppercorns

Once the cream has been introduced be sure to closely monitor to ensure the entire pepper sauce recipe doesn't boil over

Sauce will thicken slightly once removed from the heat
Steak University Tip: For a delicious and rich red wine steak sauce recipe, simply use a good table wine instead of the brandy or port and substitute a few dashes of fresh ground pepper for the whole crushed peppercorns.
Conclusion
Whatever your flavor preference when it comes to steak sauce recipes, remember that it all comes down to customization and getting the most out of your individual meal experience.  While some snobbish sorts of beef eaters may turn up their noses at your sauce-filled shenanigans, at Steak University we endorse enjoying your gourmet steaks in a variety of cooking, dressing and meal combinations.  After all, variety is the spice of life, and steak!