Steak and pineapple are two ingredients that go together perfectly. Pineapple steak recipes can range from steak topped with pineapple chunks to delicious marinades for grilled pineapple steaks. From sweet to tangy flavors, pineapple can create it all. One flavor that we love to incorporate pineapple with is teriyaki for an Asian-inspired steak dish.
This pineapple teriyaki marinade for steak combines classic teriyaki flavor with the sweetness of pineapple for an incredible dish you won't forget. Chicago Steak Company's flat irons are the perfect pairing for this pineapple teriyaki marinade recipe.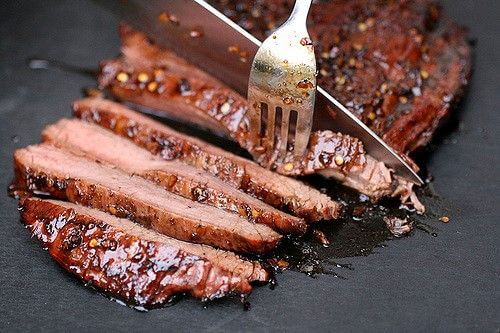 | | |
| --- | --- |
| | |
In a shallow mixing bowl, combine all ingredients except for the flat iron steak. Mix thoroughly until all ingredients are combined and there's no sign of separation.

Place the marinade in a seal-able plastic bag.

Add uncooked flat iron steak, turning to ensure that all steaks are coated with the marinade evenly.

Allow to marinate in the refrigerator for at least 30 minutes, but 1 hour is ideal.

About 30 minutes before you're ready to cook your flat irons, remove them from the refrigerator and allow them to sit at room temperature.

Preheat a cast-iron skillet on medium-high.

Place flat iron pieces on the skillet, allowing them to cook for 4 to 6 minutes.

Garnish with some extra crushed pineapple and juice, if desired.
You can also grill your flat irons over medium-high heat for just a couple of minutes on each side. This marinade also works well for skewers; just cut the flat irons into slightly larger chunks instead of strips before marinating!
If this recipe was right up your alley, then we hope you check out some of our other favorite recipes over at Steak University! Don't forget to browse our helpful cooking tips and other resources that will bring your steak dinners to another level.