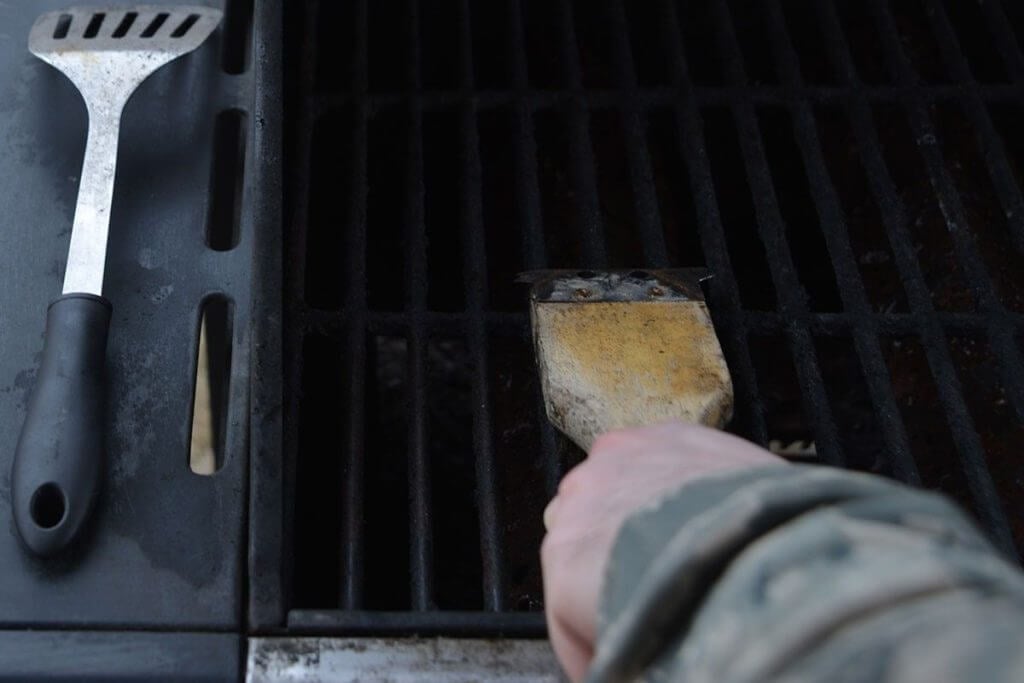 Credit: Javier Alvarez
It's almost that time of year we can't wait for: backyard fires, bathing suits, and good old barbecue! But, with all that awesome stuff comes some reality, too. It's time to clean the grill to get it ready for its big grilling season debut. All grill owners should spend some time learning the best way to clean a BBQ grill so you get as much longevity from it as you can. Springtime is the perfect time to deep clean a filthy grill that's been sitting untouched for months. Here goes nothing!
Shouldn't You Clean Your Grill After Every Use?
Absolutely! As important as it is to give your grill a couple of deep cleanings through the year to prevent rust and grime buildup, it's just as important to do some barbecue cleaning after every use. It makes for a much more easy clean BBQ experience when you spend a few minutes cleaning a BBQ after you're done using it.
What is the best way to clean a BBQ when you're done? Fortunately, you only should spend about ten minutes cleaning to ensure that food and debris don't get caked on your grill and cause a huge mess.
The most important things to do after you use your grill are:
Keep the grill running for about 10 to 15 minutes to help burn off excess food debris, which makes outside grills much easier to clean.
Clean the grill grate and metal plates. Doing so when they're still warm – but not hot enough to burn you – will make them even easier to clean off. You can even remove them and bring them inside to give them a good scrub with your grill brush to make it easier.
Use your grill brush to scrub underneath the grill hood to remove oil, smoke, and food particles.
Use a mix of water and a small amount of dish detergent to clean the outside of the grill to remove smoke, food, and oil debris that can cause it to rust.
Best Way to Clean BBQ: Deep Cleaning Tips
If you regularly did some thorough BBQ cleaning through the grilling season, then you shouldn't have to spend too much time doing your deep spring cleaning. But, this cleaning is super important for keeping your outdoor grill working its best.
You should also take this time to perform some maintenance on your grill. Check the barbecue grill grate, lines, knobs, fuel tank, and any connections for signs of damage, like cracks or holes. Replace them immediately before you fire up the grill for the first time.
Also, a can of compressed air can be your best friend for removing leaves, insects, and spider webs from the inside of your grill. Use it before you get started with cleaning your grill.
If you notice carbon flakes, which resemble peeling paint, on the lid, you can scrape them off with a hard-bristle brush.
Best Degreaser for Grill: Vinegar
Forget the expensive grill cleaner products. One of the best things you can use to clean your grill is good old vinegar. It acts as a natural degreaser for grill interiors and exteriors that blasts through tough, stuck-on messes, yet keeps your grill free from harmful chemicals that can seep into your food.
Simply mix equal parts of vinegar and warm clean water in a spray bottle and go to town. If you find that you have some tough messes, allow the vinegar solution to sit on stubborn spots overnight and scrub them in the morning.
How to Clean Gas Burners vs How to Clean BBQ Grill That Uses Charcoal
The main difference between cleaning grates for gas grills and grates for charcoal grills is that charcoal grills usually take a little more elbow grease. However, you may have a few extra parts to clean on a gas grill if your grill has tents over the burners. But, the general idea is the same.
Use vinegar and your grill brush to scrub your grates and lid interior. Remove the burners on your gas grill, paying close attention to how you removed them so you can easily replace them. You can use vinegar to scrub these as well. If your charcoal grill has an ash catcher, be sure to remove it and clean it out.
How to Clean Stainless Steel BBQ Exterior
Vinegar or warm soapy water can easily remove most grease and dirt from your stainless-steel grill. If you have particularly stubborn spots, use a sponge without a scratch pad to buff the surface with warm soapy water. Use a microfiber towel to dry the grill. Then, you can keep it protected by wiping the stainless steel with a wipe made specifically for the material.
How to Remove Rust from BBQ Grill
Learning how to clean a rusty BBQ is something all grill owners should know! Rust can quickly eat through your grill and grates, causing holes and rendering it useless. In case you find a rust spot, be prepared to clean it fast with these tips:
Clean away surface rust with a wet sponge.
For deeper rust spots, soak them for several minutes with a soapy water solution before attempting to scrub them with a sponge.
For especially stubborn rust areas, create a paste using baking soda and vinegar. Add just enough vinegar to ½ cup of baking soda to form a thick paste to spread on the rust spot. Then, scrub it clean with a sponge and warm water and do a final warm water rinse.
The Last Word from Steak U
That's all the cleaning instructions you should need to keep your grill in tip-top shape all year 'round. As long as you remember to give it a good scrub after every use, keep it dry, and do a couple of thorough cleanings each year, you should have a healthy grill for years to come. Don't forget to check out our Cooking With Fire series to learn the most awesome ways to cook delicious steaks on your shiny, clean grill!