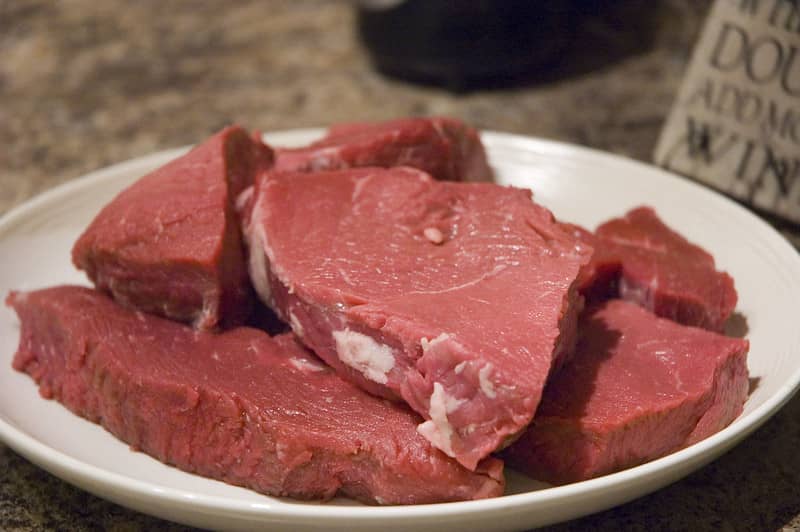 Why deal with all the work of setting up and cleaning your grill just for a weekday steak meal when the air fryer can do a great job as well? This convenient countertop appliance circulates air around the food as it cooks at a high temperature, creating the effects of a deep fryer without all the oil. Of course, it works for foods that aren't usually deep-fried, such as steak. The Top Sirloin steak cut is a great choice for cooking this way thanks to its generous marbling, tender texture, and flavorful bite. Prepare to make the most of your air fryer with this technique for cooking steaks that can work for almost any thicker cut of beef.
Why Use an Air Fryer
There are a number of benefits to using the air fryer to cook a steak. First, you don't need to go outdoors when the weather's not conducive to grilling or smoking. It's a convenient and easy way to enjoy steak year-round with less work. Since the meat cooks so quickly, it's great for nights when you don't have the energy for time-consuming cooking methods. Yet you don't sacrifice flavor or texture by choosing the air fryer.
Second, the circulating air in the air fryer helps brown and sear the steak's surface. This gives you the rich flavor and texture of a grilled steak without the extra work. There's no need for a cast iron pan to finish the process off when you're using this appliance.
Finally, air fryers have a fat collection system where oils drip down as the meat cooks. A lean way of cooking, this method keeps the steak juicy while reducing the amount of fat you eat in the end. If you're trying to fit more steak into a reduced-fat diet, this is an ideal way to cook it. It also prevents the mess that can come with frying a steak in an open pan and reduces the need to heat up the whole kitchen with the oven.
Should I Use Frozen or Fresh Steak?
Both frozen and fresh Top Sirloin steak will work just fine with this cooking method. If you start with a frozen steak, make sure to fully defrost it in the refrigerator first. This can take a day or longer for a thicker-cut steak. Using cold water to defrost it can also work, as long as you change the water every two hours until the steak is thawed. Avoid using a microwave to defrost the steak because the texture will be changed. Fresh steak cooks up easily in the air fryer with minimal preparations. Yet no matter how the steak starts out, make sure to let it come up to room temperature on the counter before cooking for the best texture and flavor. This is recommended even when using an air fryer.
Best Seasoning and Marinating Suggestions
Top Sirloin steak has enough marbling to take strong rubs and seasoning mixes without getting overwhelmed. Marinating the meat can soften it and add flavor, but be careful with the amount of oil since it can make your air fryer smoke a lot while cooking. Use a marinade that is higher in other liquid ingredients and relatively low in sugar so that the meat remains juicy without getting browned too quickly. For dry seasonings, consider combinations like:
Dried oregano, dried thyme, granulated garlic, powdered cumin, smoked paprika, and black pepper
Chili powder, cayenne pepper, granulated garlic, black pepper, brown sugar, instant coffee, and salt
Onion powder, granulated garlic, dried parsley, dill seed, rubbed sage, black pepper, and salt
Herbes de Provence, which combines dried herbs like rosemary, lavender, oregano, thyme, marjoram, and tarragon with powdered bay leaves
Powdered Chipotle chilies, cocoa powder, cumin powder, black pepper, mustard powder, cayenne pepper, and brown sugar for a spicy kick.
Tips for Cooking Top Sirloin Steak in the Air Fryer
Adjust the amount of time your steak spends in the air fryer based on its thickness. Thicker cuts will need more time, while thinner cuts should be checked for internal temperature much earlier. Use steaks no thinner than 1 inch for this method to avoid tough or dry meat. Make sure you have an accurate meat thermometer before attempting to use this cooking method. For a richer mouthfeel and extra flavor, top the steak with flavored butter after letting it rest. Use an air fryer that is at least 1800 watts for the best browning. Smaller models with less power will cook the steak sufficiently for food safety, but they won't produce the best flavor and searing on the surface.
Apply a little oil to the surface or use a marinade with a small amount of oil in it to help with browning. There's no need to add extra oil or cooking spray while cooking the steak. Cook just one to two steaks at a time, depending on the size of your air fryer, so they aren't overcrowded while cooking. Use a doneness temperature chart for the Top Sirloin steak to make sure you're getting the level of cooking you want based on the internal temperature. Aim for around 125 degrees F for a rare steak, 145 degrees F for medium done, and 160 degrees F for well done.
Air Fryer Top Sirloin Steak Recipe
Make sure your air fryer is big enough to hold the Top Sirloin steak before planning to cook it with this method. Each steak cooks in around 10 to 15 minutes, depending on the desired level of doneness, so it's not too hard to cook two steaks separately and still enjoy them at the same time.
Ingredients
1 to 2 Top Sirloin steaks, at least 1 inch thick for best results
1 tablespoon of olive oil or other high-heat neutral-flavored oil
Salt and pepper to taste
Instructions
1. Take the steak or steaks out of the refrigerator at least 20 to 30 minutes before cooking. This allows the meat to warm up to room temperature before cooking. Preheat the air fryer as well, setting it to 400 degrees or a high heat setting.
2. Once the meat has reached room temperature, dab the surface of the meat with paper towels to dry it. Rub the surface of the steak with the olive oil, then sprinkle on the salt and pepper.
3. Add the seasoned steak to the preheated air fryer. Cook the steak for at least 10 minutes, checking the temperature at that point every two to three minutes until it reaches your desired doneness. Flipping is optional but not usually necessary. Take the steak out when the temperature reaches the right point and let it rest for 10 minutes under a tent of aluminum foil.
Notes
Double-layered air fryers can often prepare side dishes alongside the steak, but you won't get the best sear from trying to cook two steaks at once this way.
Conclusion
Grab some Top Sirloin steaks from the Chicago Steak Company and find a new favorite way for cooking them in the comfort of your kitchen. You may even decide you prefer air fryer steaks to the oven or the grill.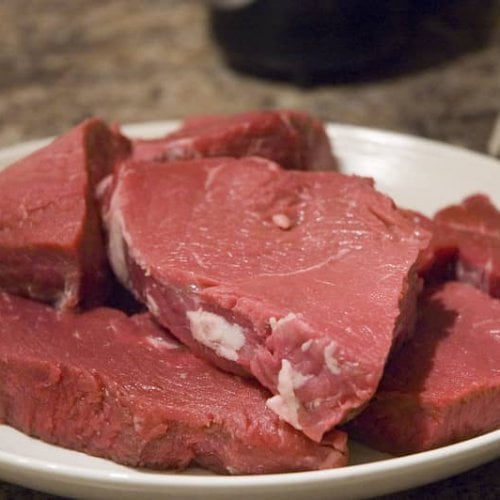 Air Fryer Top Sirloin Steak
Ingredients  
1-2

top sirloin steaks, at least 1 inch thick for best results

1

tbsp

olive oil or other high heat neutral flavored oil

salt, to taste

pepper, to taste
Instructions 
Take the steak or steaks out of the refrigerator at least 20 to 30 minutes before cooking. This allows the meat to warm up to room temperature before cooking. Preheat the air fryer as well, setting it to 400 degrees or a high heat setting

Once the meat has reached room temperature, dab the surface of the meat with paper towels to dry it. Rub the surface of the steak with the olive oil, then sprinkle on the salt and pepper

Add the seasoned steak to the preheated air fryer. Cook the steak for at least 10 minutes, checking the temperature at that point every two to three minutes until it reaches your desired doneness. Flipping is optional but not usually necessary. Take the steak out when the temperature reaches the right point and let it rest for 10 minutes under a tent of aluminum foil