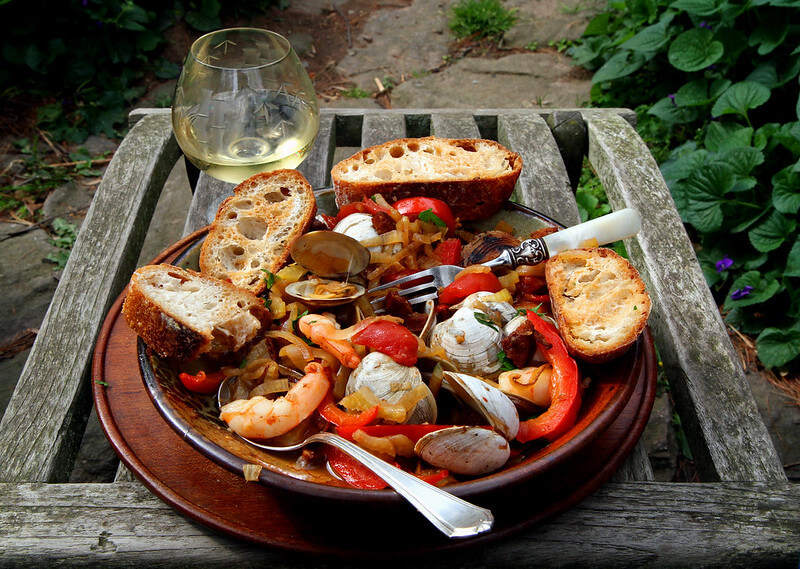 Photo by Anoldent licensed under CC BY-SA 2.0
What do I do when I am close to the ocean? Look for the harbor and the freshest seafood I can lay my fingers on. Fresh shrimp was on my mind, and guess what – I found them. So now all I needed were some fresh clams, fresh corn and potatoes for my Seafood Boil. Enjoy and Bon Appetit.
~ Chef Philippe Bind
Ingredients:
2lbs Large shrimp shell on
1lb Littleneck clams
1 ½ lbs. Baby red new potatoes
6ea. Ears of white corn chucked
8oz. Andouille sausage cut into 1 ½ inch pieces [fully cooked]
8oz. Kielbasa sausage cut into 1 ½ inch pieces [fully cooked]
2Tablespoons Chicago Steak Company Seasoning
4Tablespoons Old bay Seafood seasoning
1ea. Red onion cut into quarters
4ea. Celery stalks washed and cut in half.
Preparation:
In a large pot with a lid place your onion, celery, potatoes and corn. Season with 2 tablespoons of old bay seasoning, as well as 1 tablespoon of Chicago Steak Seasoning. Cover with water, cover and boil for 15 minutes. Remove the lid and layer on top Shrimp clams and both sausages. Add remaining seasoning and close with your lid. You will now be steaming your seafood and sausages as they rest on top of your vegetables, do so for an additional 10 minutes. Remove all the ingredients carefully from your pot discard your liquids and place on your favorite seafood platter. Serve this with a crisp Sauvignon Blanc.