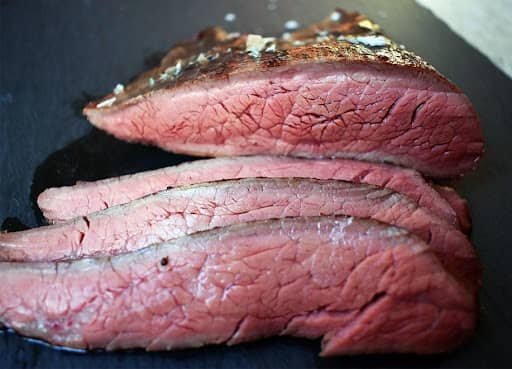 Some steak cooking methods leave you wondering how to get a tender pink middle without overcooking the outside. Sous vide leaves the guesswork out of the equation by cooking flank steak in a water bath to allow for even cooking throughout. The result is steak cooked to your preferred doneness level without a lot of work on your part.
Want to learn how to sous vide flank steak? Read through this guide and follow the recipe and instructions below to sous vide like a professional.
Preparation for Sous Vide Flank Steak:
Get ready to sous vide by preparing everything you need ahead of time. For sous vide, you'll need black pepper and salt or your favorite marinade, sous vide bags, and a vacuum sealer. Alternatively, you can use sealable food storage bags.
After you sous vide, you'll also need a preheated skillet with a drizzle of oil to sear the steaks, if desired.
Cooking Time
Flank steak only needs about two hours to cook with sous vide, but you can let it cook for up to four hours if you prefer. After sous vide cooking, flank steak needs about 10 minutes total to sear and rest.
Final Temperature
The final temperature of your steak should fall within the range below given for your preferred doneness level. Refer to this chart when taking the temperature of your flank steak to ensure the right cook.
| | | |
| --- | --- | --- |
| Steak Doneness | Cook Temperature | Final Temperature |
| Medium-rare | 130°F | 130°F-135°F |
| Medium | 140°F | 140°F-145°F |
| Medium-well | 150°F | 150°F-155°F |
| Well-done | 160°F | 160°F-165°F |
Cooking to Medium Rare
We suggest medium-rare for sous vide flank steak. To make your sous vide flank steak medium-rare, set the water temperature to 130 degrees. Cook in the water bath for two hours, or four hours maximum.
Flank Steak Sous Vide Tips
Before learning how to sous vide flank steak, take note of these helpful tips:
Consider Using a Marinade
It's completely optional to use a marinade on steak, but flank steak is one of those cuts that it works really well with. The right marinade adds flavor and helps tenderize the steak throughout the sous vide process. If you decide to use one, marinate your flank steak for at least two hours in the refrigerator before cooking, or preferably overnight.
Dry It Before Searing
After you sous vide flank steak, your steaks will be moist, especially if you use a marinade. It's important to pat them completely dry on both sides if you plan to sear them. Doing so removes the moisture on the surface of the steak to allow the outside to crisp in the skillet.
Use a Thermometer
Always use a food thermometer to check the internal temperature of your steak after cooking it. This ensures that it's cooked thoroughly and reaches your desired doneness level. Use the chart above to check that your steak has reached the right temperature range for your preferred cook.
Choosing the Right Cut
Buying high-quality flank steak at the butcher or store is the best way to get high-quality results when you sous vide. Look for steaks marked as Premium Angus, USDA Prime, or Wagyu. These are premium cuts of steak with excellent marbling and overall quality compared to more affordable cuts that can be tougher and not as flavorful.
If possible, choose aged steaks. Wet and dry-aging enhance the flavor of steak and break down tough fibers, which is especially helpful in tenderizing flank steak.
Sous Vide Flank Steak Instructions
Learn how to sous vide flank steak with these step-by-step instructions.
Step 1: Prepare for Sous Vide
First, set your precision cooker or water bath to 130 degrees if cooking to medium-rare. If you'd prefer a different doneness level, use the temperature chart above to determine the best water temperature.
Season steak with salt and pepper on both sides. Skip this step if you used a marinade.
Place steak into sous vide bags, ensuring you leave enough room to properly seal each bag. Cut steak into portions if necessary. When sealing the bags, remove as much air as possible.
Step 2: Cook Flank Steak Using Sous Vide
Carefully lower the flank steak into the water bath until the bags are completely covered by water. Set a timer for two hours or a maximum of four hours.
Step 3: Sear and Rest the Steak
Preheat a skillet with a drizzle of oil over medium-high heat. Remove steaks from their bags and pat dry. Then, sear in the skillet for 1-2 minutes on each side until golden brown.
Rest for five minutes on a foil-tented plate before serving.
Sous Vide Flank Steak Recipe
Serves: 2
Prep time: 10 minutes
Cooking time: 2 hours, 15 minutes
Ingredients:
1 ½ pounds of flank steak
Salt
Pepper
Marinade (optional)
Olive oil
Instructions:
Set the temperature of your water bath to 130 degrees for medium-rare. Sprinkle steaks with salt and pepper (if using a marinade, you can skip this step if you'd like). Then, add one steak to each sous vide bag. Seal the bags, removing as much air as possible.
Carefully lower the bags into the water so that they're fully submerged. Cook for two hours or up to four hours, maximum.
Remove the bags from the water with tongs. Carefully open each bag and remove the steaks. Pat them dry completely. Heat a skillet with a drizzle of oil. Sear steaks on each side for 1-2 minutes until golden brown. Remove from heat and rest for five minutes.
Sous Vide FAQ's
Is flank steak good for sous vide?
Yes, flank steak works well with sous vide. While some cooking methods can leave it tough and chewy, sous vide helps break down and tenderize the meat for a softer chew.
How long does it take to sous vide flank steak?
Medium-rare flank steak cooks for about two hours. However, you can cook for up to four hours via sous vide if you'd like an even more tender flank steak.
Should I sear sous vide flank steak?
Searing your flank steak after sous vide cooking is entirely optional. However, a crispy sear can enhance the flavor and texture of your steak, so we recommend searing after you sous vide.
Does flank steak get more tender the longer you cook it with sous vide?
Yes, flank steak typically gets more tender when you cook it longer with sous vide. However, if it cooks past the four-hour mark, it may become very soft and almost mushy. When this happens, flank steak can lose some of the chew that steak lovers enjoy. We recommend staying in the 2-4 hour range when cooking flank steak with sous vide.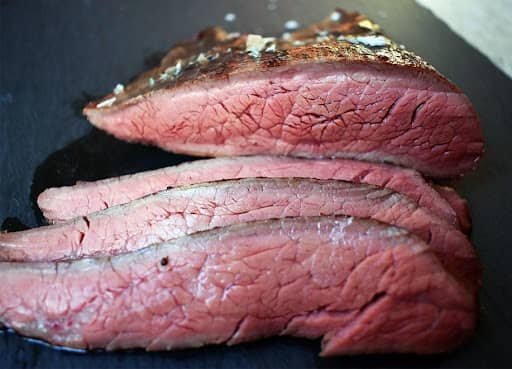 Sous Vide Flank Steak
Ingredients
1.5

lbs

flank steak

salt

pepper

marinade (optional)

olive oil
Instructions
Set the temperature of your water bath to 130 degrees for medium-rare. Sprinkle steaks with salt and pepper (if using a marinade, you can skip this step if you'd like). Then, add one steak to each sous vide bag. Seal the bags, removing as much air as possible

Carefully lower the bags into the water so that they're fully submerged. Cook for two hours or up to four hours, maximum

Remove the bags from the water with tongs. Carefully open each bag and remove the steaks. Pat them dry completely. Heat a skillet with a drizzle of oil. Sear steaks on each side for 1-2 minutes until golden brown. Remove from heat and rest for five minutes