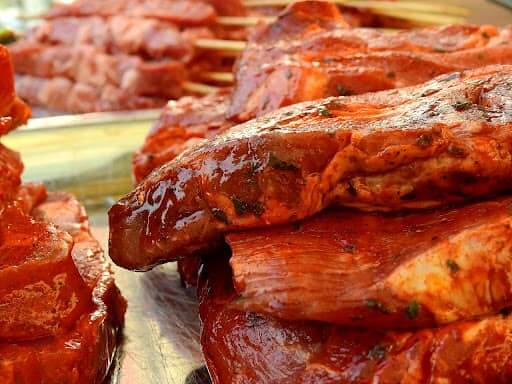 If you're one of those who enjoy the sweet-savory flavor combination, then this marinade is perfect for you. You only need a few ingredients to really bring out the flavor of your top sirloin steak and add more layers of deliciousness. At the end of this article, you should know how to make perfectly seasoned steak for your next steak night!
Benefits of Marinating Top Sirloin
Marinating before you cook your top sirloin steak will enhance its flavor and give it a more tender texture. As the steak absorbs the marinade, the steak becomes richer and better. If your top sirloin steak recipe has citrusy ingredients, the acidity will also help break down the fibers and tenderize the steak cuts. Marinating top sirloin can be nutritious, too since you can elevate the flavors without piling up the calories or fat.
Best Marinades to Use on Top Sirloin Steak
Top sirloin steak is one of the best cuts when it comes to marinating since it's known for really absorbing the flavors thrown into it. Here are some marinade ideas you can make in the future:
Soy sauce, honey, and scallions: This is the perfect marinade if you want delicious Asian-inspired flavors in your meat cuts.
Worcestershire sauce, garlic, rosemary: This savory marinade has herbs and aromatics that will infuse your steak with deep beefy flavors.
Red wine, olive oil, thyme: This combination tastes as amazing as it smells once it hits the grill. The red wine gives the top sirloin steak more flavor layers but in a delicate and not overwhelming way.
Lemon juice with oregano and chili powder: Classically Mediterranean, giving your steak zing and a fresh flavor that will wake up your taste buds.
Balsamic vinegar, basil, garlic: This sweet yet tangy marinade is going to feel like a decadent explosion of flavors in your mouth.
Lime, garlic, Worcestershire sauce, chili flakes.: For top sirloin steak lovers who enjoy more spice than others, this spicy marinade is guaranteed to tantalize the taste buds of anyone who will taste these steaks. This will surely give your steaks the kick you're looking for.
Best Method of Cooking Marinated Top Sirloin Steak
Here is a list of the best methods for cooking marinated top sirloin steak:
Grilling: Grilling is a great method for cooking marinated top sirloin steak if you're after that amazing smoky flavor and those unmistakable grill marks. The high heat allows you to cook the steak fast and create a crisp outside texture that seals in the flavor and the juices inside the meat. Grilling also melts the excess fat and drips it off the racks.
Oven Roasting: This method is perfect for busy people who don't want to keep watching their steak cook. Oven roasting not only cooks the steak evenly but it also prevents the meat from drying out. Because oven roasting creates a crisp outside texture from all sides, the meat's juices are kept inside the steak, leaving you with tender cuts every time.
Pan Searing: Everyone loves that distinct crust created when pan searing steak. Pan searing gives the meat a deep flavor and makes it aesthetically pleasing when serving. Additionally, this method will give you more control over the doneness because you can easily remove the cuts from the pan or skillet and stop the cooking process. 
Tips and Tricks
Here are some tips and tricks for cooking marinated top sirloin steak:
Use an easy-read meat thermometer to check if your top sirloin steak is cooked to your desired doneness.
No matter which method you use, always allow the steak to rest when finished cooking. This will redistribute the juices in the meat, which will keep the steaks tender.
If you're going to use the pan-searing method, it's best to use a high-smoking point oil like peanut or avocado oil.
You are more likely to create a good crust if you pat the steaks dry with paper towels before cooking.
Sweet and Savory Top Sirloin Steak Marinade Recipe
If you want to bring out the unique texture and flavors of your top sirloin steak, marinating is the way to go. This sweet and savory marinade recipe combines rich and tangy flavors that give your steaks a truly balanced flavor profile, unlike other flavor-infusing methods. Here's the recipe you can follow.
Ingredients
1/4 cup of soy sauce
2 tablespoons of honey
2 cloves of garlic, minced
2 tablespoons of olive oil
1 tablespoon of balsamic vinegar
1 teaspoon of ground black pepper
Instructions
In a large and deep dish, combine all the ingredients together and mix well until fully combined. Make sure the consistency is smooth.
Place the top sirloin steak in another shallow dish and pour the marinade all over the top sirloin steak cuts. Remember to check for air pockets and make sure your steaks are fully covered on both sides.
Cover the dish to lock in the flavors and place the marinated steaks in the refrigerator for at least 2 hours to give the steak ample time to absorb the flavor.
Preheat your oven or grill to 375F before taking the marinated meat out of the fridge
If you're oven-baking, cook for 20 minutes or until the desired doneness is reached. You may have to flip the steaks once halfway through the cooking time
If you're grilling, you should cook the steak cuts on medium heat for 4 minutes per side. If you're new to cooking steak, always use a meat thermometer to check for your preferred doneness.
Notes
If you're going for a really intense beef flavor, consider marinating your top sirloin steak cuts overnight or up to 24 hours. You can change the amount of ingredients based on your and your guests' preferences. You can also create several marinades so you can serve different kinds of flavors, just make sure to cook them by batch. Cook your steaks at the proper temperature and prevent overcooking so the meat can retain its juiciness.
Conclusion
Buying premium top sirloin steak is half the battle when making the perfect steak. This easy recipe guarantees you get flavorful and tender steak every time. Once you're more comfortable with this recipe, you can start experimenting with other recipes as well as the cuts of meat you can use. So what are you waiting for? Start making this marinade today and get cooking!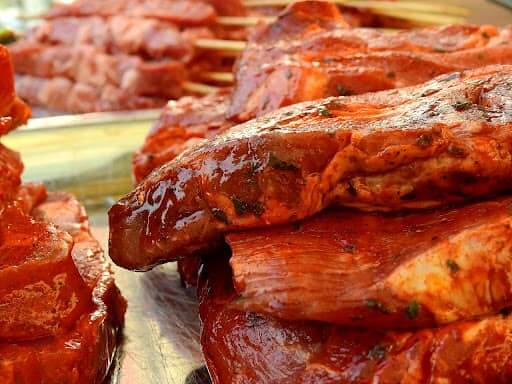 Sweet and Savory Top Sirloin Steak Marinade
Ingredients  
1/4

cup

soy sauce

2

tbsp

honey

2

cloves

garlic, minced

2

tbsp

olive oil

1

tbsp

balsamic vinegar

1

tsp

ground black pepper
Instructions 
In a large and deep dish, combine all the ingredients together and mix well until fully combined. Make sure the consistency is smooth

Place the top sirloin steak in another shallow dish and pour the marinade all over the top sirloin steak cuts. Remember to check for air pockets and make sure your steaks are fully covered on both sides

Cover the dish to lock in the flavors and place the marinated steaks in the refrigerator for at least 2 hours to give the steak ample time to absorb the flavor

Preheat your oven or grill to 375F before taking the marinated meat out of the fridge

If you're oven-baking, cook for 20 minutes or until the desired doneness is reached. You may have to flip the steaks once halfway through the cooking time

If you're grilling, you should cook the steak cuts on medium heat for 4 minutes per side. If you're new to cooking steak, always use a meat thermometer to check for your preferred doneness