When it comes to high quality, tender, juicy, gourmet USDA Prime steaks you may think the international hubs like New York, Texas or California are where it's at.  Well at the Chicago Steak Company, we're here to tell you that the south knows what they're talking about when it comes to a quality steak dinner.  In a land known for its prowess on the grill, it's no wonder that there's so many great Atlanta, Georgia establishments where you can pull up a chair and get the total steakhouse experience.  In fact, we found so many places to snag a high-end steakhouse meal, we're convinced that a quality cut of beef was the reason the devil was hanging around Georgia in the first place.
Whether you're thinking of paying the peach tree state a visit or are a long-time resident, Atlanta is home to some of the region's best steakhouses.  Bite into tender beef over a power lunch or impress on that critical first date with tender filet; Atlanta certainly has something for everyone's taste in both gourmet meat and ambience.  We sifted, sorted and ate our way through Atlanta's beefy culinary wonders to narrow the choices down to the Top Ten Atlanta Steakhouses to lend a helping hand and stomach.  Make your way even partially through this action-packed list and we're sure you'll have Georgia well on your mind when it comes to beefy goodness on a sparkling china plate.
Methodology
When preparing our list of best Atlanta steakhouses we used the "Chicago Steak Company Method", applying our own high standards, first and foremost, weighting the scores heavily in favor in those who source only the finest quality beef.  Selection of available cuts and variety of sides and accompaniments were our next highest factors.  Finally, we took into consideration the fine details such as ambience, reputation and service.  To break the inevitable close call between these fine establishments we applied the subjective yet all important "Would We Take a First Date Here" test; a time-honored method for evaluating any potential gourmet dinner meal.  What we came up with was a list of 10 of the best Atlanta area steakhouses, with five more that were so good they forced our hands into making an honorable mentions addition.
Can't decide between the meaty wonders on our list of Atlanta's best?  Rest assured that any establishment you choose has met the rigorous Chicago Steak Company standards, meaning you can't go wrong no matter which dining option strikes your fancy.
Top Ten Atlanta Steakhouse Restaurants
1.    Hal's on Old Ivy
Address: 30 Old Ivy Rd NE, Atlanta, GA 30342
Dry Aged Beef: Yes
What to Order: Filet Mignon
The Breakdown: It's a rare treat to find a steakhouse that combines beautiful ambience, top-notch service and a dedication to serving up only the best quality beef that money can buy.  Add in a commitment to keeping prices reasonable and that authentic "local" feel when bartenders and wait staff all make an effort to know their regulars by name and you have one of the best steakhouse restaurants in the Atlanta area.
If you're coming on the weekend, be prepared.  The reservation list is packed and the crowd at the bar even more so.  Friday nights features live music and a clamor of dining and drinking guests all vying for a chance to enjoy a fine steak dinner.  You can't go wrong with any of the limited number of cuts on the menu, but the filet mignon just so happens to be a establishment specialty and worthy of your palate's attention.
2.    Chops Lobster Bar
Address: 70 West Paces Ferry Rd NW, Atlanta, GA 30305
Dry Aged Beef: Yes
What to Order: Dry-Aged Porterhouse Experience
The Breakdown:  If you're looking for dark wood paneling, linen tablecloths and a classic, refined, gourmet steakhouse experience, look no further than Chops Lobster Bar.  This high-end restaurant oozes luxury with no expense having been spared for either the food or the atmosphere.  The extensive wine list and inventive appetizers set the scene for the beefy wonders that grace the main course menu.
Genuine certified Wagyu beef certainly steals the show when it comes to cut with your fork tenderness.  If you're looking for something hard to find elsewhere, try out the Wagyu Kobe N.Y. strip, a study in classic steak goodness if we've ever seen one.  It was the dry-aged porterhouse that snagged our particular interests, but with a wide selection of quality USDA prime cuts, you can't go wrong with any of the menu's steak selections.
3.    Parker's on Ponce
Address: 116 E Ponce de Leon Ave, Decatur, GA 30030
Dry Aged Beef: Yes
What to Order: Bone-in Dry Aged Kansas City Strip
The Breakdown:  What do you do when you're craving a quality steak meal and can't seem to find a local restaurant to fit the bill.  You could call the Chicago Steak Company for a home-delivered box of USDA Prime steaks or you could open your own steakhouse restaurant.  The latter option was just what the Atlanta area founders of Parker's on Ponce opted to do.
The décor is top notch with elegant wood tones and cool lighter walls that are completely inviting.  But, it's the wide range of USDA, prime, gourmet cuts of steak, cooked to perfection that really steal the show.  The T-Bone is the classic go-to option, but the Bone-in Kansas City Strip has our dry-aged loving hearts pittering and pattering.  For your side, don't you dare pass up on the Lobster Mac n' Cheese, which is good enough for a meal on its own.
4.    Kevin Rathbun Steak
Address: 154 Krog St NE #200, Atlanta, GA 30307
Dry Aged Beef: Yes
What to Order: Prime 10oz Ribeye Steak Diane
The Breakdown: With a host of steakhouses to his name in the Atlanta area, Kevin Rathbun's premiere, prime meat establishment is the crown jewel of an empire built on big, bold flavors and an expert preparation of a fine cut of gourmet steak.  Be sure to bring your appetites as the portions on both entrees and sides are well known for being generous.  Steak and eggs for breakfast with leftovers anyone?
The converted warehouse feel of the dining room is inviting without any of the stuffiness you can sometimes get with more traditional steakhouse restaurants.  If you're in the mood for something other than steak, a full range of accompaniments await along with a packed seafood section, perfect for making that classic surf and turf combo.
5.    KR Steakbar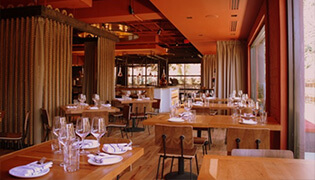 Address: 349 Peachtree Hills Ave NE, Atlanta, GA 30305
Dry Aged Beef: Yes
What to Order: Chef's Picks
The Breakdown: If Kevin Rathbun's first top ten Atlanta steakhouse wasn't enough to whet your appetite, don't worry, there's still more yet to come.  The sleeker and more stylized KR Steakbar may serve up smaller portions in an Italian Steakhouse theme but the flavors are still as big as the reputation this meat-loving entrepreneur has built for turning our quality, gourmet meals.
Start off with the creamy Burrata appetizer or a duck sausage that will have you rethinking poultry as a diet food.  When it comes to the main courses, head straight for the steak and sample one of the more elegant and innovative takes on USDA Prime beef.  The dry-aged porterhouse retains that deep, rich, earthy flavor that is distinctive to a quality dry-aged steak.  If you're up for adventure, try out the Chef Picks menu and be prepared to have your taste buds tantalized with beefy goodness and side combinations that are certainly a step above classic steakhouse fare.
6.    101 Steak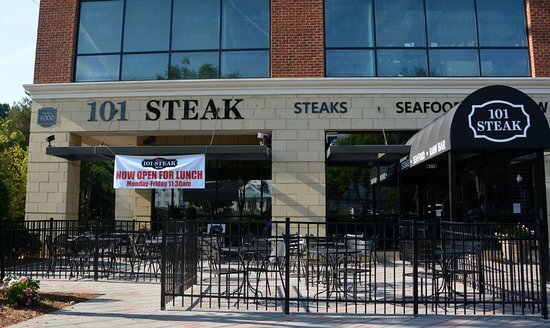 Address: 3621 Vinings Slope SW, Atlanta, GA 30339
Dry Aged Beef: Yes
What to Order: 36 Day, Bone-In Ribeye
The Breakdown: Locally sourced ingredients have made their way onto the menus of some of the brightest up-and-coming restaurants in the country.  In Atlanta, it's 101 Steak that is bringing that commitment to locally grown, seasonal food to the high-end steakhouse experience.
Start off with the decadent bone marrow appetizer or the over the top tempura Maine lobster tail.  Fr the adventurous types, the raw bar is chalk full of clams, oysters and other briny treats.  When it comes to the meat, you can't go wrong with any of the menu's expansive cuts and expert preparations.  The dry-aged options are especially tasty, clocking in at well over a month's worth of aging time.  Don't forget that pad of garlic butter on the top to finish off a gourmet steak dinner worthy of any Chicago Steak Company lover's praise.
7.    Cabernet
Address: 5575 Windward Pkwy, Alpharetta, GA 30004
Dry Aged Beef: Yes
What to Order: Classic T-Bone
The Breakdown:  If you're in the mood for a bit of glitz with your gourmet steak dinner, look no further than Atlanta's own Cabernet.  The design, décor and ambience are like something straight out of a Hollywood dinner scene, without the tedious rom-com banter.  An impressive wait staff shows great attention to detail in their service and will leave you feeling like the king or queen of the steakhouse ball.
Crispy fried lobster balls and the classically French escargot are just two of the appetizers that caught our eye and our stomachs.  The beef certainly meets Chicago Steak Company standards with every cut being USDA Prime and also dry-aged in Cabernet's custom aging process.  For that extra decadent twist, try the add-on Oscar with Béarnaise option to any steak cut.
8.    McKendrick's Steak House
Address: 4505 Ashford Dunwoody Rd, Atlanta, GA 30346
Dry Aged Beef: Yes
What to Order: Chef's Cut Bone-In Ribeye
The Breakdown:  Sometimes you want a modern, trendy and boisterous venue to grab a meal and a quick drink.  Other times you're more in the mood to leisurely nom on a gourmet steak while lounging in a plush leather booth with low-key lighting and calmly sipping on a quality libation.  It's the latter scenario that will have you flocking to Atlanta's McKendrick's Steak House for a meal with colleagues or that special significant other.
A true steakhouse classic, McKendrick's features all the menu must-haves you would expect from one of Atlanta's top ten steakhouses.  Towers of seafood make the perfect starter to your perfectly prepared steak main course.  Bonus points were unrepentantly awarded for McKendrick's choice of only the finest Midwestern raised, USDA prime beef.  A steakhouse after Chicago Steak Company's own hearts!
9.    New York Prime
Address: 3424 Peachtree Rd NE #100, Atlanta, GA 30326
Dry Aged Beef: Yes
What to Order: Center Cut Filet, Barrel Cut
The Breakdown:  When it comes to the iconic steakhouse experience, few cities can beat New York for its old-world charm meets big city showmanship.  Atlanta Georgia's own New York Prime steakhouse more than nods to this storied heritage, bringing a taste of the big city glamour to deep south meat lovers.  The atmosphere is classic retro-glam dining with white linen tablecloths, vaulted ceilings, a live piano player and a palm tree centerpiece to complete the look and feel of transportative luxury.
The quality of New York Prime is more than just skin deep.  All steaks on the menu are dry-aged, USDA prime beef.  The hits keep on coming, though, as cuts are also served Pittsburgh style.  Biting through the charred exterior "snap" of this iconic steak preparation and into the juicy medium rare center will take you to all new levels of steak-loving bliss.  Save room for the iconic steakhouse sides which will be expertly spooned onto your plate by the accomplished wait staff.  One of Atlanta's must-visit steak establishments.
10.  Bone's Restaurant
Address: 3130 Piedmont Rd NE, Atlanta, GA 30305
Dry Aged Beef: Yes
What to Order: 24 oz. Porterhouse – Bring your appetite!
The Breakdown:  A true Atlanta classic, no top-10 list for the region would be complete without one of the longstanding staples of area beefy dining pleasures.  Bone's has consistently delivered up one of the best combinations of service, food and ambience, faithfully gracing top restaurant and steakhouse lists for those looking for a gourmet steak meal.  For a business dinner or lunch, Bone's is unparalleled in its reputation for the place to impress that all important client.
The steak at Bone's more than lives up to the restaurant's hype.  The dry-aged, bone-in ribeye is something straight out of a meat-lover's dreams.  Bone-in filet is also a tender, juicy delicacy that graces the expansive meat menu and that should be tried by every true carnivore at least once in their lives.  The steak topping options are also delicious, for those looking to spice up their quality gourmet beef.  From steak to sides to deserts, you can't go wrong with a meal at Bone's.
Honorable Mentions
Woody's Famous Cheesesteaks
The Lowdown:  While not exactly a steakhouse, Woody's Famous Cheesesteaks is an Atlanta area staple, known for bringing juicy, tender beef to the table in the always delicious cheesesteak preparation.  If you're on the go and have a craving for steak, don't pass this Atlanta hotspot up!
The Capital Grille
Why you Need to Eat Here:  Sometimes you get a craving for that comfortable, consistent dining experience.  With Capital Grille's renowned history for providing quality steakhouse meals, you certainly can't go wrong stopping in for a quick bite to eat.  Whether business lunches or dinners out, this national chain steakhouse restaurant is sure to never disappoint.
Houston's
Nitty Gritty Review: We bet you didn't know that this popular chain of steakhouse restaurants started in the heart of Atlanta.  The Peachtree area location is the first, oldest and definitely touts a ton of character.  Brick walls with subdued lighting and plush leather booths set the mood for your gourmet steak meal, which is sure to keep you coming back to this or one of their other numerous national locations.
Del Frisco's Grill
Reasons Not to Pass It Up:  Another national chain with a reputation for quality service and consistently excellent meals, Del Frisco's Grill in Atlanta is well-known for being a go-to spot for the business diner and fancy date night aficionados alike.  The expansive menu features both national and regional favorites, so be sure to visit often to sample the full array of meaty delicacies.
Marcel's
Quick Wrap Up:  Exposed, loft style ceilings meet high-end china and crystal glasses so fine they sing.  That's the setting for Atlanta's own Marcel's, a throwback steakhouse extravaganza with modern, earthy twists.  The menu is chalk full of juicy, tender USDA, aged prime beef which is always cooked to perfection.  The menu is seasonal to take advantage of Atlanta's locally sourced ingredients.  Don't forget to sample one of the classic cocktails, handcrafted with nearly as much love and skill as they put into their beef.
Best Atlanta Steakhouses Bottom Line
Whether a quick, hand-held bite on the go, a modern take, or the classic steakhouse dining experience, Atlanta certainly has something to offer the meat connoisseur in your circle.  Did we hit your favorite or is there a favorite Atlanta spot we missed?  Shoot us a message and maybe your favorite steakhouse will make our next cut.