No doubt, filet mignon is one of the most coveted cuts of steak. You have the choice to online, from a butcher shop, or in the grocery store. Which one would you choose? Most people automatically think purchasing in-store would save them a lot of money over buying online, so that's their obvious choice. But, if you think like this, you could be missing out on some key factors that make buying filet mignon online one of the best choices you can make for this fabulous steak cut.
What is Filet Mignon?
Filet mignon is considered one of the best cuts of steak – and it is also one of the most expensive. But, there's a reason for that. This cut of beef comes from the beef tenderloin portion of the animal that stretches from the ribs toward the rear. It also consists of the smallest and most tender portion of the tenderloin toward the rib area. It's more expensive than other cuts because the average animal has no more than 500 grams of filet mignon meat, so it's a much rarer cut than others, like a strip steak or prime rib.
Steak enthusiasts love this cut because of its tenderness that's unmatched by any other type of beef. Its melt-in-your-mouth texture is truly one of a kind. The only downside is it doesn't tend to have a robust steak flavor that some other meat cuts do. But, it has a unique beef flavor that pairs perfectly with au jus, gravy, or other juices. You'll often see filet mignon wrapped in bacon or cooked in bacon juices for some added flavor.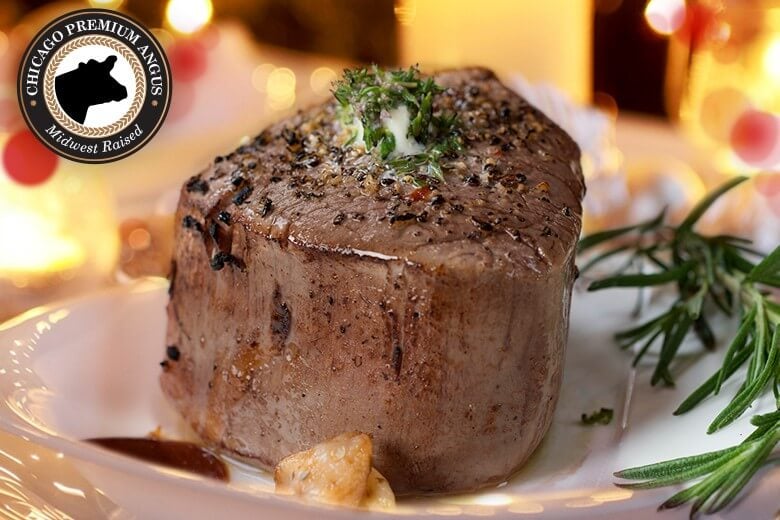 Why Buy Filet Mignon Online?
If you're nervous about buying steaks online, you should know that you're not alone. People are visual beings, so being able to see steaks in the store can help them decide which ones to purchase. Especially when it comes to a high-end steak, people may be hesitant to spend money on something that they can't see until it comes to their door. Plus, how do you know if something marked USDA Prime Beef really matches its label in the grocery store?
The truth is, you don't. But, ordering from Chicago Steak Company is different. Our products are of the utmost quality and packaged to perfection to ensure they arrive as fresh as when they were packaged. When we say we provide USDA Prime steaks, we mean it. Our USDA Prime beef includes only 2% of the best meat in the country.
Here are a few more reasons why you should buy filet mignon online and other meat from Chicago Steak Company:
Convenience
Buying online gives you the ultimate convenient experience for ordering steaks. There are no long lines at the store and no guesswork for finding the best filets. Chicago Steak Company already has the best steaks your money can buy, so you're guaranteed to get USDA-certified steaks shipped right to your door. And you don't have to spend time looking for the best meat or guessing which filets will be best to make for dinner.
We vacuum wrap and flash freeze our fresh meat in their own juices to preserve their exceptional beef flavor and send them off in insulated coolers with dry ice to ensure they stay as fresh as the day they were packaged. When you order with standard shipping, you can expect your steaks to arrive in 5 to 7 business days, conveniently to your doorstep. With 6 and 12-month delivery options, our steak of the month club is a great way to ensure you'll always have premium cuts of steak to enjoy.
Quality
When you buy filet mignon, sirloin steak, or even chicken breast online from Chicago Steak Company, you'll know you're getting the best. Our beef cuts are USDA-certified and handpicked to meet our marbling standards, texture, color, and size. We guarantee our promise of excellence, and we stand by our "Simply the Best" statement. There's no need for you to study up on how to buy the best cuts of beef because we've done the hard work for you.
Did you know that our Prime beef even comes individually registered? This unique practice ensures that you always get top-quality steaks. Each order you place has a registration number that helps us ensure quality every time; that's definitely not something you'll get from the grocery store or butcher. Once their steaks leave their coolers, they're no longer responsible for them.
Options
Not all filets are the same. But, supermarkets often treat them like they are. You'll likely find a few pre-packed filets labeled USDA-certified, but is there anything that makes them worth your money? When you buy online from Chicago Steak Company, you'll have options so you can find the perfect cut. 
Try our Premium Angus Beef Filet Mignon to get a top one-third USDA Choice or higher cut. Or, try our USDA Prime Wet Aged Filet Mignon to experience our unique wet aging process for ultimate flavor, marbling, and tenderness. And, you can even try our dry-aged Bone-In Filet Mignon, offering the largest portion of tender beef from our selection.
And if you're really looking for a luxurious meal, consider choosing our American Wagyu Filet Mignon. This steak comes from real American Wagyu beef from a prized line of cattle originating from Japanese Kobe beef. Special raising and feeding techniques make this meat truly one-of-a-kind in flavor and tender texture with the perfect amount of marbling. Our American Wagyu beef is also available as ribeye and strip steak.
What to Look for In an Online Premium Steak Services
We've talked a lot about Chicago Steak Company and why our steak and meat is different from what you'll find in the grocery store or at your local butcher. But, you still might not be sure if we're the right online steak ordering service for you. That's okay! The following points are ones to consider in any online steak service, along with reasons on how we match up:
Type of Steak Offered
The service you use is one you may want to use more than just one time. The best online steak order companies offer a selection of different steak cuts and assortments for you to find what you need every time. From New York strip steak to tenderloin and everything in between, it's always good to know that you have options when planning your meals.
At Chicago Steak Company, you'll find some of the most popular steak cut options to order. In addition to filet mignon, you can have your pick of tomahawk steak, flat iron, ribeye, and more. We also have steak assortments for you to get several of your favorite cuts in one order.
And, if you're looking for even more variety, try our marinated chicken breasts, steakburgers, surf and turf, desserts, and other products to add to your shopping list. 
Aging and Cutting
Aging plays a vital role in the tenderloin's flavor and texture, the part of the cow where you'll find the filet mignon. With a high-quality aging process in place, filet mignon develops richer flavor and an enhanced tenderness that's unmatched by any other steak. 
Our professional butchers follow strict standards when aging and cutting filet mignon to send out to our customers. Our wet-aging and dry-aging processes are some of the best around, producing top-quality steaks with optimum flavor to send to your door.
Shipping Time and Costs
When you buy filet mignon online, you probably don't want to wait weeks to get it shipped. The company you choose to order steaks from should have a detailed shipping process that guarantees your order within a few days.
And that's exactly what we do here. You can expect your steaks to arrive within 5 to 7 days of placing your order with Standard Shipping. We also offer Express Delivery and Overnight Delivery to help you get your package faster if you need to.
Pricing and Rewards
Buying steak online is usually a bit pricier than buying it from a butcher or grocery store, but that's because you're paying for quality and convenience. Still, it's a good idea to compare the prices of comparable steaks with different online retailers to ensure you're getting the best quality for the price.
When you order from Chicago Steak Company, not only are you buying some of the best steaks in the country, but you're also becoming a part of the family. To say "Thank you," we offer the Steakalicious Rewards Program. Every time you buy filet mignon or other steaks from us, you'll get points that you can put toward a future order or a gift card of your choice.
Cooking Your Online-Ordered USDA Prime Steaks
Once your raw meat arrives at your door, you're free to start enjoying it! Your Chicago Steak Company order will arrive fully or partially frozen, so you'll need to thaw them before enjoying. You can do this by placing them in the refrigerator for one or two days, depending on their size and thickness. If you want to cook them sooner, you can submerge them in cold tap water, changing the water every 30 minutes to ensure that it stays cold. Continue for 2-5 hours or until your steaks have thawed completely.
Then, it's up to you to decide how to cook them. And there are many ways to cook filet mignon that the whole family can enjoy! Need some inspiration? Here are a few of our guides and recipes to get you started:
Buy Filet Mignon Online with Chicago Steak Company
It's no secret that filet mignon is one of the most loved types of steak. But, why spend top dollar in a supermarket when you know you're not getting top dollar quality, convenience, or choices? Chicago Steak Company offers all the above. You order securely and conveniently online, and we do the rest. The next time you want to enjoy quality filet mignon at home, purchase it from Chicago Steak Company and we'll guarantee fresh steaks to your door in 7 days or less.