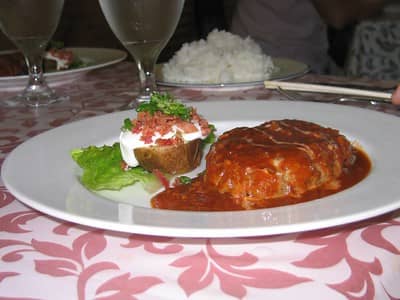 The classic hamburger steak is a comfort food that has been enjoyed by many generation after generation. But did you know there's an even easier and more convenient way of cooking these delicious patties? By baking them in the oven, you don't just save time, but you also don't have to make a lot of effort to end up with juicy and flavorful hamburger steaks. In this article we'll discover how to cook hamburger steaks in the oven and learn the tips and tricks you can follow to achieve perfection. So let's begin and delve into the sumptuous world of baked hamburger steak!
Preparing the Hamburger Steaks
To ensure a delicious and well-cooked hamburger steak, you must ensure the patties are properly prepared before placing them in the oven. Follow these simple steps to get your hamburger steaks oven-ready:
Pick the right ground beef: You will want to make hamburger steaks using ground beef with a 15-20% fat content. This will help keep the patties moist and keep them from drying out during the cooking process.
Mix the ingredients: Some people prefer just salt and pepper when making hamburger patties, while others want a bit more flavor than that. If you're one of the latter, you can mix your ground beef salt, pepper, garlic powder, and some onion powder. Some even add chili flakes for that extra kick. For texture and binding, you can add breadcrumbs and an egg to the mixture.
Form the patties: Shape the mixture into evenly sized patties, approximately ¾ inch in thickness. Once you have a solid disc, use your thumb and press the middle part to create a dent. This will help your patties to cook flat instead of raised in the middle.
Preheat and prepare: Preheat your oven to 375°F (190°C) and line a baking sheet with parchment paper or aluminum foil for easy cleanup after cooking.
Tips and Tricks for Perfection
When cooking hamburger steaks in the oven, keep these tips in mind for the best results:
Don't overcook your patties. Cooked hamburgers should have an internal temperature of 160°F (70°C) for safety reasons. Make sure you have an easy-read thermometer on hand so you can quickly check for doneness.
Flip the patties halfway through, no matter the cooking method, to ensure even browning on both sides.
Some people sear their patties in a hot skillet for 1-2 minutes per side, while others grill them for the grill marks before transferring them to the oven. You can do this if you like, or you can skip these steps altogether, depending on your preference.
During the last few minutes of cooking, add in your favorite toppings, like sautéed mushrooms, grilled vegetables, or different kinds of cheeses.
Recipe Variations
If you're looking to switch things up, try these delicious variations on the classic hamburger steak recipe:
Tex-Mex Hamburger Steak: To get that signature Tex-Mex flavor, add taco seasoning, diced green chilies, and shredded Mexican cheese blend to the ground beef mixture before cooking. Once done baking, top with salsa and sour cream. Consider serving with warm and soft taco shells.
Italian-Style Hamburger Steak: For those who enjoy a bit of sophistication in their hamburger steaks, this recipe will surely hit the spot. Mix in Italian seasoning, grated parmesan cheese, and minced sun-dried tomatoes to the ground beef before cooking. Serve with marinara sauce to balance the flavors.
BBQ Bacon Hamburger Steak: This recipe can be enjoyed by everyone, which is why it's an all-time favorite. You can make this by wrapping each patty in a slice of bacon before placing it in the oven. Glaze with barbecue sauce during the last few minutes of cooking, or serve the barbecue sauce separately to give your guests an option. You can also add a small block of cheese in the middle of the patty if you're feeling generous.
Storing Tips
To store leftover baked hamburger steaks, you must first let them cool completely before transferring them to an airtight container. You can refrigerate for 3-4 days or freeze for up to 3 months. When reheating, you can just use a microwave, or if you're reheating a big batch, you can do it in the oven.
Classic Oven Baked Hamburger Steak Recipe
Ingredients
1.5 lbs ground beef (15-20% fat)
1/2 cup breadcrumbs
1 large egg
1/2 tsp salt
1/2 tsp black pepper
1/2 tsp garlic powder
1/2 tsp onion powder
Instructions
Preheat the oven to 375°F (190°C). Line a baking sheet with parchment paper or aluminum foil.
In a deep dish, mix ground beef, breadcrumbs, egg, salt, pepper, garlic powder, and onion powder. 
Form evenly sized patties, about ¾ inch in thickness, and lightly press on top to create a small dent.
Place the patties on the prepared baking sheet and bake for 20-25 minutes, flipping halfway through, until cooked through (internal temperature of 160°F / 70°C).
Remove from the oven and let rest for a few minutes before serving.
Notes
Customize your hamburger steaks with additional seasonings, herbs, or add-ins.
For a complete meal, serve your baked hamburger steaks with mashed potatoes, steamed vegetables, or a fresh salad.
Conclusion
Baking hamburger steaks in the oven is one of the simplest and most delicious ways to enjoy this classic comfort food. As long as you follow the steps we provided as well as the helpful tips, you shouldn't have problems making the perfect cooked hamburgers every single time. So give this oven-baked hamburger steak a try for your get-together or even by yourself. We promise you won't regret your decision to do so!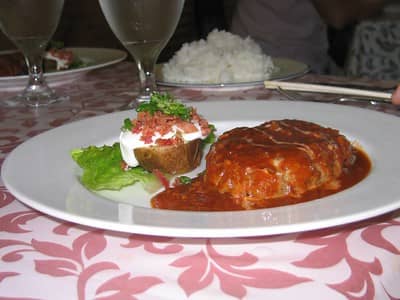 Classic Oven Baked Hamburger Steak
Ingredients  
1.5

lbs

ground beef (15-20% fat)

1/2

cup

breadcrumbs

1

large

egg

1/2

tsp

salt

1/2

tsp

black pepper

1/2

tsp

garlic powder

1/2

tsp

onion powder
Instructions 
Preheat the oven to 375°F (190°C). Line a baking sheet with parchment paper or aluminum foil

In a deep dish, mix ground beef, breadcrumbs, egg, salt, pepper, garlic powder, and onion powder

Form evenly sized patties, about ¾ inch in thickness, and lightly press on top to create a small dent

Place the patties on the prepared baking sheet and bake for 20-25 minutes, flipping halfway through, until cooked through (internal temperature of 160°F / 70°C)

Remove from the oven and let rest for a few minutes before serving