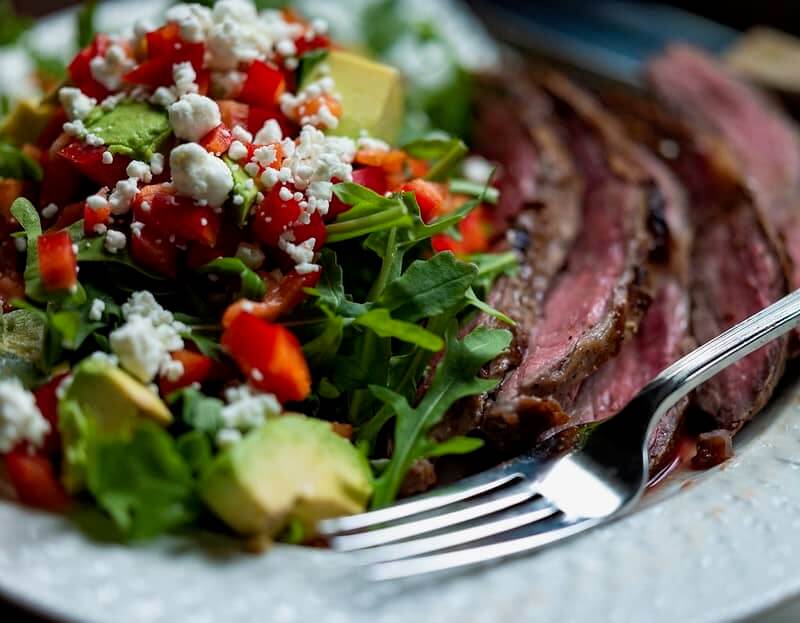 Looking for a healthy and delicious meal that's easy to prepare? Consider this flavorful flank steak salad! Packed with protein and fresh veggies, it's the perfect choice for lunch or dinner. The best part? It can be customized to your liking with different greens, dressings, and toppings. So let's get cooking!
What Should I put on my Flank Steak Salad?
There are so many delicious toppings you can add to your flank steak salad recipe! Here are some suggestions:
Mixed greens or spinach
Cherry tomatoes
Romaine lettuce
Cucumber
Red onion
Avocado
Feta cheese or goat cheese
Croutons or toasted nuts (such as almonds or pecans)
Topping Ideas:
Roasted Sweet Potato or Butternut Squash
Roasted sweet potato or butternut squash adds sweetness and creaminess to the dish that pairs well with the savory flavor of the steak. Plus, they're packed with nutrients like fiber and vitamin A.
Grilled Corn
Grilled corn adds crunch and sweetness to your salad. It also adds a smoky flavor that complements the grilled steak. Cut the kernels off the cob or leave them whole for added texture.
Hard-Boiled Eggs
Hard-boiled eggs are a great source of protein and add richness to your salad. They're also easy to make ahead of time and store in the fridge until you're ready to assemble your salad.
Bacon Bits or Pancetta
Bacon bits or pancetta add saltiness and crunch to your salad, as well as a savory flavor that pairs well with steak. Remember to use them sparingly due to their high fat content.
Blueberries or Strawberries
Adding blueberries or strawberries can give your flank steak salad a burst of sweetness and tanginess. They also provide antioxidants and other nutrients that are good for your health. 
Dressing Ideas:
Creamy Balsamic
Creamy balsamic dressing combines tangy balsamic vinegar and creamy mayonnaise or Greek yogurt. It has a smooth texture and a slightly sweet flavor that pairs well with the bold taste of flank steak. This dressing is perfect for those who love the balsamic taste but want something creamier.
Balsamic Vinaigrette
Balsamic vinaigrette is made from olive oil, balsamic vinegar, and seasonings like garlic and Dijon mustard. It has a tangy flavor that complements the rich taste of steak. This dressing is great for those who prefer a lighter, oil-based dressing.
Chimichurri
Chimichurri is an Argentinean sauce made with fresh herbs like parsley, cilantro, garlic, red pepper flakes, and vinegar. The acidity in chimichurri also helps cut through the richness of the steak.
Blue Cheese
Blue cheese dressing is made from crumbled blue cheese mixed with mayo or sour cream and other seasonings like garlic or lemon juice. This dressing is perfect for those who love the strong taste of blue cheese.
Cilantro Avocado
Cilantro avocado dressing is made from fresh cilantro, ripe avocados, lime juice, garlic, and olive oil blended together until smooth. It has a creamy texture and a zesty flavor that adds brightness to your salad.
Grilled Flank Steak Salad Recipe
Whether you're looking for a low-carb meal or just want something light and refreshing, this Flank Steak Salad recipe will surely become a new favorite in your kitchen!
Ingredients
1 pound flank steak
8 cups mixed greens
1 red onion, sliced thin
2 cups cherry tomatoes, halved
1 cucumber, sliced thin
1 avocado, diced
Dressing of your choice
Instructions
Preheat the grill to medium-high heat.
Season the flank steak generously with salt and pepper.
Place the steak on the grill and cook for about 4 minutes per side or until it reaches your desired level of doneness.
Remove the steak from the grill and let it rest for at least 5 minutes before slicing it thinly against the grain.
While the steak is resting, prepare your salad by tossing mixed greens, red onion, cherry tomatoes, and cucumber in a large bowl.
Add the dressing of your choice and toss again to coat evenly.
Serve grilled flank steak salad topped with diced avocado.
Notes
If you don't have flank steak, substitute it with strip steak or sirloin steak.
You can prepare the vegetables in advance. Store them in airtight containers in the fridge until ready to serve. Assemble the salad just before serving and toss it with dressing.
Leftover steak can be used for sandwiches or wraps for an easy lunch option.
To save time, use pre-washed and pre-cut vegetables from your local grocery store.
Conclusion
In conclusion, this flank steak salad recipe is a delicious and healthy meal that can be easily customized to your liking. Whether you're looking for a quick lunch or a hearty dinner, this dish is sure to satisfy. Don't forget to shop for the best steak for optimal flavor and texture. With the right ingredients and preparation, you can create a meal that's both satisfying and nutritious. So head to your local grocery store or butcher shop and start cooking!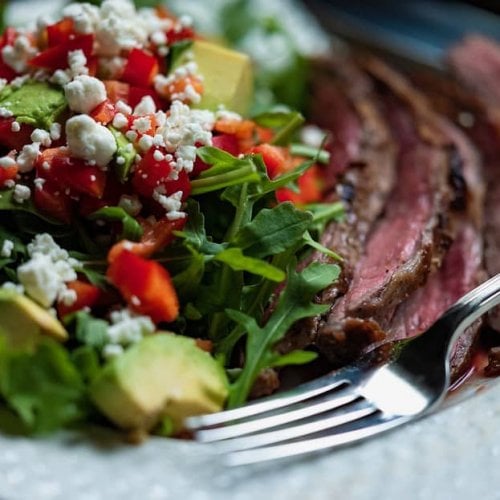 Grilled Flank Steak Salad
Ingredients  
1

lb

flank steak

8

cups

mixed greens

1

red onion, sliced thin

2

cups

cherry tomatoes, halfed

1

cucumber, thinly sliced

1

avocado, diced

dressing of your choice
Instructions 
Preheat the grill to medium-high heat

Season the flank steak generously with salt and pepper

Place the steak on the grill and cook for about 4 minutes per side or until it reaches your desired level of doneness

Remove the steak from the grill and let it rest for at least 5 minutes before slicing it thinly against the grain

While the steak is resting, prepare your salad by tossing mixed greens, red onion, cherry tomatoes, and cucumber in a large bowl

Add the dressing of your choice and toss again to coat evenly

Serve grilled flank steak salad topped with diced avocado