Flank steak tacos are a delicious and versatile traditional Mexican dish that is easy to make. The steak tacos marinade flavors the meat and helps it to caramelize when cooked over hot coals, while the fresh toppings add texture and flavor to the tacos. They are an ideal meal for family gatherings or game days, as they can easily be made ahead of time and then served at the table. No matter what your taco preference is, flank steak tacos will always be a hit!
Tips for Making Flank Steak Tacos
Here are some helpful tips for making your flank steak taco.
Make sure your marinade contains citrus juice like lime juice, oil, garlic, cumin, and chili powder. These ingredients will add savory depth to the flank steak tacos recipe. Marinate for at least 2 hours for best results. For a smoky flavor, cook your flank steak over hot coals or on a well-seasoned cast-iron grill pan.
The best doneness for flank steak tacos is medium rare because the meat will be easy to chew. Instead of creating one topping with mixed toppings, serve several bowls of toppings so your family or guests can customize their tacos based on their preferences.
How to Marinate the Flank Steak
Marinating the flank steak is essential for adding flavor to your tacos. You can do this by mixing all your preferred ingredients, placing the flank steak in a large resealable plastic bag, and pouring the marinade over the steak cuts. Keep it in the fridge for at least 2 hours or overnight for maximum flavor.
What to Serve on the Side
Flank steak tacos are a delicious and satisfying meal on their own, but here are some tasty side dishes you can serve to make the meal even more complete:
Refried beans: Creamy and delicious, they provide a great source of protein and fiber.
Grilled vegetables: Grilled vegetables like bell peppers, onions, and zucchini make a great side dish for healthy tacos. Toss the veggies in olive oil and seasonings, then grill until tender.
Guacamole and chips: No taco feast is complete without some guacamole! Serve it up with tortilla chips for an easy appetizer or side dish.
With these sides, your flank steak tacos will be transformed into a full-blown fiesta!
How to Make the Best Flank Steak Tacos
Flank steak tacos are delicious and easy to make, so whether you're having friends over for a casual dinner or simply looking to switch up your weeknight meal routine, these tacos will surely be a hit.
The key to making the best flank steak tacos is all in the preparation – finding the best steak shop to get premium steak, marinating the steak, and choosing the right toppings to take this dish from good to great. Impress everyone with this mouth-watering taco recipe!
Ingredients
For the Taco:
1 pound flank steak
1/4 cup olive oil
2 tablespoons soy sauce
Fresh lime juice
2 cloves garlic, minced
1 teaspoon chili powder
1/2 teaspoon cumin
Salt and pepper to taste
For Serving:
Tortillas (corn or flour)
Shredded lettuce
Diced tomatoes
Shredded cheese
Salsa
Sour cream
Cilantro
Instructions
Whisk olive oil, soy sauce, lime juice, garlic, chili powder, cumin, salt, and pepper in a bowl.
Place the flank steak in a large resealable plastic bag or an airtight container and pour the marinade over it. Shake to evenly coat the steak.
Place the mixture in the fridge for at least 30 minutes or overnight to give it time to absorb the marinade.
Preheat your grill to medium-high heat.
Remove the marinade and place the steaks on a rack to let any excess drip..
Grill the steaks for about 5 minutes on each side or until preferred doneness is reached.
Let rest before slicing thinly against the grain.
Warm tortillas on the grill or microwave, then add sliced steak and toppings of your choice.
Serve and enjoy!
Add-ins and Substitutions
You can use sirloin or skirt steak instead of flank.
Use lemon juice or orange juice if you don't have lime.
Instead of cayenne pepper or smoked paprika, use chili powder for the same punch.
Leftover Storage Tips
To ensure your leftover flank steak tacos stay fresh for a long time, follow these storage tips:
Use an airtight container to store leftovers in the refrigerator for up to 3 days.
To reheat the tacos, place them on a baking sheet in a 350F oven until heated. Alternatively, you can microwave them on high for 1 to 2 minutes.
If 3 days still feel too short to finish all the leftovers, consider freezing some of them in a freezer bag for up to 3 months. To reheat, from frozen, let them thaw overnight in the refrigerator before reheating as usual.
Leftover Ideas
If you have any leftover flank steak tacos, here are some ideas on how to consume them:
Taco salad: Chop up the leftover steak and serve it on top of a bed of lettuce with all your favorite taco toppings.
Breakfast tacos: Fill a tortilla with scrambled eggs, diced leftover steak, and any additional toppings you like.
Quesadillas: Layer shredded cheese and diced leftover steak between two tortillas and cook in a skillet until the cheese is melted and the tortillas are golden brown.
Nachos: Top a plate of tortilla chips with shredded cheese, diced leftover steak, black beans, jalapenos, and any other toppings you like. Bake in the oven until the cheese is melted and bubbly.
Steak fajitas: Reheat the leftover steak in a skillet with sliced bell peppers and onions. Serve with warm tortillas.
Conclusion
Flank steak tacos can be enjoyed in many different ways. By following the recipe above and experimenting with different add-ins and substitutions, you can create your perfect taco combination. And don't forget about the leftover ideas and storage tips – they'll help you make the most out of any extra tacos you have on hand. So go ahead, whip up some flank steak tacos tonight, and enjoy all the deliciousness they have to offer!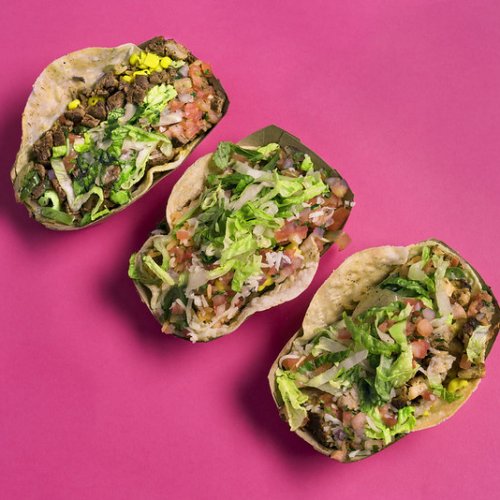 Flank Steak Tacos
Ingredients
For the Taco:
1

lb

flank steak

1/4

cup

olive oil

2

tbsp

soy sauce

fresh lime juice

2

cloves

garlic, minced

1

tsp

chili powder

1/2

tsp

cumin

salt, to taste

pepper, to taste
For Serving:
tortillas

shredded lettuce

diced tomatoes

shredded cheese

salsa

sour cream

cilantro
Instructions
Whisk olive oil, soy sauce, lime juice, garlic, chili powder, cumin, salt, and pepper in a bowl

Place the flank steak in a large resealable plastic bag or an airtight container and pour the marinade over it. Shake to evenly coat the steak

Place the mixture in the fridge for at least 30 minutes or overnight to give it time to absorb the marinade

Preheat your grill to medium-high heat

Remove the marinade and place the steaks on a rack to let any excess drip

Grill the steaks for about 5 minutes on each side or until preferred doneness is reached

Let rest before slicing thinly against the grain

Warm tortillas on the grill or microwave, then add sliced steak and toppings of your choice