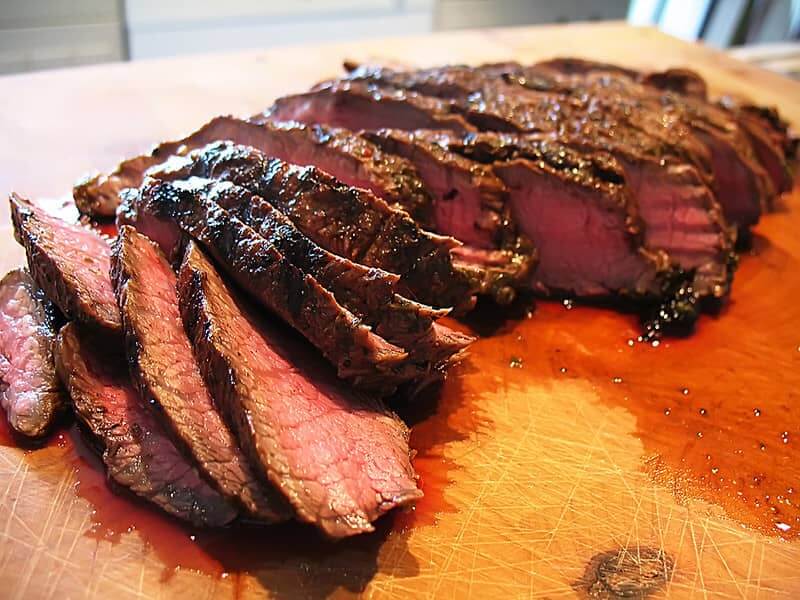 Looking to add some flavor and tenderness to your flat iron steak? A flat iron steak marinade is the perfect solution! With just a few simple ingredients, you can transform an ordinary cut of beef into a delicious and succulent meal. In this article, we'll explore some of the best marinade recipes for flat iron steak that are sure to impress. From classic herb and garlic to zesty citrus and soy, there's a marinade out there for everyone. So let's get started and take your steak game to the next level!
What is the benefit of Marinating flat iron steak?
Marinating flat iron steak has several benefits. Firstly, it helps to add flavor and depth to the meat, making it more enjoyable to eat. Secondly, a good marinade can also help to tenderize the steak by breaking down some of the tougher muscle fibers. This makes for a juicier and more succulent texture that's easier to chew. Finally, marinating can also help to reduce cooking time by preparing the meat in advance and allowing it to absorb flavors while you prepare other ingredients or fire up the grill. Overall, marinating is a simple but effective way to elevate your flat iron steak game!
Different types and options of marinades to use
There are countless possibilities for flat iron steak marinade recipes, so it's important to choose one that fits your taste preferences. If you're a fan of bold and powerful flavors, you might want to try a steak marinade with garlic, ginger, and soy sauce. For something a little more subtle, marinate flat iron steak in classic herb and olive oil blends. And if you're feeling adventurous, you can always experiment with unique flavor combinations like citrus and rosemary or chipotle and honey. No matter your choice, we guarantee that your flat iron steak will be delicious!
How long should you marinate the steak for?
The ideal marinating time for flat iron steak can vary depending on the recipe and the thickness of the steak. As a general rule, you should aim to marinate your steak for at least 30 minutes to an hour but no more than 24 hours.
Marinating for too long can actually have the opposite effect and make the meat tough and dry, especially if you're using premium flat iron steak. It's also important to note that if you're using an acidic marinade (such as vinegar or citrus), you'll want to reduce the marinating time to avoid over-tenderizing the meat. Ultimately, it's about finding the right balance between flavor and texture!
Tips and Tricks
Here are some tips and tricks for marinating flat iron steak:
Use a resealable plastic bag: A plastic bag is a perfect vessel for marinating your steak as it allows the marinade to coat the meat evenly. Plus, it makes clean-up a breeze!
Don't skimp on salt: Salt not only adds flavor to your steak but also helps to tenderize it. Be sure to generously salt both sides of your steak before adding it to the marinade.
Let it rest: Once you've removed your steak from the marinade, let it come to room temperature before cooking. This will ensure that it cooks evenly and results in a juicy, flavorful steak.
Flat Iron Steak Marinade Recipe
This delicious marinade recipe needs a few simple ingredients to transform your steak into a tender and flavorful dish that's sure to impress. Whether grilling or pan-searing, this marinade will take your flat iron steak to the next level. So gather your ingredients, and let's get started!
Ingredients
1/4 cup soy sauce
2 tablespoons olive oil
2 tablespoons brown sugar
1 tablespoon Worcestershire sauce
1 tablespoon Dijon mustard
2 cloves garlic, minced
Salt and pepper, to taste
Instructions
In a bowl or resealable plastic bag, combine the soy sauce, olive oil, brown sugar, Worcestershire sauce, Dijon mustard, minced garlic, salt, and pepper.
Place the steak into the bag or bowl and coat well with the marinade.
Let the steak marinate in the fridge anywhere from 30 minutes to 24 hours.
Once ready to cook, remove the steak from the marinade and let it come to room temperature.
If grilling: Make sure you preheat the grill to medium-high. Brush the grates with oil or spray them with cooking spray. Grill the steak for about 5 minutes per side (or until the desired doneness is reached).
For pan-searing: heat a large skillet over medium high heat. Add a drizzle of olive oil or spray with cooking spray. Cook the steak for about 5 minutes per side.
Let the steak rest briefly before slicing and serving.
Notes
This recipe can easily be doubled or tripled to serve a larger group.
If you don't have flat iron steak, this marinade works well with other cuts of beef, such as flank steak or sirloin.
Serve your cooked steak with your favorite sides, such as roasted vegetables, mashed potatoes, or a fresh salad.
Conclusion
With just a few simple ingredients, this flat iron steak marinade can upgrade your flat iron steak. Next time you're looking for a tasty and impressive meal, give this recipe a try and enjoy the juicy and flavorful results!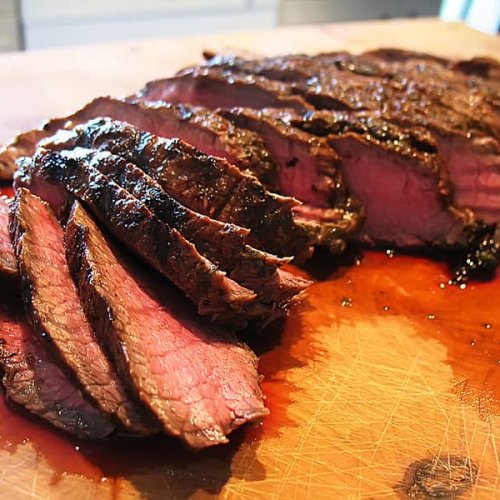 Marinated Flat Iron Steak
Ingredients  
1/4

cup

soy sauce

2

tbsp

olive oil

2

tbsp

brown sugar

1

tbsp

Worcestershire sauce

1

tbsp

Dijon mustard

2

cloves

garlic, minced

salt, to taste

pepper, to taste
Instructions 
In a bowl or resealable plastic bag, combine the soy sauce, olive oil, brown sugar, Worcestershire sauce, Dijon mustard, minced garlic, salt, and pepper

Place the steak into the bag or bowl and coat well with the marinade

Let the steak marinate in the fridge anywhere from 30 minutes to 24 hours

Once ready to cook, remove the steak from the marinade and let it come to room temperature

If grilling: Make sure you preheat the grill to medium-high. Brush the grates with oil or spray them with cooking spray. Grill the steak for about 5 minutes per side (or until the desired doneness is reached)

For pan-searing: heat a large skillet over medium high heat. Add a drizzle of olive oil or spray with cooking spray. Cook the steak for about 5 minutes per side

Let the steak rest briefly before slicing and serving