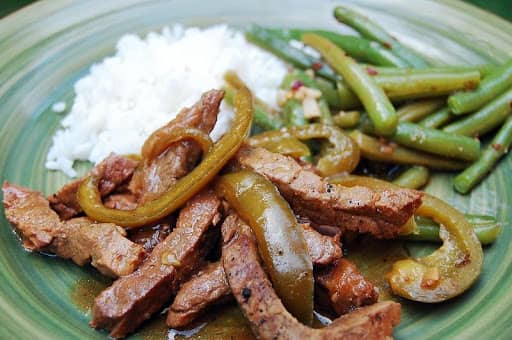 If you need shredded or strips of beef for fajitas, tacos, salads, or sandwiches, a slow-cooked tri-tip steak meal might be the best choice. Not only is it convenient to make when you want something ready to go after a long day, but it also makes for a tasty and satisfying meal.
Our slow-cook tri-tip steak recipe is highly customizable, so you can tweak its ingredients to match the flavor profile you're going for. This guide will walk you through each step of preparing and cooking tri-tip steak in the slow cooker so that you can make your ideal recipe come to fruition.
What Is Slow Cooking?
Slow cooking cooks food on low heat over an extended period of time, usually at least four to six hours. This cooking method allows ingredients to tenderize without overcooking because they don't get exposed to high heat. Usually, slow-cooked foods also cook in some type of liquid, like water, broth, or gravy, which helps them tenderize and stay juicy during the cooking process.
Not only can slow cooking help you achieve excellent results with your food, but it's also a convenient cooking method. A slow cooker takes care of the cooking, so you'll only need to take steps to prepare ingredients ahead of time, like seasoning meat or slicing vegetables.
Preparing the Tri Tip
Begin preparing the tri-tip steak by removing it from the refrigerator. Add a generous amount of salt to both sides of the steak, rubbing it in gently with your fingertips. Then, leave the steak at room temperature for 45 minutes. You can work on preparing your other ingredients and the slow cooker during this time.
Once the steak has rested the full 45 minutes, add your other seasonings. We've suggested seasonings in the recipe below, but you can use any steak seasoning, herb and spice blend, or steak rub you'd prefer. Be sure to season both sides and the edges of the tri-tip steak.
Next, sear the steak in a preheated skillet with a drizzle of oil for about 2-3 minutes on each side until lightly browned. Then, transfer the steak carefully into the slow cooker with the prepared liquid.
Preparing the Slow Cooker
Preparing the slow cooker to cook tri-tip steak only takes a few minutes. First, consider adding a slow cooker liner to the inner basket. These liners keep the slow cooker basket clean, allowing for a straightforward and simple cleanup after you're done cooking.
Otherwise, you'll only need to prepare the broth in which you'll cook the steak. To do this, stir together the beef broth, Worcestershire sauce, and packet of onion soup mix until all ingredients are combined completely. Then, pour the mixture into the slow cooker. Before adding the tri-tip steak, you should have about 2-3 inches of liquid in the bottom of the slow cooker.
Tips for Success
Keep in mind the following tips as you prepare and cook tri-tip steak in the slow cooker:
Sear it first: Although this step isn't necessary for tasty results, we do recommend searing the steak before putting it in the slow cooker. The process adds flavor and enhances the texture of the steak, and it only takes a couple of extra minutes.
Don't forget liquid: Tri-tip steak needs some liquid to cook in. Although you can simply add a small amount of water to the slow cooker pot, we suggest adding liquids that will give extra flavor, like beef broth or balsamic vinegar. Also, remember to add at least a small amount of an acidic ingredient, which helps tenderize the meat if it works. Balsamic vinegar is, again, a good choice for this, but we also love Worcestershire sauce.
Thicken the liquid: After your beef is done cooking, the liquid inside the slow cooker will probably be quite thin. You can thicken it with a cornstarch slurry. To make it, whisk together two tablespoons of cornstarch with about ¼ cup of the liquid. Then, add the slurry to the liquid in the slow cooker, and stir to combine. Allow it to sit for a few minutes to thicken.
How Long to Cook Tri Tip in a Slow Cooker
Tri tip should stay in the slow cooker for a minimum of four to six hours on high, but we recommend cooking for 7-8 hours on low if you have enough time. Extending the cooking process allows the steak plenty of time to tenderize.
Slow Cooker Tri-Tip Recipe
This versatile slow cooker recipe for tri-tip steak can be customized to fit your flavor preferences. Swap in whatever herbs and spices you prefer.
Ingredients
3-lb. tri-tip roast
1 tsp salt
½ tsp ground black pepper
½ tsp garlic powder
½ tsp onion powder
1 tbsp oil
2 cups beef broth
1 packet onion soup mix
2 tbsp Worcestershire sauce
Cornstarch slurry, optional (2 tbsp cornstarch, ¼ cup reserved slow cooker liquid)
Instructions
Salt the roast generously on all sides, and leave it on a plate at room temperature for 45 minutes.
Combine the black pepper, garlic powder, and onion powder. Spread the mixture on all sides of the roast.
Preheat a skillet over medium-high heat with oil. Sear the roast on both sides for 2-3 minutes each until golden brown.
Combine beef broth, onion soup mix, and Worcestershire sauce in the slow cooker pot. Add the roast, spooning a few spoonfuls of the liquid over the top of the roast.
Cook on high for 4-6 hours or low for 7-8 hours.
Transfer the roast to a cutting board, and let it rest for 5-10 minutes before shredding or slicing it.
If you'd like thicker liquid, add the cornstarch slurry to the slow cooker pot. Stir, and let sit for about five minutes until thickened.
Conclusion: Making Tri-Tip Steak in the Slow Cooker
Cooking tri tip in a slow cooker is a fantastic way to create a tender and flavorful roast. If you have time, take a few minutes to sear the meat before adding it to the slow cooker to lock in juices and flavors. Whether serving it as a main dish or using it in sandwiches or tacos, slow-cooked tri-tip will surely be a crowd-pleaser.
If you're having trouble finding tri-tip at your local butcher or supermarket, consider buying a standing rib roast from Chicago Steak Company. These roasts offer excellent slow cooker results, and you can get one conveniently shipped to your home.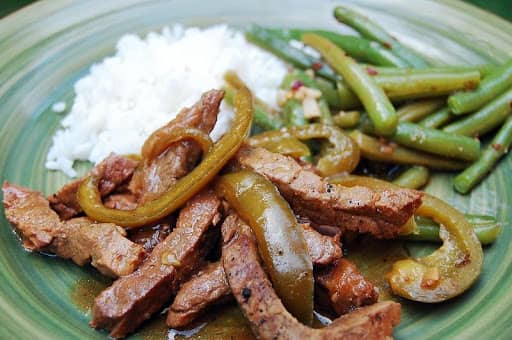 Slow Cooker Tri-Tip Steak
Ingredients
3

lb

tri tip roast

1

tsp

salt

1/2

tsp

ground black pepper

1/2

tsp

garlic powder

1/2

tsp

onion powder

1

tbsp

oil

2

cups

beef broth

1

packet

onion soup mix

2

tbsp

Worcestershire sauce

cornstarch slurry, optional (2tbsp cornstarch, 1/4 cup reserved slow cooker liquid)
Instructions
Salt the roast generously on all sides, and leave it on a plate at room temperature for 45 minutes

Combine the black pepper, garlic powder, and onion powder. Spread the mixture on all sides of the roast

Preheat a skillet over medium-high heat with oil. Sear the roast on both sides for 2-3 minutes each until golden brown

Combine beef broth, onion soup mix, and Worcestershire sauce in the slow cooker pot. Add the roast, spooning a few spoonfuls of the liquid over the top of the roast

Cook on high for 4-6 hours or low for 7-8 hours

Transfer the roast to a cutting board, and let it rest for 5-10 minutes before shredding or slicing it

If you'd like thicker liquid, add the cornstarch slurry to the slow cooker pot. Stir, and let sit for about five minutes until thickened