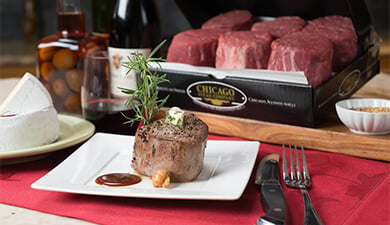 The Internet has made all the difference in how the world shops. From clothing, to furniture and appliances, you can now order almost anything online. Recognizing the popularity of online ordering, many steak providers have made the move to the World Wide Web, providing customers the opportunity to order steak right to their doorstep.
Mail Order Steak
Due to convenience, taste, and quality, mail order steaks have quickly become the preferred choice in beef for many meat lovers. Chicago Steak Company provides only the best of the best in meat to customers with satisfaction guaranteed.
Premium Selection
You may think that having steak shipped to your home is a little excessive considering that you could drive to your local grocery store and pick it up for yourself. However, store bought meat from grocers isn't quite the same as what you can find from online steak store providers. For example, Chicago Steak Company focuses on upper 1/3 USDA Choice and USDA Prime beef (the top 2-3% of beef in the US.)
While many online steak store providers are proud to label the grade of their meats right on the packaging, most grocery stores won't follow suit. This is because majority of meat from the grocery store is nowhere near the quality of USDA Prime or USDA Choice.
Premium Taste
With lots of cuts available, Chicago Steak Company's meat is aged to perfection. Why? Because, aging beef helps to boost flavor and add tenderness, which is the key to a great and memorable steak experience. Wet Aged Beef is sealed tight, virtually eliminating oxidization, which would suck out more moisture. The steaks are then left in a cool environment and when they have aged just right, the result adds juiciness and tenderness to the steak that is sure to satisfy.
Chicago Steak Company also offers Dry Aged Beef, which is normally only found in a 5 Star restaurant, or steakhouse. This 28-40 day aging process takes place within a temperature-controlled environment. By exposing the steak to the air, moisture will begin to evaporate. This results in a more intense tasting steak. Enzymes also work to break down the meat, creating an ultra tender steak that is full of rich flavors.
If this doesn't suit your fancy (but, why wouldn't it?!) you could always go pick up some frozen, mass produced steaks at the grocery store that are tough, extremely fatty, and little to no flavor. There truly is no comparison.
Fresh & Presentable
When you buy steaks at the grocery store or local butcher, most are packaged in cellophane or wrapped with paper. It's simple, but certainly not worthy of gifting to someone. Chicago Steak Company ships meat in style: first, the steaks are vacuum-sealed and placed in a sleek gift box. Besides looking great, they are also shipped with quality in mind. Gift boxes are placed in reusable coolers filled with dry ice. This ensures that steaks will remain frozen from the time they leave to the time they are delivered. This makes for the perfect gift to send to family, coworkers, and friends. Now, if you were to send them a steak from the grocery store, they would likely look at you as if you're crazy.
It's clear that mail order steaks cover all the bases in ensuring taste, quality, and freshness. Most stores can't offer this type of quality, and that's why majority won't promise any guarantees. Sure, going to the store is quick and easy, but isn't ordering online easier? If you want the best of the best, look to Chicago Steak Company to fit the bill. The premium grade meats will not only leave you blown away, but they'll bring you back to that order page time and time again.