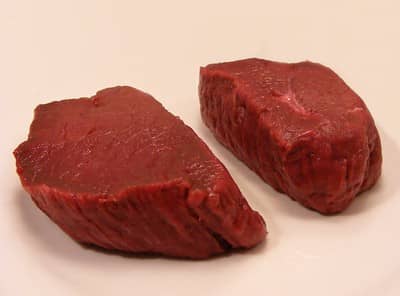 This comprehensive guide will open up the savory world of venison cube steak, known for its deep rich flavor and melt-in-your-mouth tenderness. In this article, we'll provide various options for those looking to expand their culinary prowess by learning about new cuts and sources of meat.
So whether you're a seasoned chef or a home cook experimenting with new recipes, these delectable dishes will inspire you to create unforgettable meals with this one-of-a-kind ingredient. From quick and easy weeknight dinners to comforting, slow-cooked favorites, we'll make sure you find a cube steak recipe to suit your palate. So what are you waiting for? Prepare your ingredients and get ready to embark on a delicious journey with venison!
What is Venison Cube Steak?
Venison cube steak is a type of tenderized meat cut from the deer. The meat is already tender and flavorful, so tenderizing and flavoring it makes it even more popular for use in many dishes. You can cook this versatile meat cut in several ways to create a quiet dinner by yourself or prepare a feast for your family and friends. If you're looking for some new venison cube steak recipes to try, you've come to the right place!
Marinated Venison Steak Cubes
Marinating venison cube steak is a great way to infuse the already flavorful meat with more layers of deliciousness. This process also tenderizes the meat further, ensuring that you'll always end up with tender and juicy cuts. The key to a great marinade is to use a combination of ingredients that will complement the taste of the venison, such as red wine, soy sauce, garlic, and herbs.
Marinade Variations
There are countless marinade options available, and you can choose depending on your taste preferences as well as your preferred method of cooking for the recipe you want to try. You can experiment with different ingredients like citrus juices, balsamic vinegar, Worcestershire sauce, or even honey. The endless possibilities makes it a really fun culinary experience!
You can prepare different marinades to use on different recipes, like the following:
10 Best Venison Cube Steak Recipe Ideas
Venison Steak Tacos
For a quick and easy meal, try making venison steak tacos. Cook the tender cube steak with a blend of Mexican spices, serve it up with a plate of soft and warm tortillas, and arrange your favorite toppings in a row so you and your guests can adjust the flavors depending on personal taste. We highly recommend this dish for weeknight dinners, casual gatherings, game night, and pretty much any last-minute get-together.
Venison Stir Fry
A venison stir fry is another simple yet delicious option for cube steak recipes. Cook the venison with a variety of colorful vegetables, such as bell peppers, onions, and broccoli on high heat and mix everything together with a savory sauce. This dish is for those who want to enjoy meat without worrying about not having enough nutrients in their meals.
Venison Curry
If you're craving something warm and comforting, consider making a venison curry. This may be an acquired taste, but the rich, aromatic sauce pairs beautifully with the tender cube steak, creating a dish that's truly unique, fresh, and flavorful. We recommend pairing it with rice, warm naan bread or mashed broccoli for a well rounded meal.
Venison Cube Steak Roll Ups
Venison cube steak roll-ups are a fun twist on traditional recipes. All you have to do is pound the meat so it's thin enough to roll up (hence the name), then spread it with your favorite filling – like cream cheese, spinach, and mushrooms – and close it up. After that all you have to do is cook the roll-ups until they're cooked through and golden brown, then slice (optional) and serve. The best thing about this recipe is that you can prepare it days before you serve them, so you can really relax and have fun while they cook in the oven.
Country Fried Venison Steak
People who love comfort food will love this country-fried venison steak. You can make it by coating the tender cube steaks in seasoned flour, then fry them up until they're crispy on the outside and tender on the inside. We recommend serving it on a bed of rice or mashed potatoes then drizzled with savory gravy for a delicious and filling meal.
Venison Chili
A hearty venison chili is perfect for chilly evenings or game days. To make this cube steak recipe, cook the meat with a mixture of beans, tomatoes, and spices to create a rich, flavorful chili that's sure to please a crowd. You can do this in a slow cooker so you don't have to keep watching it cook. Once done, sprinkle with shredded cheese, sour cream, and green onions for more zing.
Venison Stew
Venison stew is another classic dish that demonstrates the tender cube steak's versatility. All you have to do is simmer the meat with carrots, potatoes, and onions in a savory broth until everything is tender and the flavors have mixed well together. You can also add a lot of tomatoes if you want a thicker soup and maybe some heavy cream. This dish is perfect for cold days.
Tender Venison Cubes with Green Pepper, Onions & Tomatoes
For a lighter cube steak recipe, try cooking tender venison cubes with a medley of green peppers, onions, and tomatoes. This healthy and fresh combination will guarantee that you will be having a dish that's as flavorful as it is nutritious. Serve it over brown rice or alongside a salad for a complete meal.
Cubed Venison Steak and Gravy
Last but not least, cubed venison steak and gravy is a delicious and satisfying option for those who love rich, savory flavors. This is probably the most straightforward way of cooking venison. Simply cook the tender cube steak until it's browned and juicy, then smother it in a homemade gravy made from pan drippings. This dish pairs perfectly with mashed potatoes or buttered noodles.
Conclusion
Venison cube steak is a flavorful and versatile cut of meat that can be used in so many dishes. From quick and easy tacos to comforting stews and curries, there's a recipe for everyone. Venison's flexibility will guarantee that you will never run out of delicious options to enjoy on your own or with family and friends. So don't be afraid to experiment – the endless possibilities will have everyone coming back for more!