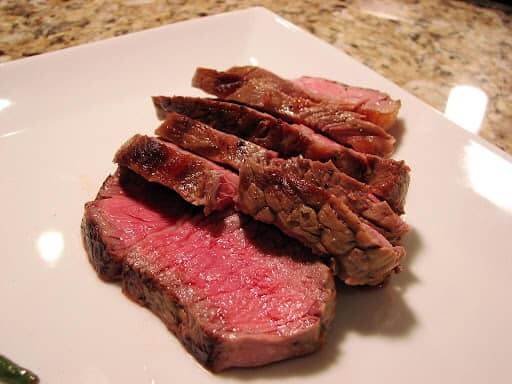 Sure, the grill and frying pan are ideal tools for cooking steak, especially a juicy and flavorful New York strip steak. But it might surprise you to learn that the air fryer can handle steak just as well. Air fryers can achieve the crisp outer crust that other cooking methods can while keeping the inside tender.
In this guide, we share our best tips for air-frying New York strip steak. You can also use these tips to air fry your other favorite cuts, from ribeye to T-bone.
Why You Should Air Fry Steak
When you think about the best ways to cook a steak, an air fryer probably doesn't come to mind. Instead, you probably picture steak cooking on a hot grill or sizzling in a frying pan. However, the air fryer is one kitchen tool you shouldn't overlook when cooking a steak.
First, air fryers offer a healthier alternative to traditional ways of cooking steak that often require butter or oil to do their jobs. All you need for air-fried steak is a small amount of cooking spray, which usually has no calories or fat.
Air fryers are also very convenient. You don't have to dirty grill racks and pans to cook a steak in an air fryer. All you'll have to clean is the air fryer basket when you're done. Plus, you won't need to worry about oil splashes on your stove or countertops.
Cooking with an air fryer is also quick. Cooking steak in an air fryer usually takes about 10 minutes, and you can even cook a frozen steak in about 20 minutes. Depending on the steak cut and its thickness, you might spend closer to 30-45 minutes cooking a steak in the oven.
Air fryers give similar results as oven cooking and pan searing. The outside gets crisp while the inside remains juicy and tender.
Preparing the Steak for Air Frying
To prepare your steak for the air fryer, you'll use a similar process as you would for other cooking methods. We recommend removing the steak from the refrigerator about 45 minutes before you're ready to cook it. Then, salt the steak generously on both sides, and allow it to rest at room temperature for the full 45 minutes.
Just before cooking, spray it with cooking oil on both sides, and add any remaining seasonings, like minced onion or black pepper. Then, preheat the air fryer to 400 degrees to get it ready to cook. After about five minutes, carefully place the steak in the heated basket on top of the tray insert using tongs.
Tips and Tricks for Air Frying New York Strip Steak
Here are a few important tips that can help you succeed when air frying New York strip steak and other cuts of steak:
Don't overload the basket: Depending on the size of your air fryer, you may only be able to fit one or two steaks in the basket. It'll take a little more time to cook steaks for a family this way, but it's crucial not to let pieces of steak touch. If they don't have air circulation around all sides, the steaks may cook unevenly and not crisp along the outside.
Preheat the air fryer: Some people like to skip the step of preheating their air fryers, but it's a pivotal step not to overlook when cooking steak. The air fryer should be hot and ready to go when you put the steaks in to ensure that they get a quick sear before continuing to cook on the inside.
Flip it halfway: Air fryers do a great job of cooking meat on all sides, but it's still best to flip the steak once halfway during the process. That's because the actual heating element of an air fryer is usually on the upper part, so the top of your steak gets the most direct heat. Flipping it once helps it sear equally on both sides.
Air Fryer Strip Steak Recipe
This recipe is a simple one to start with if you're new to air-frying steak.
Ingredients
2 boneless New York strip steaks
Salt
Cooking spray
Ground black pepper
2 tsp steak seasoning, if desired
Instructions
Remove the steak from the refrigerator. Add salt to both sides and leave the steak at room temperature for 45 minutes.
Preheat the air fryer to 400 degrees. Meanwhile, spray the steaks with cooking spray and season them with black pepper and steak seasoning on both sides.
Place the steaks in the air fryer basket, ensuring that they don't touch one another. If it's too crowded, cook just one at a time. Cook for 10-12 minutes, flipping the steak once halfway through the cooking process.
Air fry the steaks until the until the internal temperature reaches 135°F (62°C) or until your desired doneness is reached.
Rest steaks at room temperature for 5-10 minutes before serving.
How to Store and Reheat Air Fryer Steak
If you have leftover air fryer steak, place the steak in an airtight container or sealable bag and store it on the bottom shelf of the refrigerator. You can typically keep steak in the refrigerator for three days.
When it's time to reheat the steak, add it right back into the air fryer. Preheat the air fryer to 350 degrees. Then, add the steak, ensuring that steak pieces don't touch if you're reheating more than one. Cook on one side for three minutes, then flip to the other side and continue cooking for two or three more minutes until completely heated through.
Conclusion
Our boneless strip steak is an ideal match for our air fryer strip steak recipe. Try our premium Angus boneless strip steaks or splurge on our Kobe beef boneless strip steaks. Your order gets flash-frozen, with each steak individually wrapped immediately to preserve its freshness.
Air Fryer Strip Steak FAQs
Yes, you can cook a frozen steak in the air fryer. In fact, the air fryer is designed to make cooking frozen items fast and simple. The best way to cook a frozen steak in the air fryer is to cook it for a few minutes until it's mostly thawed and then season it on both sides. Then, continue the cooking process until it reaches your desired level of doneness. Frozen steaks generally take 15-20 minutes to cook in the air fryer.
Yes, it's best to marinate or season your steak before air frying it, just like you would if you were pan-searing or roasting it in the oven. At a minimum, we suggest using salt and pepper to season the steak on both sides. If using a marinade, be sure to pat the steak dry before putting it in the air fryer to allow it to crisp while cooking.
Air-fried strip steak can be a healthier alternative to pan-searing a steak in oil or butter. In the air fryer, a steak generally only needs a spritz of cooking spray on both sides to sear to a crispy golden brown. Cooking the steak this way doesn't add as many calories or fat content as cooking steak in oil or butter does.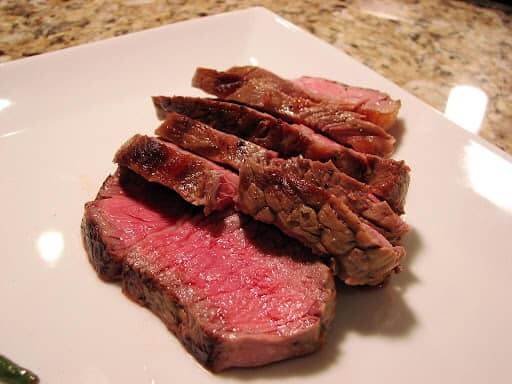 Air Fryer New York Strip Steak
Ingredients
2

boneless New York strip steaks

salt, to taste

ground black pepper, to taste

cooking spray

2

tsp

steak seasoning, if desired
Instructions
Remove the steak from the refrigerator. Add salt to both sides and leave the steak at room temperature for 45 minutes

Preheat the air fryer to 400 degrees. Meanwhile, spray the steaks with cooking spray and season them with black pepper and steak seasoning on both sides

Place the steaks in the air fryer basket, ensuring that they don't touch one another. If it's too crowded, cook just one at a time. Cook for 10-12 minutes, flipping the steak once halfway through the cooking process

Air fry the steaks until the until the internal temperature reaches 135°F (62°C) or until your desired doneness is reached.

Rest steaks at room temperature for 5-10 minutes before serving