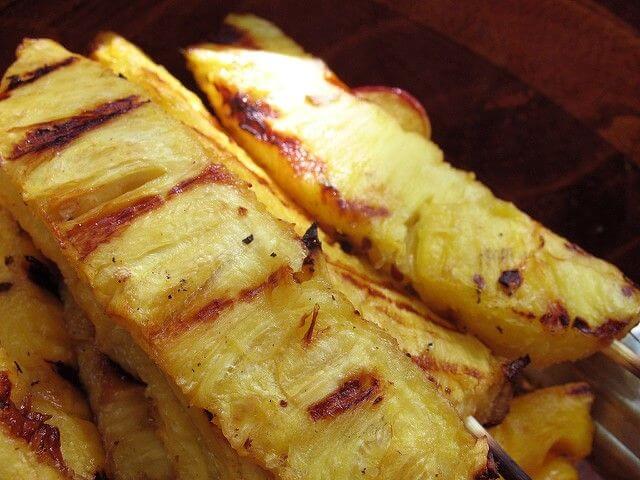 Photo by Simon Law licensed under CC BY-SA 2.0
Fire up that grill and get some of your favorite steaks browned up and ready to enjoy! But don't forget to think about your side dishes too. On hot summer days, it's usually best to keep things simple and light, and there's no better tasty, light side dish than fresh fruit. Several fruits taste incredible with the flavors of the grill and they're the perfect pairing for your Ultimate Grilling Assortment from Chicago Steak Company. Here are a few ideas to get your juices flowing:
Watermelon
Not only is watermelon a go-to barbecue and summer favorite, but it's also a great addition to your grill. You can turn this into a savory side or sweet dessert depending on what you do with it. Top it with a little lime and honey for a sweet and tangy taste, or add some blue cheese, prosciutto, and balsamic vinaigrette for intense flavor.
Grilled Pineapple
Cut pineapple into chunks or slices and grill them on all sides to give them a smoky flavor. They're perfect as-is for a sweet steak side dish, or you can turn them into more of a dessert by tossing them in melted butter and sprinkling with cinnamon, sugar, and brown sugar.
Cherries
Grilled cherries do wonders for fruit salad, but they're also perfect on their own. Spray a pan with nonstick spray, add cherries, and place over high heat for about 8 minutes, flipping them once about halfway through. Or, check out this recipe for salad with grilled cherries from Two Peas & Their Pod. You can even toss in some Chicago Steak Flat Iron steaks!
Pears
Already-soft pears become super juicy and tender on the grill. They're also one of the best fruits for creating delicious grilled desserts with. Cut pears in half, grill them on both sides, and drizzle with caramel sauce. Top with your favorite chopped nuts and vanilla ice cream for a dessert the whole family can enjoy!
Cantaloupe
This summer favorite works as an excellent side dish for your grilled steak or steak burgers when you add it to the grill too. Cut cantaloupe into slices about two inches thick and place them on the grill over high heat. Allow one or two minutes before flipping to the other side for them to get beautiful char marks.
Peaches
If you've never tried a grilled peach, you're missing out! Of course, these sweet gems are just right for turning into a tasty dessert with melted butter, cinnamon, and sugar, but you can also turn them into a decadent, savory side dish for grilled steak using your favorite herbs and spices. Slice peaches in half, toss with olive oil, and grill on both sides. Top with a dab of mascarpone cheese, prosciutto or bacon bits, basil and thyme.
Grilled Steak and Fruit Salad: A Delectable Pairing!
Can't decide what grilled fruit to try first? You don't have to! Pick your favorites and turn them into a grilled fruit salad for a sweet, light side dish that pairs with your choice of steak. All of the above fruits mix together well, and you can even throw in some sliced bananas, strawberries, and blueberries. Chop up the fruits and place them on a nonstick grill pan over high heat, allowing to cook between 5 and 10 minutes, or until char marks appear, before flipping them to the other side. Check out our wide selection of steaks available for online ordering to get exactly what you need for your next cookout.