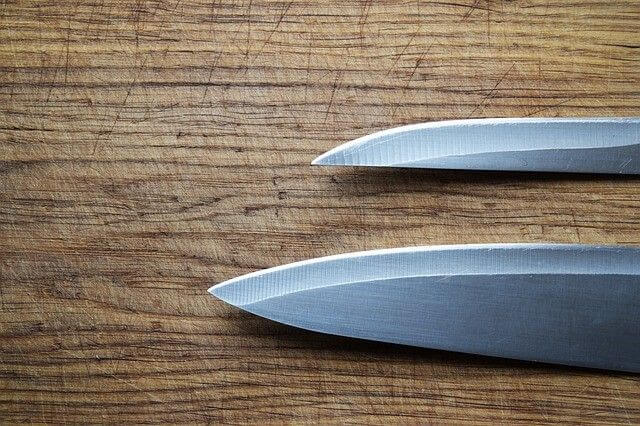 Photo by Mimzy licensed under CC0
A knife is a knife. Or is it?
There's a reason there's a knife labeled explicitly as a steak knife in your drawer. They can be either straight edge blade or serrated edge blade and look similar to others, but steak knives are designed to cut through steaks easily instead of forcing you to hack away at it. Not only can the wrong blade turn steaks into piles of shreds, but it also takes time away from you enjoying dinner.
The right knife can decrease frustration at the dinner table and help you get more out of a meal while leaving your beef cut only where you want it to be.
What's the Difference Between Steak and Other Knives?
There are a couple of significant differences between these knives and others that make them perfect for cutting meats.
First, these tools usually have a good balance between the weight and durability of the knife handle and those of the knife blade. In other words, if the handle doesn't feel like it's quality to you, then the blade probably isn't worth the money either. The point of a steak knife is that is should work with you to guide itself through a piece of meat with ease, so each part has to be in sync with one another.
Second, steak knives usually are a quality knife and look good enough to be on display. A lot of people like displaying their steak knife set in the kitchen or dining area in a block, so you may notice that these sets tend to have some of the most eye-catching handles.
Finally, a knife for steaks usually has a seamless design that leaves no gaps between the blade and handle or anywhere else in between. This helps give each knife a more rigid structure that lends to its ability to cut through meat.
Top Characteristics to Look for in Your Next Set of Steak Knives
Consider the Blade Type
Steak knives most commonly have a serrated blade, meaning that they have a somewhat jagged edge like a saw. This type of blade can cut through most meat textures easily, preventing you from having to do the hard work.
However, some sets have a straight blade. They may not cut quite as easily as a serrated blade, but you can sharpen them frequently to help them maintain their performance. Straight blades also don't cause a serrated edge, so if the look of your steak is important to you, you'll want to opt for a straight blade.
Get a Feel for the Handle
A steak knife should fit beautifully in your hand. Some handles are more for show while others are more for performance, so you'll need to think about what's most important to you. Do you want a nice wooden handle like the pakkawood handle? Or do you want to go for more of an ergonomic handle? If the simplicity of cutting steak is higher on your priority list than showing off your knives in the kitchen, then you should look for a set with a decent handle size with some curves and edges that can lead to a better grip on the knife.
Some houseware stores have handles without the blades on display for specific sets so that you can get a feel for it before you purchase the full set. Take advantage of it! Hold it in your hand and make sure it doesn't feel too narrow, slippery, or bulky.
Best Blade Materials
Older steak knife sets were traditionally made from high carbon steel, which is a very durable material that's also easy to sharpen and have a nice sharp edge. Most of today's sets have blades made from stainless steel, which is the material we'd recommend you look for in your next set.
Stainless steel is known for its ability to resist rust, which is extremely important if you want your knives to last for years to come. It's also very durable and helps structure the rigidity of each tool to make for a quality steak knife.
Conclusion: Choosing the Best Steak Knives
We hope this guide leads you to finding the right set of steak knives for your home to use with your next online steak delivery from Chicago Steak Company! If you want to display your set proudly in the kitchen, remember that performance is still vital, so be wise about choosing the right elements in a set of knives for a tremendous steak-cutting experience first before its looks. Don't forget to check out our steak recipes for some inspiration for your next meaty dinner!