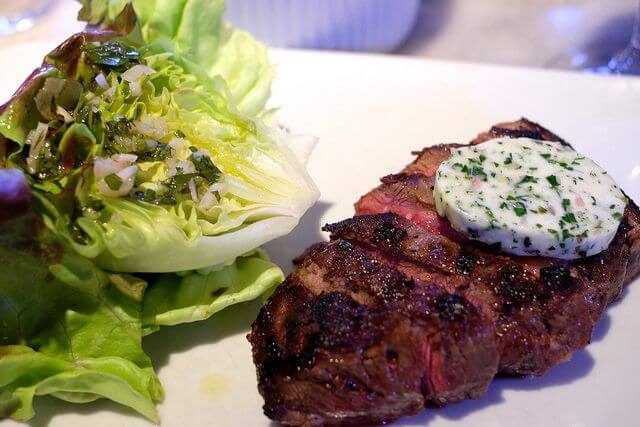 Source: Photo by Jun Seita licensed under CC BY 2.0
This article is all about blackened steak. You know, the kind that looks like it's straight from the bayou. Cajun-inspired steak dishes often use the blackening technique to give steaks a blackened crust that other cooking methods don't compare to. What you get is the perfect mix of tenderness and crispiness, with a steak that's full of the flavor you crave. Pair it with some blackening seasoning for steak, and you've got yourself a winner, winner, steak dinner!
What's Blackened Steak?
You may have never heard of blackened steak, and that's okay. The blackening technique is one that you'd find down South more than up North, specifically in areas where Cajun dishes are popular.
A Cajun blackened steak recipe is commonly found in Southern restaurants. The blackening technique is also used on fish, chicken, and other meats, but there's something about its use on steak that will make any steak lover's mouth water.
Wondering how to make blackened steak? This technique can only come from a skillet, so you'll need to put away your grill for now, unless you want to cook it in a skillet on the grill, of course. Basically, blackening a steak involves searing the steak over very high heat in a cast iron skillet to give it an almost-burnt outer crust, but a tender, just-right internal cook.
It might not sound appetizing at first, but this is one cooking method you should knock until you try it. Usually, chefs prepare a blackened steak recipe using some of the most popular cuts of steak, like a New York Strip or ribeye. That's because they don't have excess amounts of fat and can cook evenly, while still remaining juicy and tender once you sear them to give them their blackened crust.
What's the Best Seasoning for Blackened Steak?
Most blackened steak tips and steaks require a steak seasoning that's full of intense flavor to taste their best. You'll notice that blackened steak recipes often call for heavy seasoning, or may even include a blackened steak seasoning recipe as part of the instructions.
Cajun inspiration is the key to a good blackened steak. You can tweak your seasoning to your preferences, but you'll probably want to include spices common in Cajun dishes, like garlic powder, cayenne pepper, oregano, basil, thyme, paprika, onion powder, and some pepper and salt.
How to Cook Blackened Steak
Now, it's time to learn how to blacken steak! For this process, you'll need a cast iron skillet and your favorite blackened steak seasoning.
Allow your steaks to come to room temperature for about 30 minutes before cooking.
Place the cast iron skillet on a stove burner over high heat.
Dip your steaks in melted butter, and then sprinkle the seasoning over the steaks, being sure to coat both sides.
Once the skillet is preheated, place a steak on it carefully. You may want to wear an oven mitt for safety, as the high heat can cause splattering.
Sear one side for 3 to 4 minutes, or until it has a blackened crust. Then, flip to the other side and sear for another 3 to 4 minutes until a crust forms.
Turn down the heat to low and finish cooking to your desired doneness, if necessary. Thin steaks may already be cooked through at this point, so use your meat thermometer to check the internal temperature.
Conclusion: Blackening Steaks with a Perfect Crust
Blackened steaks will pair perfectly with some of our recipes over at Steak University. Don't forget to browse our selection of wet aged steaks to find a delicious ribeye or New York Strip to use with this cooking method!