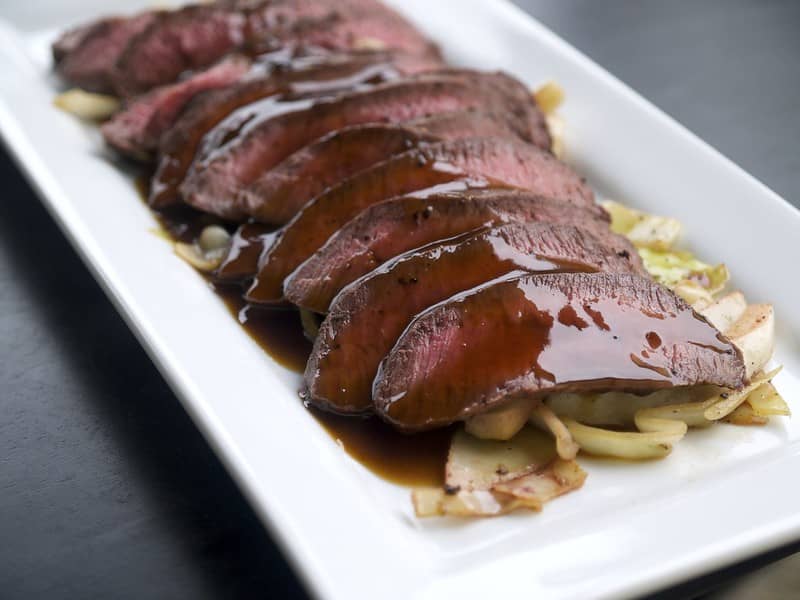 Busy people who enjoy good hearty meals turn to the trusty crock pot.  If you want to create an amazing meal that you can leave and forget until it's time to eat, this is the perfect way to do it. Crock pot cooking guarantees that you have a tender and juicy meal waiting for you come mealtime. If you're particularly fond of flat iron steak, you can cook it in a crock pot for a delectable dish every time.
Why Using a Crock Pot Is Great
Cooking flat iron steak in a crock pot is not just easy, but it's also highly convenient, especially for people who don't have time to create elaborate meals in the kitchen. When you cook flat iron steak in a crock pot, you are simultaneously cooking your steak over extended periods of time and leaving room for other activities. All you have to do is dump in your ingredients, use the timer to set a cooking time, then wait till everything's cooked so you can enjoy your meal!   
Tips and Tricks
Preparing the Crock pot
Remember to grease the pot sufficiently so the steak doesn't stick and burn at the bottom
Preheating after greasing will allow you to create some crust before you add in the other ingredients
If you want a more distinct sear, cook your steaks in a skillet over high heat first
If you're not working with too much sauce, you can use a liner so clean up will be easier
Preparing the Flat Iron Steak
Just like with pan frying and grilling, it's best practice to pat dry the steak cuts with paper towel before placing it inside the preheated crock pot
Remember to season your premium flat iron steaks generously on both sides so they don't taste bland
Easy Herbed Flat Iron Steak Crockpot Recipe
Ingredients
2 lbs flat iron steak
2 tablespoons olive oil
1 teaspoon garlic powder
1 teaspoon dried rosemary
1 teaspoon dried thyme
½ teaspoon salt
½ teaspoon black pepper
Instructions
Pat dry your steak cuts using paper towels and season both sides liberally with garlic powder, rosemary, thyme, salt, and pepper.
You can place the steaks straight into the crock pot or use a large skillet for a more prominent sear.  If you're doing the latter, cook for around 3 minutes and then transfer to the crockpot.
Cover and set the timer for 6 to 8 hours on low setting or 4 to 5 hours on high setting. Periodically check for tenderness or use a meat thermometer. 
Additional Notes for Preparing the Flat Iron Steak
Instead of letting your crock pot do all the work, try marinating your steak first before searing and cooking the steak cuts
If it's your first time cooking flank steak in a crock pot and you're afraid to end up with dry pieces of meat, add some beef broth to the mixture
Serve with rice or your choice of carbs to highlight the flavors better
Conclusion
This crock pot flat iron steak recipe is one of the easiest recipes you can follow to create the perfect steak. As you get more comfortable using your crock pot and your ability to experiment with various flavors, you can try creating more complex recipes that are upgraded versions of the recipe we featured here. Don't be afraid to try new things. We promise you won't regret it!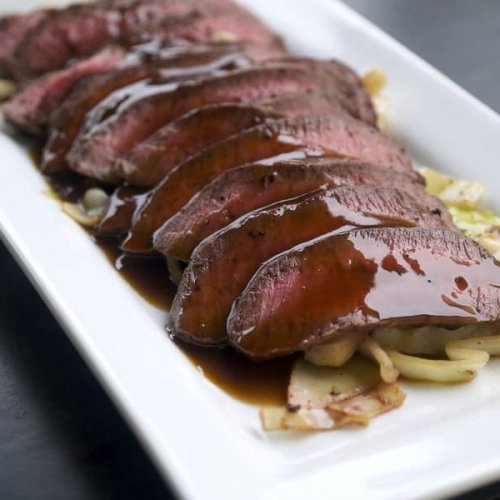 Easy Herbed Flat Iron Steak in Crockpot
Ingredients  
2

lbs

flat iron steak

2

tbsp

olive oil

1

tsp

garlic powder

1

tsp

dried rosemary

1

tsp

dried thyme

1/2

tsp

salt

1/2

tsp

black pepper
Instructions 
Pat dry your steak cuts using paper towels and season both sides liberally with garlic powder, rosemary, thyme, salt, and pepper

You can place the steaks straight into the crock pot or use a large skillet for a more prominent sear. If you're doing the latter, cook for around 3 minutes and then transfer to the crockpot

Cover and set the timer for 6 to 8 hours on low setting or 4 to 5 hours on high. Periodically check for tenderness or use a meat thermometer