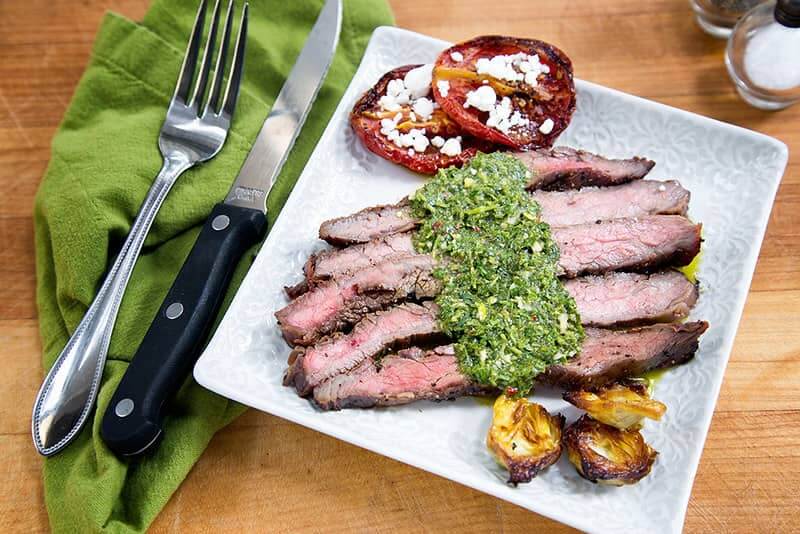 A flank steak with chimichurri sauce combines tender, juicy grilled flank steak with a tangy, herb-packed sauce that will have everyone coming back for seconds. It's quick and simple to prepare, making it the perfect choice for a weeknight meal or a last-minute gathering. So fire up the grill and get ready to savor the flavors of this mouthwatering dish!
What is Chimichurri Sauce Made Of?
Chimichurri sauce is a popular condiment in Argentina and other South American countries, where it's often served with grilled flank steak. The sauce is typically made with fresh parsley, garlic, oregano, red pepper flakes, olive oil, vinegar or lemon juice, and salt. Some variations may also include cilantro or other herbs, as well as additional spices like cumin or paprika. The result is a bright green sauce that's packed with flavor and perfect for adding a zesty kick to any dish!
Flank Steak With Chimichurri Recipe
Steak with chimichurri sauce combines tender, juicy steak and tangy, herb-packed sauce for a mouthwatering dish that's perfect for any occasion. This flank steak recipe is quick and easy to prepare, so you can have a delicious meal on the table in no time. Get this recipe started now!
Ingredients
For the Chimichurri Sauce
1 cup fresh parsley leaves, finely chopped
3-4 cloves garlic, minced
1/2 teaspoon dried oregano
1/2 teaspoon red pepper flakes (or more to taste)
1/4 cup olive oil
2 tablespoons red wine vinegar or fresh lemon juice
Salt and pepper, to taste
For the Steak
Instructions
For the Chimichurri Sauce
In a small bowl, combine the chopped parsley, minced garlic, dried oregano, and red pepper flakes.
Add the olive oil and vinegar or lemon juice and stir until well combined.
Season with salt and pepper to taste.
Set aside.
For the Steak
Preheat your grill or grill pan to high heat.
Season both sides of the flank steak generously with salt and black pepper.
Grill the steak cuts for around 4 minutes per side or until it reaches your desired level of doneness (medium-rare is recommended).
Remove from heat and let rest for a few minutes before slicing against the grain into thin strips.
Serve with chimichurri sauce on top or on the side.
Notes
Leftover chimichurri sauce can be stored in an airtight container in the refrigerator for up to a week.
Nutrition Information
One serving of this recipe (including the chimichurri sauce) contains approximately:
Calories: 450
Protein: 36g
Fat: 31g
Carbohydrates: 3g
Fiber: 1g
Conclusion
This recipe for grilled flank steak with chimichurri sauce is a delicious option for any meal. The bold combination of flavors and with only 450 calories per serving, it's a relatively healthy choice that will keep you satisfied. So fire up the grill (or stovetop) and give this recipe a try – your taste buds will thank you!
Chimichurri Flank Steak FAQs
Here are some ideas for what to serve alongside your chimichurri steak:
Grilled or roasted vegetables, such as asparagus, zucchini, or bell peppers

A green salad with fresh herbs and a tangy vinaigrette

Roasted or mashed potatoes

Rice or quinoa pilaf

Crusty bread to soak up any extra chimichurri sauce
Flank steak is a lean cut of beef that benefits from quick cooking methods like grilling or broiling. You can also bake it in the oven if you want to make sure the steak cuts are cooked through.
Chimichurri steak pairs well with a variety of wines. Here are some options to consider when selecting your wine pairing:
Malbec: This red wine from Argentina has notes of blackberry, plum, and spice that complement the rich flavors of the steak and chimichurri sauce.

Cabernet Sauvignon: A classic pairing for red meat, Cabernet Sauvignon has a full body and tannins that stand up to the strong flavors in the dish.

Syrah/Shiraz: This full-bodied red wine has bold flavors of dark fruit, pepper, and smoke that pair well with grilled meats like flank steak.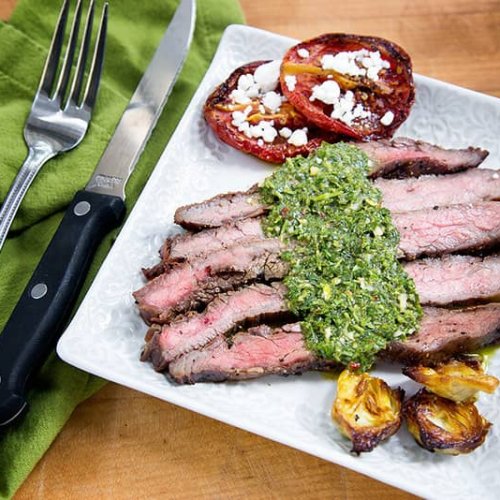 Flank Steak with Chimichurri Sauce
Ingredients
For the Sauce:
1

cup

fresh parsley leaves, finely chopped

3-4

cloves

garlic, minced

1/2

tsp

dried oregano

1/2

tsp

red pepper flakes (or more to taste)

1/4

cup

olive oil

2

tbsp

red wine vinegar or fresh lemon juice

salt, to taste

pepper, to taste
For the Steak:
1

lb

flank steak

salt, to taste

pepper, to taste
Instructions
For the Sauce:
In a small bowl, combine the chopped parsley, minced garlic, dried oregano, and red pepper flakes

Add the olive oil and vinegar or lemon juice and stir until well combined

Season with salt and pepper to taste
For the Steak:
Preheat your grill or grill pan to high heat

Season both sides of the flank steak generously with salt and black pepper

Grill the steak cuts for around 4 minutes per side or until it reaches your desired level of doneness (medium-rare is recommended)

Remove from heat and let rest for a few minutes before slicing against the grain into thin strips

Serve with chimichurri sauce on top or on the side
Notes
Leftover chimichurri sauce can be stored in an airtight container in the refrigerator for up to a week
*photo by Karen Schmautz licensed under CC BY-SA 2.0