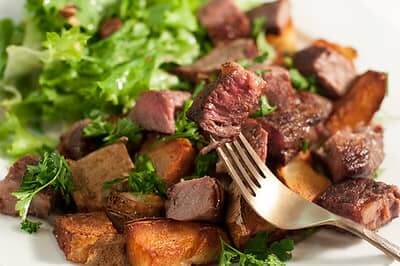 Looking for a delicious and easy weeknight dinner idea? Make fried cube steak! This classic Southern comfort food is sure to be a hit whether you're making it for yourself or your guests. The crispy, golden crust with the juicy, flavorful interior makes for the ultimate comfort food that no one can say no to. And the best part? It's quick and easy to make, requiring just a few basic ingredients and just a little bit of your time. So why don't you try it today and see why fried cube steak is a staple in most Southern kitchens everywhere!
What is fried cube steak?
Fried cube steak is a piece of tenderized beef, then cut into small, cube-shaped portions. These small portions are then breaded and fried until golden brown and crispy. The result is a bite-sized and flavorful piece of meat that will go well with just about any side dish you serve, like mashed potatoes, grilled vegetables, and gravy.
Variations
While fried cube steak is a classic and popular way to prepare this cut of beef, you still have a lot of other options when preparing your meals. Here are a few tried and tested ideas you can try:
Grilled: Sprinkle your cube steak with your favorite seasonings and throw it on the grill for a smoky, charred flavor. Make sure you watch them because they will burn easily because of their size.
Slow-cooked: Cube steak can be cooked low and slow in a crockpot with vegetables and broth, resulting in a tender and flavorful meal. You can easily cut your cooking time by a significant amount because the bite-sized pieces will cook faster.
Stuffed: Make a tiny pocket in your cube steak and stuff it with cheese and vegetables before grilling or baking for a tasty and unique meal. This might take a while to prepare because you will have to make sure that the pockets are tiny but big enough for the stuffing so it doesn't spill while cooking.
Country Fried Cube Steak and Gravy Recipe
Who can say no to crispy breaded steak and creamy gravy that pairs perfectly with mashed potatoes? Here's how to make this cube steak recipe:
Ingredients
For the Steak
4 cube steaks
1/2 cup all-purpose flour
1 tsp garlic powder
1 tsp paprika
1/2 tsp salt
1/4 tsp black pepper
1/4 cup vegetable oil
For the Gravy
1/4 cup reserved oil from frying
1/4 cup all-purpose flour
2 cups whole milk
Salt and pepper to taste
Directions
For the Steak
Mix together the flour, garlic powder, paprika, salt, and pepper in a small bowl, making sure there are no lumps.
Dredge each cube steak in the flour mixture, pressing the flour into the steak to ensure it's fully coated.
Heat the vegetable oil over medium-high heat in a skillet.
Add the cube steaks in a single layer once the oil gets hot and starts to smoke.
Cook for 4-5 minutes per side until golden brown and crispy.
Remove steaks from the skillet and set aside.
For the Gravy
Using the same skillet, leave about 1/4 cup of oil.
Whisk in 1/4 cup of flour until smooth on medium heat and cook for 1-2 minutes.
Slowly pour in milk while whisking constantly, and continue to stir until the mixture thickens.
Season with salt and pepper to taste.
Serve the steak with a generous amount of gravy poured on top.
Conclusion
Fried cube steak is traditionally made by seasoning, breading, and frying, but that doesn't mean you can't try other methods of cooking. There are so many ways to enjoy cube steak, so don't be afraid to experiment once you're ready. We promise that once you've mastered this recipe, you can make the other variations even with one eye closed.
Fried Cube Steak FAQs
Chicken-fried steak and cube steak are not the same things, though they can be made using the same cut of meat. Fried cube steak is a cut of tenderized beef pounded with a meat mallet, while chicken-fried steak is a dish that requires coating beef in seasoned flour, egg, and breadcrumbs before frying it like fried chicken. So although chicken-fried steak may be made using cube steaks, the two are not interchangeable terms.
To tenderize cube steak before frying, you need to place the steak between two pieces of plastic wrap or wax paper, and then use a meat tenderizer or mallet to pound the steak until flattened to desired thickness. You then season the steak cuts as desired before breading and frying. Tenderized cube steaks have had their muscle fibers broken down, making the meat easier to chew once cooked.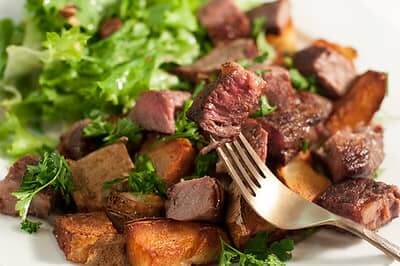 Country Fried Cube Steak and Gravy
Ingredients  
For the Steak
4

cube steaks

1/2

cup

all-purpose flour

1

tsp

garlic powder

1

tsp

paprika

1/2

tsp

salt

1/4

tsp

black pepper

1/4

cup

vegetable oil
For the Gravy
1/4

cup

reserved oil from frying

1/4

cup

all-purpose flour

2

cups

whole milk

salt, to taste

pepper, to taste
Instructions 
For the Steak
Mix together the flour, garlic powder, paprika, salt, and pepper in a small bowl, making sure there are no lumps

Dredge each cube steak in the flour mixture, pressing the flour into the steak to ensure it's fully coated

Heat the vegetable oil over medium-high heat in a skillet

Add the cube steaks in a single layer once the oil gets hot and starts to smoke

Cook for 4-5 minutes per side until golden brown and crispy

Remove steaks from the skillet and set aside
For the Gravy
Using the same skillet, leave about 1/4 cup of oil

Whisk in 1/4 cup of flour until smooth on medium heat and cook for 1-2 minutes

Slowly pour in milk while whisking constantly, and continue to stir until the mixture thickens

Season with salt and pepper to taste

Serve the steak with a generous amount of gravy poured on top