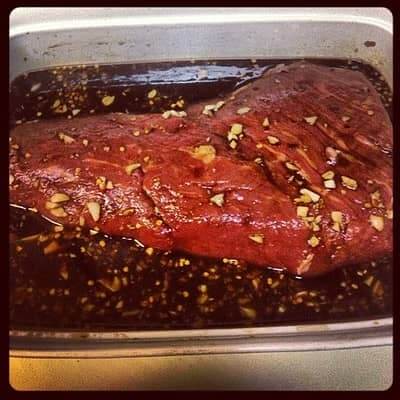 Looking for an easy way to upgrade your tri-tip for your next family barbecue or dinner? Try this delicious marinated tri-tip recipe! Impress your guests and family and have them coming back for seconds or probably planning your next dinner without you knowing. This recipe is easy and quick to make, so you can make this meal even if you're pressed for time. Read on to learn more about tri-tip marinade recipes.
Why Tri-tip?
Tri-tip is a relatively lean cut of beef, meaning it doesn't have as much marbling or fat as other cuts like ribeye or T-bone steak. The absence of fat means this cut may become drier and less flavorful if not properly prepared. Marinating tri-tip infuses the meat with flavor and moisture, making it more tender and enjoyable once cooked. Although other cuts can also be marinated, tri-tip's lean nature makes it well-suited for this preparation method. But if you want to use your marinade for other cuts, here are your options.
Tri-tip meat substitutions
Here are a few meat cuts you can use instead of tri-tip:
Sirloin Tip Roast: This cut is similar in texture and shape to the tri-tip. It's lean with an intense beef flavor, making it a great substitute for tri-tip. 
Flank Steak: Flank steak is another lean cut of meat that can be substituted for tri-tip. It lacks the beefy flavor of tri-tip, but that can be changed by using a marinade to add extra flavor.
London Broil: This thick cut of top-round steak can either be roasted or grilled, just like the tri-tip. This cut is already flavorful, so it will benefit more from a mild-flavored marinade.
Ribeye: A more expensive cut of meat, ribeye is well-marbled and packed with flavor. If you're looking for something more indulgent, this is the perfect choice.
It's important for you to remember that each alternative will give a slightly different flavor and texture. When trying a new cut for the first time, do a test batch first and then adjust cooking times and methods accordingly. You wouldn't want to waste a good cut of meat by proceeding without planning.
Tri-Tip Steak Marinades Flavor Variations
If you're looking to switch up the flavor profile of your tri-tip, don't be afraid to try different marinades. Here are a few popular variations of marinade recipes:
Santa Maria Tri-Tip Marinade
Inspired by the traditional Central Coast California BBQ dish, this marinade combines garlic powder, onion powder, black pepper, white pepper, and salt. In some versions, the marinade also includes paprika, cayenne pepper, or red pepper flakes for a bit of kick. 
Sesame Ginger Tri-Tip Marinade
This recipe adds an Asian twist to the tri-tip. It's made with soy sauce, rice wine vinegar, honey, sesame oil, grated ginger, and garlic. The combination of sweet and savory flavors is sure to please everyone, not to mention that the ingredients are healthy too.
Balsamic Tri-Tip Marinade
A balsamic tri-tip marinade typically includes a blend of balsamic vinegar, olive oil, Dijon mustard, garlic, and herbs like rosemary or thyme. It's a more sophisticated version of other marinades because few people find balsamic vinegar palatable. However, the combination creates a tangy, slightly sweet flavor that really goes well with the robust flavor of the tri-tip.
Chimichurri Tri-Tip Marinade
Chimichurri is an Argentinean sauce made with parsley, garlic, olive oil, red wine vinegar, and red pepper flakes. The herby flavor isn't for everyone, but it adds a layer of flavor to the meat that's truly unique and enjoyable.
Coffee Rub Tri-Tip Marinade
A coffee rub made with ground coffee, brown sugar, salt, smoked paprika, and chili powder gives tri-tip a smoky, slightly sweet flavor, perfect for grilling season. It's a bit messy to prepare, but all the effort will be well worth it because of the tasty result.
Spicy Mustard Tri-Tip Marinade
A marinade made with whole grain mustard, olive oil, honey, garlic, and cayenne pepper adds a zippy kick to tender tri-tip. It brightens the flavor of the meat and gives it a depth of flavor that makes the meal truly enjoyable.
Mediterranean Tri-Tip Marinade
A Mediterranean-inspired marinade made with lemon juice, olive oil, oregano, thyme, and garlic will give you the balance you want in steak. There's nothing like eating steak that tastes healthy, making you feel guilt-free.
Some of the recipes we mentioned above are not for beginners, so here's one you can try if you're just trying out simple recipes for now.
Soy Honey Marinade Recipe
Ingredients
1/2 cup soy sauce
1/4 cup canola oil
1/4 cup honey
2 tablespoons fresh lime juice
2 cloves garlic, minced
1 teaspoon ground cumin
1 teaspoon smoked paprika
1/2 teaspoon black pepper
1/4 teaspoon cayenne pepper
Instructions
Mix the soy sauce, canola oil, honey, and lime juice in a large bowl until well combined.
Add minced garlic, ground cumin, smoked paprika, black pepper, and cayenne pepper. Mix well and make sure there are no lumps or undissolved ingredients.
Place the tri-tip into a large resealable bag and pour the marinade over the top. Seal the bag and massage the marinade into the steaks until all pieces are evenly coated.
Place the tri-tip in the fridge for at least 4 hours or overnight, flipping the bag occasionally to ensure that the meat is well coated.
When ready to cook, remove the meat from the marinade and discard any remaining marinade.
Grill or roast the tri-tip to your desired temperature for doneness (preferably medium rare), then slice and serve.
Conclusion
There are endless possibilities when it comes to marinating tri-tip. Whether you prefer traditional flavors or want to try something new, there's a marinade for everyone. Don't be scared to mix and match various marinades and steak cuts. The key to the perfect marinade flavor is to get creative in the kitchen. Enjoy your perfectly marinated tri-tip for your next meal!
Marinated Tri-Tip FAQs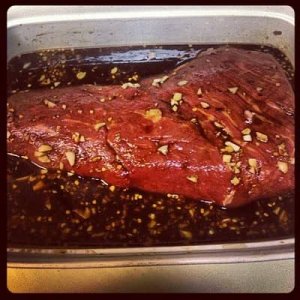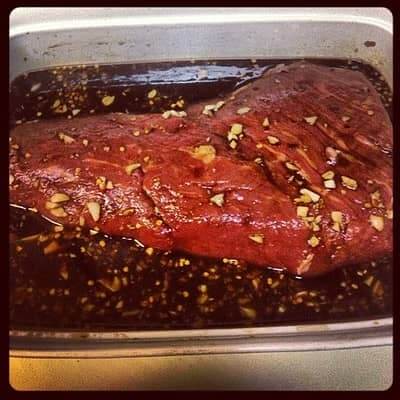 Soy Honey Marinade
Ingredients  
1/2

cup

soy sauce

1/4

cup

canola oil

1/4

cup

honey

2

tbsp

fresh lime juice

2

cloves

garlic, minced

1

tsp

ground cumin

1

tsp

smoked paprika

1/2

tsp

black pepper

1/4

tsp

cayenne pepper
Instructions 
Mix the soy sauce, canola oil, honey, and lime juice in a large bowl until well combined

Add minced garlic, ground cumin, smoked paprika, black pepper, and cayenne pepper. Mix well and make sure there are no lumps or undissolved ingredients

Place the tri-tip into a large resealable bag and pour the marinade over the top. Seal the bag and massage the marinade into the steaks until all pieces are evenly coated

Place the tri-tip in the fridge for at least 4 hours or overnight, flipping the bag occasionally to ensure that the meat is well coated

When ready to cook, remove the meat from the marinade and discard any remaining marinade

Grill or roast the tri-tip to your desired temperature for doneness (preferably medium rare), then slice and serve