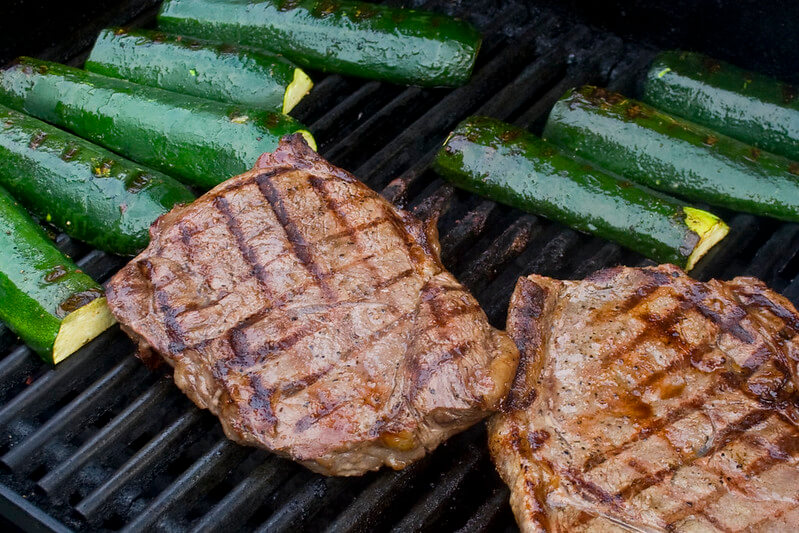 Photo by woodleywonderworks licensed under CC BY 2.0
Grab your best cut of top sirloin steak and gather the ingredients below to create this one-of-a-kind steak meal that will leave everyone in the family coming back for more.
Topped with a crispy, crunchy, flavorful parmesan cheese and breading topping, this steak has a unique texture and taste that's unlike any steak you've tried before. Pair it with fresh zucchini that's also tossed in a parmesan cheese mixture and baked in the oven for a healthy, light addition to your meal.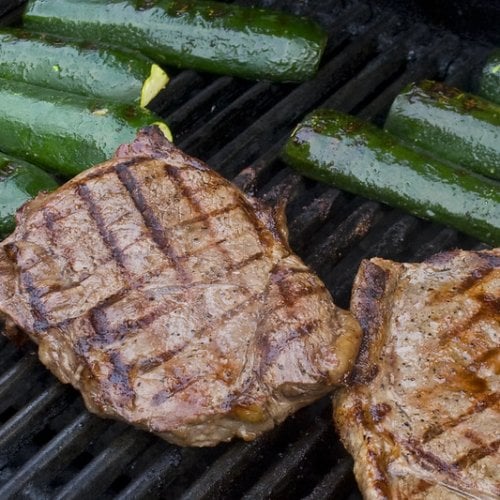 Parmesan-Crusted Steak and Zucchini Recipe
Ingredients
Zucchini
2

zucchinis

sliced thinly

2

tbsp

olive oil

2

tbsp

melted butter

1

tsp

salt

1

tsp

fresh ground pepper

2

tbsp

garlic powder

1

tsp

italian seasoning

1/4

cup

grated parmesan cheese

1/2

cup

panko breadcrumbs
Steak
1 1/2

lbs

top sirloin steak

1/4

cup

grated parmesan cheese

1/2

cup

panko breadcrumbs

1

tsp

parsley

1

tsp

thyme

1

tsp

garlic powder

3

tbsp

melted butter

for parmesan mixture

2

tbsp

butter

for cooking steak
Instructions
Remove steak from the fridge and allow to sit at
room temperature as you prep the zucchini. Sprinkle both sides with salt and
pepper.

Put zucchini slices in a large bowl. In a separate bowl, stir together oil, melted
butter, salt, pepper, garlic, and Italian seasoning. Pour the mixture over the
zucchini and mix thoroughly.

In another bowl, mix together the parmesan cheese and breadcrumbs for the
zucchini. Pour that mixture over zucchini and mix thoroughly, ensuring that all
pieces are coated.

Add zucchini slices to a baking sheet in a single layer and place in the oven on
the top rack. Bake for about 15 minutes (see note below about coordinating
zucchini and steak times).

Meanwhile, heat a skillet over medium-high heat with 2 tbsp butter.

Mix together the parsley, thyme, garlic, panko breadcrumbs, and grated parmesan
cheese. Then, add 3 tbsp melted butter and stir the mixture together.

Cook the steak for 3-4 minutes on each side until seared. Top the steak with
breadcrumb and parmesan mixture until the top is covered thoroughly.

Turn the oven down to 400 degrees and place steak in the oven on a baking sheet (if
you're using a cast-iron skillet, you can stick it right in the oven).

Continue cooking for another 5-10 minutes. The zucchini
should be golden brown and fully tender. The steak should reach an internal temperature
of 135 degrees for medium-rare and the parmesan mixture will turn golden-brown.

Allow steak to rest for 5-10 minutes before slicing and serving.
Notes
Note: Oven times will vary, so you may need to adjust your times accordingly. As a general rule of thumb, wait until the zucchini starts to become tender before putting your steak in the oven, as it will likely only need a few more minutes to come to the right temperature.
Here at Chicago Steak Company, we're known for bringing flair to your kitchen with some of the best steak cuts in the country and our vast database of steak recipes and cooking tips in Steak University. This recipe is just another incredibly delicious one to add to your stash of favorite recipes.
Need more? Head over to Steak University for recipes and inspiration or check out Steak U TV to learn more about cooking steak from the experts.