- relpost-thumb-wrapper -->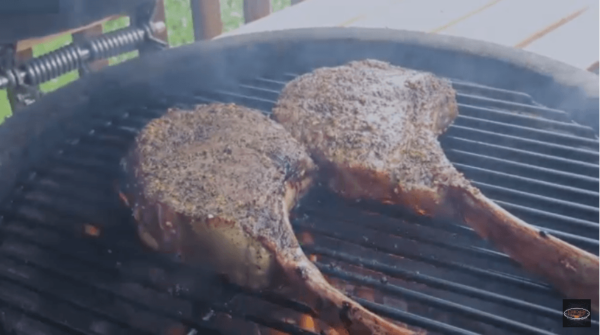 4

12 oz or 16 oz

Chicago Steak Company Premium Angus ribeye Steaks

olive oil

1 1/2

tsp

kosher salt

1

tsp

ground black pepper

1/2

tsp

thyme

1/2

tsp

garlic powder

1/2

tsp

Tarragon

your choice of wood chips
4

12 oz or 16 oz

Chicago Steak Company Premium Angus ribeye Steaks

olive oil

1 1/2

tsp

kosher salt

1

tsp

ground black pepper

1/2

tsp

thyme

1/2

tsp

garlic powder

1/2

tsp

Tarragon

your choice of wood chips
Season each steak generously with salt. Allow to sit at room temperature for 45 minutes to create a dry brine.

Add wood chips to the smoker according to its instructions. Preheat the smoker to 225°F. Meanwhile, mix together the pepper, thyme, garlic powder, and tarragon. Rub the seasoning mixture onto all sides of each steak.

Place steaks on a smoker rack seasoned with olive oil. Allow to smoke for approximately 45 minutes to one hour, depending on your desired doneness. For medium rare, pull the steaks when they reach 125°F, or 135°F for medium.

Use the reverse sear method above, if desired, to sear each steak. Allow steaks to rest for 5-10 minutes under a tent of foil before enjoying.