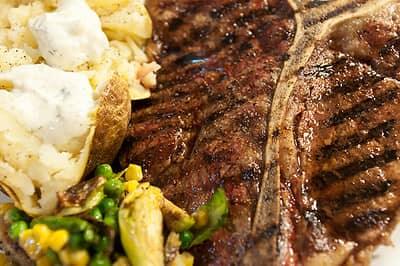 A juicy T-bone steak dinner is a perfect meal on its own, but it's even better when paired with delicious sides. The T-bone steak combines the tenderloin and the strip steak, making it a unique dish. But surprisingly, you can further enhance its flavor by making various side dishes to complement both cuts. So whether you prefer classic options or more unique pairings, there are countless ways to create a meal that will tantalize your taste buds. We'll explore some of the best T-bone steak side dishes you can turn into a staple in your kitchen. Let's begin.
What Should I Serve with T-Bone Steak?
When cooking T-bone steak, always make sure you have several side dishes for you and your guests to choose from. Your options can be something simple, or you can go ahead and impress everyone with more complicated side dish recipes that scream fine dining. In the following sections, we'll give you a better idea of the best side dishes you can serve with steak. If you want your dining experience to be unforgettable, you can even try serving more than one kind.
Potato Sides
Classic Mashed Potatoes
Easily a comfort dish appreciated by people of all ages, mashed potatoes provide a T-bone steak with a clean base that doesn't overpower the intense beefy flavors. The creamy texture complements the rich and savory taste of the meat. It's no wonder why it's one of the most popular side dishes out there.
Scalloped Potatoes
Scalloped potatoes are the perfect sides for those who enjoy cheesy flavors. The sharp yet creamy sauce creates a harmonious blend of texture and flavor with the slightly crispy potatoes – a unique gastronomic experience for everyone to enjoy.
Twice Baked Potatoes
Hearty and comforting, this side dish is easily customized with various ingredients like bacon, cheese, and even sour cream. Their crispy skin with fluffy interior provides a beautiful contrast that makes your juicy T-bone steak even more special.
Sweet Potatoes Fries
If you want a healthier and sweeter alternative to regular french fries, this is the perfect choice. Sweet potatoes are known for being savory and slightly sweet, which is perfect for pairing with the mouth-watering flavor of the steak. Some people prefer it smooth, while others like it served crumbly. Either way, it's sure to satisfy your palate.
Pasta Sides
Mac and Cheese
Out of the many side dishes for steak, this classic comfort food easily makes it to the top. You can serve it with practically any type of meat, and there's no age restriction when it comes to enjoying it. The creamy, cheesy sauce and well-cooked macaroni provide a rich flavor that goes really well with the savory taste of the steak.
Parmesan Snap Pea Pasta
For the more health-conscious, this light and refreshing dish is the perfect choice. The crisp texture of the snap peas mixed with the sharp saltiness of parmesan cheese creates a tangy flavor that further highlights the intense taste of the steak.
Creamy Mushroom Pasta
Decadent, mild, and flavorful, this side dish adds depth and richness to any T-bone steak meal. The earthy flavors laced with a slightly sweet taste bring out the bold flavors of the meat.
Bread Sides
Garlic Bread
This flavorful and aromatic side dish pairs really well with T-bone steak. Ideally, you make one that's crispy on the outside and soft on the inside. The zesty garlic butter topping packs a punch that balances the richness of the steak.
Dinner Rolls
Underappreciated by many, dinner rolls are a classic and simple side dish that surprisingly pairs well with T-bone steak. It's soft, fluffy, and has a mild flavor that creates a nice contrast to the meaty taste of T-bone.
Cornbread
If you want to incorporate some Southern flavor into your steak meal, this is the way to go. The sweet flavor and the crumbly texture of the bread are perfect for soaking up the juices of the T-bone steak. What a way to finish your dinner, right?
Classic Popovers
Classic popovers are aesthetic, light, and airy bread with a crispy exterior and soft, pillowy interior. They're easy to make yet look elegant on the table once you serve them to your dinner guests.
Vegetable Sides
Oven Roasted Vegetables
This tasty side dish is both savory and slightly sweet. The rich and sweet flavor balances the savory flavor of the steak. The roasted veggies form a caramelized crust during roasting that adds a delicious smoky flavor to the entire meal.
Sauteed Green Beans
An easy and healthy side dish, sauteed green beans give a T-bone steak entrée a crunchy texture and a mildly bitter flavor. The green beans are given a mild and tasty flavor during sautéing with garlic and oil, which brings out the meaty flavor of the steak.
Corn on the Cob
A T-bone steak supper is enhanced by the typical side dish of corn on the cob. The luscious corn kernels and slightly crisp texture go nicely with the steak's flavorful and beefy flavor.
Roasted Broccolini
A colorful and tasty side dish with a somewhat bitter and crunchy flavor, roasted broccolini is a classy dish enjoyed by many. The roasted vegetables' nutty and somewhat sweet flavor wonderfully balances the steak's strong flavor.
Mashed Cauliflower
As an alternative to conventional mashed potatoes, mashed cauliflower is nutritious and low in carbohydrates. The mild and somewhat sweet flavor of the mashed cauliflower, together with its creamy and velvety texture, serves to counterbalance the deep and savory flavor of the steak.
Honey Roasted Carrots
T-bone steak's rich, buttery flavor goes nicely with honey-roasted carrots, a sweet and savory side dish. A distinctive flavor combination that goes well with the steak is produced by the caramelized and slightly crunchy skin of the carrots and the sweet and somewhat acidic flavor of honey.
Balsamic-Glazed Zucchini
For the health-conscious, this side dish will be a big hit. The sweet and tangy flavor with a little crispy texture is a sophisticated way to enjoy your T-bone steak. The sweet yet acidic flavor wonderfully offsets the savory taste of the meat.
Salad Sides
Wedge Salad
The acidic and somewhat bitter flavor of iceberg lettuce is combined with the rich and creamy flavor of blue cheese dressing to create the refreshing and crisp side dish known as wedge salad. The bacon offers a salty, smoky flavor that contrasts well with the salad's and T-bone steak's flavors.
Bacon Avocado Salad
The texture and flavor combination of bacon avocado salad combines crispy and creamy elements. The flavor created by the acidic dressing, creamy avocado, and bacon is the ideal accompaniment to the steak's beefy flavor.
Chickpea Cucumber Salad
A T-bone steak supper can be enhanced with a crunchy and subtly sweet side dish like chickpea cucumber salad. Crisp cucumbers and the nutty flavor of chickpeas combine to produce a subtle, earthy flavor that goes well with the steak's flavor.
Warm Apple and Pistachio Spinach Salad
This side dish combines the sweet and savory flavors of warm apple, pistachio, and spinach. The mild and somewhat earthy flavor of the spinach leaves contrasts well with the meaty flavor of the steak. The sweet and slightly acidic flavor of the apples mixes well with the nutty and crunchy texture of the pistachios.
Red Cabbage and Fennel Coleslaw
T-bone steak meals go well with a tangy, crisp side dish called red cabbage and fennel coleslaw. The fennel's somewhat sweet, anise-like flavor and the cabbage's soft, crisp texture come together to create a distinctive flavor that enhances the flavor of the steak.
Caesar Salad
The crunchiness of romaine lettuce and the salty, tangy flavor of Caesar dressing come together to make the traditional and delectable side dish known as Caesar salad. The nutty and savory flavors of the croutons and parmesan cheese enhance the beefy flavor of the T-bone steak.
Conclusion
The sides you choose to pair with your T-bone steak play a significant role in creating an exceptional dining experience. Whether you're buying T-bone steak or any other cut, pairing it with classic sides like mashed potatoes or trying unique dishes like honey-roasted carrots, balsamic-glazed zucchini, or red cabbage and fennel coleslaw can enhance and diversify the taste of the meal.
From veggie-heavy salads and fresh, crunchy coleslaw to savory pasta dishes and flavorful roasted vegetables, there are numerous side dishes to fit any taste or dietary preference. We hope this guide has given you some inspiration for your next prime T-bone steak dinner and has helped you find new side dishes to incorporate into your meals.