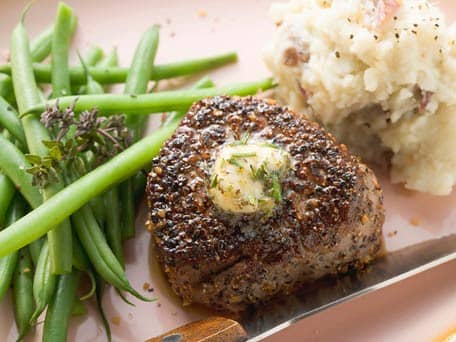 Finding the perfect pairings for a special steak dinner helps balance out the richness of your main dish. Since Filet Mignon is such a tender cut of beef, you'll want side dishes that can stand out and highlight its rich flavor. Try any of these options that catch our eye to complete your next Filet Mignon meal.
Salads to Serve With Filet Mignon
Salads are good for keeping things light, but you may want a creamy dressing to complement the lean meat of the steak.
Classic Caesar Salad
Crispy croutons and a creamy yet savory dressing are two of the keys to a classic steakhouse Caesar Salad. Don't forget shaved, not powdered, Parmesan cheese and homemade dressing if you have the time and an immersion blender. It's up to you if you use raw egg yolks or anchovies in your dressing, but both are traditional.
Salad Catalane
Also known as Catalonian Salad, this is a bread-based side dish that is nonetheless lightened up with plenty of grilled or roasted vegetables. The result is a flavorful side that holds its own against the flavor of the Filet Mignon. For true authenticity, add fresh figs right before serving.
Lemony Chickpea Salad
Chickpeas are a fiber-filled choice for pairing with beef, which can aid in digestion. But it's not the fiber that will have you making this side dish over and over again, it's the flavors. Mix chickpeas with halved heirloom cherry tomatoes and chopped cucumber, top with green onions, and dress it all with a combination of olive oil, minced garlic, lemon juice, and rice wine vinegar.
Pear Salad With Walnuts
The almost fatty flavor of walnuts contrasts with the pears in this salad, playing well with the richness of the beef. Consider a balsamic vinaigrette for the dressing.
Wedge Salad
Another steakhouse classic, this one is easy to recreate at home. Use a sharp knife to cut a large wedge of iceberg lettuce, then top it with cherry tomatoes, blue cheese dressing, and bacon.
Potato Side Dishes for Filet Mignon
Nothing is more widely paired in popular culture than steak and potatoes. Yet you have so many potato side dishes to choose from you shouldn't run out of pairings to try for quite some time.
Belgium Fries
Some of the best fried potatoes in the world aren't French at all, but rather hail from Belgium. Belgian Fries are fried twice, which makes them crispier and yet less oily than many other types of shoestring potatoes. Thin cuts work best for this cooking method.
Garlic-and-Herb Mashed Potatoes
Spice up your usual mashed potato accompaniment with oven-roasted garlic and fresh chopped herbs. Rosemary, tarragon, sage, marjoram, and even dill all complement the buttery potatoes, making this one of the best sides to go with Filet Mignon.
Healthy Sweet Potato Fries
Swap your regular fried potatoes for baked sweet potato fries if you're trying to stick to a healthier diet. Filet Mignon is already a lean cut of beef and comes in a controlled portion size, so it makes sense to pair it with a tasty yet healthy side dish.
Veggie Twice-Baked Red Potatoes
No potato handles the twice-baking method better than a new red potato. The slightly waxy interior mixes well with chopped veggies, cheese, and a touch of cream to create a decadent side that isn't all that unhealthy.
Vegetable Side Dishes for Filet Mignon
Options abound for adding at least one vegetable to the side of the plate when grilling up a top-quality Filet Mignon.
Green Beans Almondine
Start with the finest French-style skinny green beans, then blanch and fry them in butter before topping them with sliced almonds. The resulting dish is surprisingly creamy, making it a good pairing for this steak.
Easy Creamed Spinach
To amp up the creaminess, turn to good old-fashioned creamed spinach. The key is using both heavy cream and cream cheese to add to the density of the dish once it's fully cooked.
Tarragon Mushrooms
Roasted mushrooms cooked in butter and their own juices are a staple of every good steakhouse. Elevate the dish with a splash of red wine and chopped fresh tarragon for a side dish you won't soon forget.
Crispy Brussel Sprouts
Brussel sprouts aren't always a fan favorite, but roasting them until they're crispy may change your mind entirely. For one of the very best Filet Mignon sides, try coating them with oil and spices and air frying them until they're crisp and well-browned.
Glazed Carrots
You have a lot of options for glazing carrots, but some of the best recipes combine ingredients like orange juice, maple syrup, and browned butter for an intensely flavorful vegetable side. You can cook the carrots in the glaze on the stovetop or let them roast in the oven for unbeatable caramelization.
Grilled Side Dishes to Serve With Your Filet Mignon
If you're already firing up the grill, use these tips to transform produce into amazing side dishes that double down on the smoky flavor.
Grilled Tomato Halves
Large heirloom tomatoes are easily cooked right on the grill after halving and being brushed with oil, but smaller Roma or vining types may stay intact better when cooked on aluminum foil. Cherry tomatoes should go onto a skewer before grilling.
Grilled Baked Potato
The grill can bake your potatoes even better than the oven does, keeping you from heating up the house in the summer. Wrap your washed and pricked potatoes and foil, then let them cook until they're soft enough that a knife penetrates the wrapped bundle easily.
Vegetable Kebabs
All you need is a set of steel skewers to create your own combinations for vegetable kebabs. Mushrooms, zucchini, eggplant, tomatoes, and chunks of onion are just some of the many options that work well for this method.
Grilled Asparagus and Green Beans
Choose larger asparagus for grilling so they don't dry out and blacken during cooking. As with many other vegetables, both green beans and asparagus respond best when enclosed in an aluminum foil packet with oil or butter so they can steam while cooking on the grill.
Breads to Serve with Filet Mignon
Don't forget the bread on the side to sop up any delicious juices that come from your favorite steak. Most of these are easily picked up from the bakery or baked from frozen.
Dinner Rolls
Yeasted dinner rolls are ideal for Filet Mignon, especially if you're going to top it with au jus sauce.
Artisan Bread
Grab a loaf of rustic sunflower seed peasant bread or a rich loaf of pumpernickel. Don't forget the cultured butter for a flavor explosion.
Cornbread Muffins
Cornbread muffins, even those whipped up from a dry mix, will highlight the sweet and rich flavors of this cut of beef.
Cheddar Beer Bread
Use your favorite beer and a sharp, aged cheddar for a side dish that will leave everyone asking for seconds. Jalapenos are optional but highly recommended.
Conclusion
There is no shortage of side dishes perfectly suited to pairing with Filet Mignon. Keep in mind any sauces or toppings you may want for the steak, such as a creamy peppercorn sauce that might also work wonderfully with mashed potatoes.