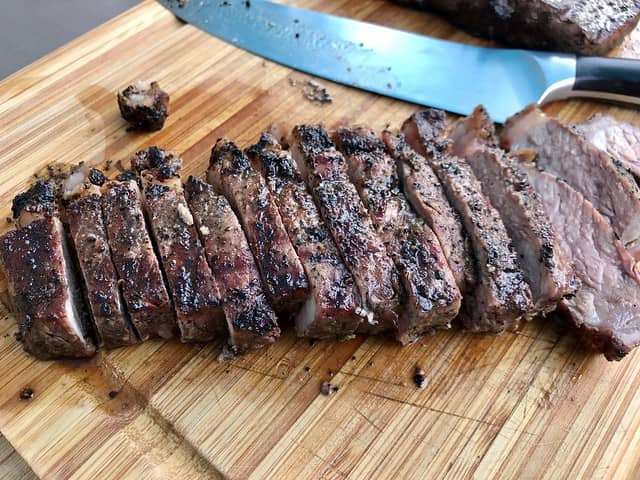 Smoked meats often top the charts for price when enjoyed at a high-end steakhouse. If you have a patio or backyard, you can set up a smoker that helps you create your own meat masterpieces at a fraction of the cost. Start with a luxurious and well-marbled Porterhouse steak and smoke it to perfection for a flavorful steakhouse experience at home.
How Big of a Porterhouse Steak Should I Buy to Smoke?
Since the Porterhouse steak is a leaner cut when it comes to solid fat, you'll want a larger and thicker steak for smoking. Smoking is a low and long cooking method that pairs low heat levels with longer periods of exposure. This helps the marbled fat in this steak melt into the meat while creating a firm crust on the exterior for maximum flavor. Look for a steak at least an inch and a half thick or even two inches thick for the best results. The bigger the overall steak, the better. Smaller steaks will easily overcook and dry out during smoking.
Tips for Making the Best Smoked Porterhouse Steak
Aside from size, you'll also want to consider the grade of the meat. For the Porterhouse steak, Prime or Choice grade meats will offer the most marbling and therefore the best results. Dry-aged steaks are a good choice as well since they'll hold more of their moisture through the smoking process.
How to Prepare a Porterhouse Steak for the Smoker
It's best not to marinate a steak that's about to be smoked because it can make a mess in the smoker. Rubs and dry seasonings are more common, including a generous helping of salt or a salt-based seasoning. For liquid applications to add flavor to the crust, try brushing on melted butter, Worcestershire sauce, or strong black coffee. Make sure to let the steaks rest for 10 minutes and warm up a bit before hitting the smoker.
Top Seasonings and Marinades for Smoked Porterhouse Steak
Smoke contributes the majority of the flavor for the steak, but you can still add plenty of seasonings to enhance the final product. When applying butter or another basting option like soy sauce, remember to balance out the rest of the salt and seasonings you apply to the steak. Even for a basic steak with no particular seasoning, you'll want to rub on a generous application of kosher salt and fresh cracked pepper. This will enhance the meat's natural flavors without distracting from them in any way. For more flair when getting creative with your smoker, try seasoning the Porterhouse with:
Fresh thyme, rosemary, and dill placed in whole sprigs over the steaks while they're smoking
Flaked red pepper, olive oil, and granulated garlic
Dijon or brown mustard, butter, and granulated garlic.
Fresh herbs tend to blacken when applied over the surface of the meat, but they'll add plenty of flavor if left whole and added to the smoking chips or laid on the top of the steaks. Choose dry and powdered forms of garlic and onion rather than fresh to avoid blackening and off-flavors.
Best Smoking Wood Choices for a Porterhouse Steak
The wood you use in the smoker, whether in chip, pellet, or whole plank form, largely determines the flavor of the meat. Hickory is a classic option that has an almost sharp smokiness that pairs well with this cut's marbling. If you're not a hickory fan, mesquite is another widely available choice that works well for Porterhouse steaks. For a less intense smoke flavor, apple wood is your best bet.
Best Times and Temperatures for Smoking a Porterhouse Steak
The key to smoking is to keep the smoker at a low temperature, usually between 175 and 225 degrees, for a number of hours based on the meat you're cooking. Porterhouse steaks take far less time than whole roasts to cook, but they still need a few hours to reach the desired internal temperature.
ADD PORTERHOUSE STEAK TEMPERATURE CHART HERE
Smoker Temperature
Maintaining a precise temperature in most manual smokers is a little tricky, while electric smokers are fairly good at holding steady. Either way, you'll need to aim for a temperature inside the smoker around 190 degrees F. The range that is recommended for smoking thick-cut steaks can range from 175 to 225 degrees F, and it's likely your smoker will also fluctuate between those highs and lows over the course of the cooking time. Raise the temperature if it drops below 170 and throttle back the heat at 220 to prevent drying.
Watch the Internal Temperature Closely
While grilling generally requires you to leave the lid closed and ignore the meat until it's done, smoking benefits from a slightly more hands-on process. Check the steaks every 20 minutes with a meat thermometer, watching the internal temperature during the check. Using a smoker that has control over the temperature level due to an electric or gas element can make smoking Porterhouse steaks in particular much easier.
Setting up Your Smoker
Electric Smoker
These smokers are quick to set up. Preheat the smoker for one hour on the highest setting, making sure to fill the water tray first or to add a little water to the grease tray. Load the wood chips in about 10 minutes before you add your steaks. Use a middle rack setting for optimal heat exposure. Top up water and wood chips as needed.
Gas or Charcoal Grill
Pre-light charcoal in a chimney accessory, then distribute the hot coals in the bottom of the smoker. Gas smokers should be lit about 20 minutes before you plan to add the meat, while charcoal grills need about the same amount of time to burn down so they don't overcook the meat. Soak the wood chips if you are using a charcoal grill or a gas smoker without a water tray. Add the chips on top of the coals or into the smoking tray on a gas smoker/grill.
Pellet Grill
Pellet grills or smokers hold temperature evenly by automatically new pellets to the fire as needed. Have at least 3 pounds of pellets on hand per hour of cooking time before starting. Preheat the grill until it reaches around 220 degrees.
Vertical or Offset Charcoal Smoker
Old-fashioned and producing some of the best flavors, charcoal smokers need careful setup. Fill the water tray and light the charcoal, letting it turn gray before you start adding wood chips. Once the smoker has a chance to reach 220 degrees inside, add the meat and begin timing the cooking.
Smoked Porterhouse Steak Recipe
Ingredients
1 Porterhouse steak, at least 1.5 inches thick
1 tablespoon kosher salt
Freshly cracked black pepper, as desired
3 tablespoons melted butter or olive oil
Directions
1. Rub the steak with the butter or oil, then rub the salt and pepper all over its surfaces.
2. Place the steaks into your smoker or grill once it has heated completely. Cook the steaks for 1 to 3 hours, testing every 20 minutes until the desired internal temperature is reached.
3. To finish the steaks, you'll need to choose a searing method. A cast iron skillet on the stove or a gas grill will do the job quickly, with just two or three minutes needed per side to add some color. If your pellet smoker has a high setting, it can also put a finish on the steaks after about five minutes at the top temperature.
Notes
Try setting the steaks up vertically with a smoker rack or metal skewers so that the thinner tenderloin side of the cut is held away from the heat source.
Conclusion
Transform your Porterhouse steaks with the power of smoke and slow cooking all at once. Soon you'll be a backyard smokehouse pro with the help of Chicago Steak Company.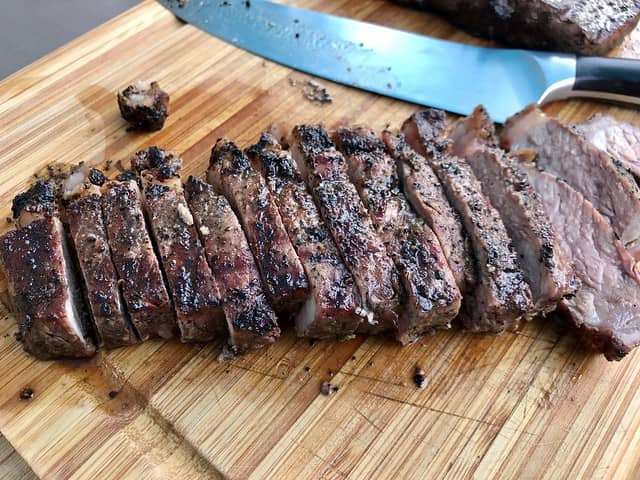 Smoked Porterhouse Steak
Ingredients  
1

porterhouse steak, at least 1.5 inches thick

1

tbsp

kosher salt

freshly cracked black pepper, as desired

3

tbsp

melted butter or olive oil
Instructions 
Rub the steak with the butter or oil, then rub the salt and pepper all over its surfaces

Place the steaks into your smoker or grill once it has heated completely. Cook the steaks for 1 to 3 hours, testing every 20 minutes until the desired internal temperature is reached

To finish the steaks, you'll need to choose a searing method. A cast iron skillet on the stove or a gas grill will do the job quickly, with just two or three minutes needed per side to add some color. If your pellet smoker has a high setting, it can also put a finish on the steaks after about five minutes at the top temperature
Notes
Try setting the steaks up vertically with a smoker rack or metal skewers so that the thinner tenderloin side of the cut is held away from the heat source
*photo by Vaughanoblapski! licensed under CC BY-SA 2.0