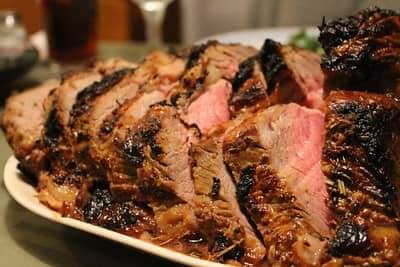 Perfectly cooked Prime Rib is a treat most meat lovers think they can only enjoy at a steakhouse or meat carving station at a buffet. But if you have a smoker in your backyard, you too can create a juicy entree for your next special dinner. Smoking a Prime Rib gives it the best possible flavor and texture. You just need to take care to avoid drying out the meat so it doesn't become tough, which is easy enough with the right smoker. Find out how to perfect your smoked Prime Rib so you can become known as the master of meat among your friends and family members.
How to Select a Prime Rib
You can only cook an amazing Prime Rib that is juicy, tender, and flavorful if you start with the highest quality of beef. While the name has prime in it, that doesn't mean that all Prime Ribs are rated USDA Prime in quality. Instead, it's because this beef comes from a major primal cut of the cow. Looking for a truly USDA Prime rated Prime Rib will result in the best quality once it is cooked. Check for bright red meat and pure white fat with no yellowing or shrinking. Choose a bone-in cut for a classic look. Boneless Prime Rib is a little easier to slice, but it's also more prone to drying out when smoked, so most home cooks should start with the bones attached. If you're buying a halved Prime Rib because you don't need the full-sized 20 to 30-pound roast to serve your guests, choose the loin end rather than the chuck side.
How to Fire up the Smoker
Unlike thinner cuts of steak, the large Prime Rib can handle the heat fluctuations of almost any kind of smoker. You just need to be able to keep the temperature around 250 degrees F as closely as possible. Lower is better than higher so that the meat doesn't overcook or dry out. For a reverse sear inside the smoker, you'll need to bring the temperature up to 400 F or more. If that's tricky to do with your particular smoker at the end of the cooking process, you can use a large cast iron pan or a hot oven instead. Make sure you're using a water pan if your smoker accommodates one to add extra moisture to the cooking process. You don't want a very strong smoke flavor for Prime Rib, so consider milder flavored woods like:
Oak, specifically White Oak rather than Red
Fruit woods like Apple, Cherry, Peach, or Pear
Alder, a light wood with a sweet flavor
Maple, especially in chip form
Pecan, which is a little stronger than fruit woods but still mild.
Tools Needed to Make Smoked Prime Rib
For a juicy smoked Prime Rib, you'll want a water pan or other source of moisture designed to fit inside your smoker. Most smokers include their own water pans or other areas for adding water so some steam is generated. This is believed to create a smoother smoke flavor as well. You may find pellets or chips the easiest way to add a controlled amount of smoke to your Prime Rib without overwhelming it. When it's time for the carving, make sure you have a large no-slip carving board and a serrated carving knife that's at least 12 to 14 inches long. If you buy a roast with the bones removed but want to attach them for cooking, you'll want some durable butcher's twine that's all cotton and rated for use at 300 degrees F or higher.
Preparing the Prime Rib
Like all cuts of beef, Prime Rib benefits from being warmed up to room temperature before you move it to the smoker. This prevents uneven cooking and ensures moisture stays in the meat where you want it. But due to its size and thickness, the Prime Rib can take a long time to warm up. It's safe to leave it out on the counter for up to 4 hours before immediately cooking. Smaller half cuts may only take 1 to 2 hours to warm up to room temperature, so don't leave it out too long without checking its temperature.
Tips and Tricks
Seasoning the Prime Rib works best with dry brining rather than wet brining or marinating. Simply rubbing salt on the surface of the meat and fat for about 12 to 24 hours before smoking will keep the meat flavorful, tender, and juicy. If you brine the meat this way, don't add any more salt when seasoning it right before smoking it.
How Long to Smoke a Prime Rib?
The time a Prime Rib needs to reach medium or medium-rare doneness depends largely on the size of the roast. Full-sized 20-pound roasts can take upwards of three to four hours in a smoker, especially if it remains on the cool side at 225 degrees F. Smaller cuts of Prime Rib that weigh only 10 to 12 pounds may be done in two hours or less. Start checking the meat at 1.5 hours for smaller roasts and 2 hours for larger cuts to ensure you don't overcook it. When learning how to smoke prime rib at home, you want to err on the side of undercooking. You can finish individual pieces in a pan or in the oven if necessary, but there's no way to undo overcooking.
The Process for Smoked Prime Rib
1. Dry brine the meat if desired around 12 to 24 hours before cooking. Trim off any excess fat that's thicker than 1 inch and French the bones by cutting back the meat around them (optional).
2. On the day of cooking, bring the Prime Rib to room temperature and rub on seasonings.
3. Preheat the smoker to around 250 degrees F, and add water and wood chips.
4. Move the roast to the smoker. Check the temperature remains stable without opening the smoker.
5. Cook until it reaches 130 degrees F for medium or 135 degrees F for medium-well. The temperature will rise more during searing and resting.
6. Reverse sear by bringing the temperature up to 450 degrees F for around 10 minutes.
7. Take out of the smoker and rest under an aluminum foil tent for at least 20 minutes.
8. Carve into slabs based on the rib bones, then slice off smaller portions of meat.
Smoked Prime Rib Recipe
Ingredients
1 halved Prime Rib roast, around 10 to 12 pounds
3 tablespoons of Kosher salt (for dry brining) OR 1 tablespoon of Kosher salt (for seasoning rub)
2 teaspoons of cracked black pepper
1 teaspoon of dry mustard powder
1 tablespoon of smoked paprika
2 tablespoons of granulated garlic
1 tablespoon of dried rosemary, crushed
1 teaspoon of onion powder
Instructions
1. If dry brining the meat, apply up to 3 tablespoons of Kosher salt the night before you plan to cook it.
2. Bring your Prime Rib to room temperature, then preheat the smoker. Apply the seasoning mix without adding salt if you dry brine the meat, otherwise use 1 tablespoon of Kosher salt in it. Rub the seasoning into the meat, adding extra to the fat cap.
3. Place the Prime Rib in the smoker and watch the temperature to make sure it maintains at 225 to 250 degrees F for the entirety of the cooking time.
4. Begin checking the internal temperature of the meat at around 1.5 to 2 hours. When the internal temperature reaches 130 to 135 degrees F, switch the smoker to a high temperature for 10 minutes to sear the surface. You can also finish this step in your oven or on a large cast iron pan.
5. Let the Prime Rib rest for at least 20 to 30 minutes, covered by a tent of aluminum foil to keep moisture in. Then carve and serve immediately.
Notes
Aim for a medium to medium-well cooking level at the most to avoid dryness. Rare Prime Rib may be preferred by some, which requires you to switch to searing at just 120 degrees F.
Nutrition
Per 3-ounce serving
290 calories
23 grams of total fat
9.3 grams of saturated fat
71 mg of cholesterol
19 grams of protein
How Do You Carve a Smoked Prime Rib?
Smoked prime rib has a slightly rougher and drier surface than an oven-roasted version, so you'll need a sharp serrated knife and some patience. Hold the roast by the bones, and position them at the top so you can slice downward between them. Cut the roast into large slabs with one bone per portion, then hold the bone again as you slice off smaller pieces of meat for individual servings.
Conclusion
With all of its marbling and fat, the Prime Rib is a great choice for putting in the smoker for some low and slow cooking. Find all the finest cuts of beef you need for a special holiday meal here at Chicago Steak Company.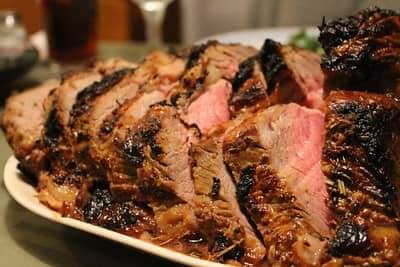 Smoked Prime Rib
Ingredients
1

10-12lbs

halved prime rib roast

3

tbsp

kosher salt (for dry brining) or 1 tbsp (for seasoning rub)

2

tsp

cracked black pepper

1

tsp

dry mustard powder

1

tbsp

smoked paprika

2

tbsp

granulated garlic

1

tbsp

dried rosemary, crushed

1

tsp

onion powder
Instructions
If dry brining the meat, apply up to 3 tablespoons of Kosher salt the night before you plan to cook it

Bring your Prime Rib to room temperature, then preheat the smoker. Apply the seasoning mix without adding salt if you dry brine the meat, otherwise use 1 tablespoon of Kosher salt in it. Rub the seasoning into the meat, adding extra to the fat cap

Place the Prime Rib in the smoker and watch the temperature to make sure it maintains at 225 to 250 degrees F for the entirety of the cooking time

Begin checking the internal temperature of the meat at around 1.5 to 2 hours. When the internal temperature reaches 130 to 135 degrees F, switch the smoker to a high temperature for 10 minutes to sear the surface. You can also finish this step in your oven or on a large cast iron pan

Let the Prime Rib rest for at least 20 to 30 minutes, covered by a tent of aluminum foil to keep moisture in. Then carve and serve immediately
Notes
Aim for a medium to medium-well cooking level at the most to avoid dryness. Rare Prime Rib may be preferred by some, which requires you to switch to searing at just 120 degrees F
*

Photo

by

RobMakes

licensed under

CC BY-SA 2.0