Photo by TheDeliciousLife licensed under CC BY 2.0
For a hearty, flavorful meal that kicks things up a notch for your palate, you won't want to skip this Cajun Spiced Roast! With its blackened crust on the outside and tender texture on the inside, this roast recipe is the answer to livening up your dinner repertoire. Serve it with roasted potatoes and vegetables for a healthy, filling meal.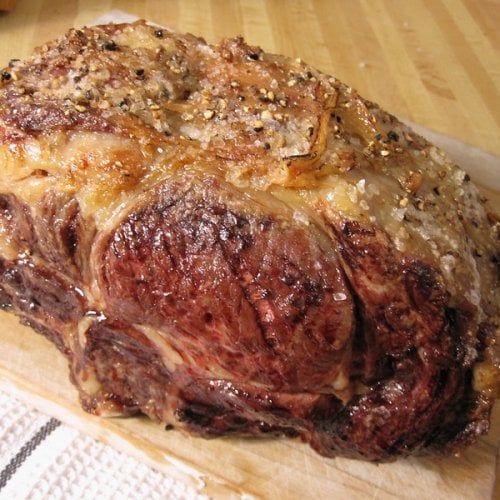 Cajun Spiced Roast Recipe
Ingredients  
4-6

lbs

Bone-in Rib Roast

1/2

cup

EVOO Extra Virgin Olive Oil

1

tbsp

Peppercorn Medley

cracked

1

tbsp

Salt

1

tbsp

Garlic Powder

1/2

tsp

Paprika

1

tsp

Cayenne Pepper

1

tbsp

Chili Powder

1

tsp

Onion Powder

1

tbsp

Minced Onion

1/2

tsp

Cumin

2

tsp

Thyme

2

tsp

Rosemary
Instructions 
Remove the roast from the refrigerator and place on a cutting board at room temperature for 30 minutes. Preheat the oven to 500 degrees. Meanwhile, mix peppercorns, salt, garlic powder, paprika, cayenne pepper, chili powder, onion powder, minced onion, cumin, thyme, and rosemary in a small bowl.

Place the roast in a roasting pan. Drizzle olive oil over the roast and use a brush to spread the oil over all sides of the roast.

Use your hands to press the spice mixture into the roast, spreading it evenly on all sides.

Place the roast in the oven for 15 minutes to sear the outside. The spices should become dark in color.

Turn the oven down to 300 degrees and cook for another 20 to 30 minutes, until the internal temperature of the roast reaches 125 degrees. If you're using a bone-in rib roast, you may need to add between 10 to 20 minutes of cooking time.

Remove the roast from the oven and let stand for about 10 minutes before slicing and enjoying.
Notes
You can also adapt this recipe to use with our Chateaubriand Tenderloin Roast, which is known for its incredibly tender texture (an excellent pairing with the crispy, seared Cajun crust!). This cut usually doesn't need quite as long to cook as the rib roast. You can sear it for 5 minutes on 500 degrees and then finish cooking on 300 for 20 to 30 minutes, or until the internal temperature reaches 125 degrees.
Don't forget to take advantage of our Steakalicious Rewards program when you order! Register before placing your order, and you'll be ready to start earning rewards.