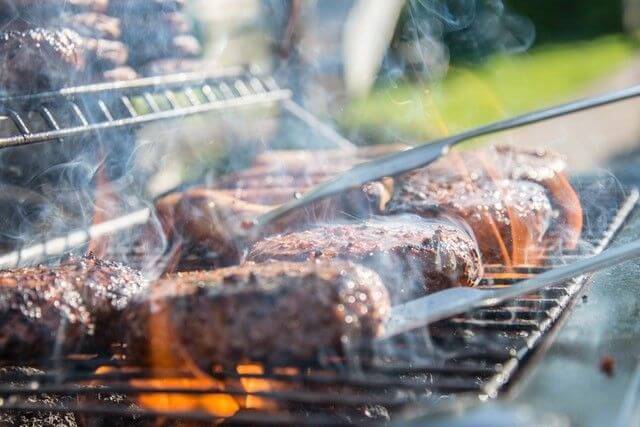 Photo by Skitterphoto licensed under CC0
The heart of summer is upon us, which means grilling season is in full force. Backyard barbecues are a staple for many families this time of year. As much as people love having them, though, the thought of hours of prep work to make them a success is enough to make them cringe.
Here are some tips to spend less time working on your next outdoor bash and more time enjoying it with your family and friends.
Buy a Quality Assortment of Grilling Meats
One of the biggest time-wasters in prepping for your barbecue is visiting the store to buy what you need! Cut that time in half (or even more) by shopping online instead. Chicago Steak Company's grilling assortments have everything you need for all your guests to enjoy, yet we do all the hard work of prepping the meat and sending it to your door.
No more waiting in lines or searching the meat department for the best-looking steaks, burgers, and more. We have it all in convenient bundles ready to go. Meats will arrive frozen to preserve flavor, texture, and freshness, so make sure you order in time to let them thaw for a few days before your outdoor bash.
Ask Guests to Bring a Dish
There's no harm in asking guests to contribute to the party. Inviting everyone who's able to bring a covered dish can decrease your costs dramatically and cut down all the running around you'd have to do to prepare side dishes, snacks, punch, and everything else you need for a successful barbecue.
You might also want to see if anyone's willing to come an hour or so early to help decorate by putting centerpieces together, getting tablecloths on seating areas, and setting up the kid's table.
Sign Up for a Music Service
It can be fun to put together a mixed CD of your favorite summery tunes to get into the backyard party spirit with friends and family, but they can take hours to find the right songs, download them, and get everything put together on a disc.
There are plenty of music services, like Amazon Music and Google Play Music, that cost less than $10 per month and offer a vast variety of songs to suit all tastes. You can even browse pre-made stations to find the perfect mix for your guests.
Consider Using Bottled or Canned Drinks for Guests
Everyone loves a fresh punch for a backyard party but even a large punch bowl may not make it for more than 30 minutes with very thirsty guests. Making punch can be time-consuming when you have to keep mixing up new batches because it's not something you can typically make ahead of time or it'll fall flat.
Instead, invite guests to BYOB, and purchase a few cases of water bottles, wine coolers, and pouch juices for little ones.
Conclusion: Save Time and Have a Successful Barbecue!
Getting your guests involved in your barbecue is an excellent way to lower prep times and the cash you have to pay to throw an awesome party for everyone. But you can also reduce your costs and save time by buying quality meats in bulk from a respected source like Chicago Steak Company. Our Ultimate Grilling Assortment is one of our most popular, featuring ribeye, top sirloin, chicken breasts, and Angus steak burgers in one convenient package, perfect for satisfying the taste buds of all your guests.