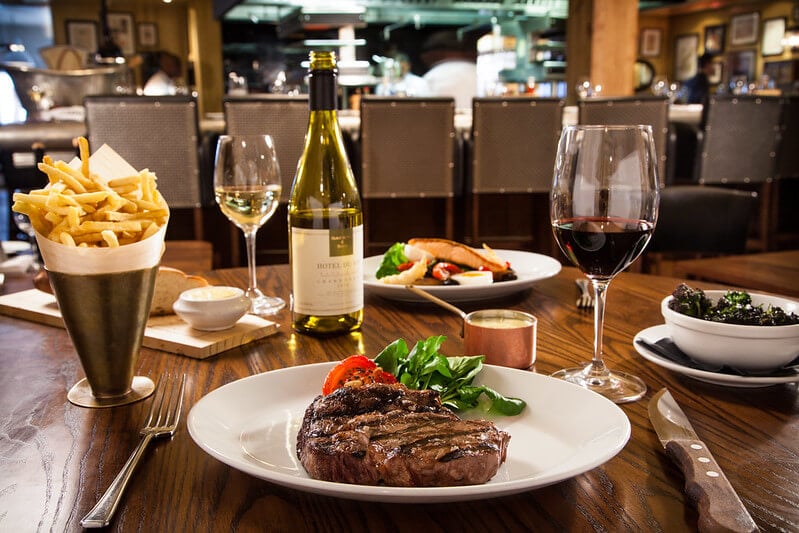 Photo by Hotel du Vin & Bistro licensed under CC BY-ND 2.0
When it comes to culinary pairings, few things hold a candle to the classic combination of a glass of good wine with steak.  Cook up some gourmet steaks from the Chicago Steak Company and you have a recipe for next-level greatness, but there may be just one thing that levels up your meal even more.  A fine red wine that pairs with steak compliments the palate and tickles the taste buds for savory, sweet and sour in a distinct combination that few other foods can accomplish.
But what exactly makes the magic happen with steak and wine pairings and which ones are best to drink with steak?  We've got everything you need to know to get you pairing wine with steak like a pro.
Wine with Steak Pairing: Why the Two go Hand-In-Hand
Peanut butter and jelly.  Yin and Yang.  Eggs and ketchup (hey, don't judge).  Some pairings just naturally seem like matches made in heaven.  This is especially true for food combinations where tastes, textures and even temperatures can interplay to form mouthwatering delights that leave diners in a state of food coma induced bliss.
There's a real reason that steak and wine work so well together though. Something very particular happens when you consume red wine with steak.  Molecules in red wine called tannins combine with and soften meat proteins, which sharpens your senses and helps you taste more of that beefy flavor you love.  The fat in turn softens the astringent qualities of the wine, helping to mellow the beverage and produce a juicier, more fruit forward flavor.  The result is a never-ending cycle of food and drink symbiosis, sure to melt even the dullest of pallets.
The Age-Old Debate: Red Versus White
The Cabernet Sauvignon is one of the most common wines you'll see at a dinner party. It's not only considered the best red wine to have with steak, but also one of the best wines, period. Cabernet Sauvignon tends to stand out with its fruity flavors that give contrast to the beefy flavors. Red wines pair well with fatty steaks because the fat will decrease how much you taste the bitterness, while the tannins enhance the steak flavor.
While red wine with steak may be the classic pairing, white wines shouldn't be exempt from the party.  The acid in a glass of dry white wine has a similar impact on beef as tannins.  Whites also tend to taste best when served chilled, which can create a lovely temperature contrast between a sizzling steak and cool sip of white or rose.  In short, if you're more of a chardonnay fan, you are still invited to the steak and wine pairing party.
Let's Have Some Fun: Wine Pairing with Steak!
When it comes to wine and steak, there's no one-size-fits-all approach. Most people will prefer different wines with their steak. But, there are some that tend to pair with your favorite cuts better than others by enhancing the flavor and dining experience.
If you ever wanted to know a good ribeye steak pairing or what wine goes with filet mignon, then bookmark this article and keep this handy section for future reference.
What Wine Goes with Ribeye, T-Bone, and Porterhouse?
The porterhouse, ribeye, and T-bone steaks are similar in that they all have high-fat content from excellent marbling. Taking into consideration that red wine is the perfect pairing for steaks with a lot of fat content, it's safe to say that your chardonnay may not be the best choice for your ribeye meal.
Both Cabernet Sauvignon and Zinfandel work perfectly with the ribeye, T-Bone, and Porterhouse. Your choice will depend on how robust you like your wine flavors. Both score right in the middle of the wine sweetness scale, but the Zinfandel has some spiciness weaved into its fruity flavor, lending a unique twist to your steak.
Filet Mignon Wine Pairing
Although the filet mignon is regarded as one of the best cuts of steak you can sink your teeth into, it actually has some of the subtlest flavors of any cut. That's why it's important to choose a wine that won't overpower the filet mignon.
The most ideal pairing for a filet mignon is an Old World aged wine, like Pinot Noir or Port, which tend to be higher in acidity but have less alcohol content than a New World one. The result is a lighter taste that lends to the flavor of filet mignon without being so loud that you can't taste the beefy flavors of your steak.
What Complements a New York Strip?
The New York Strip is full of flavor and marbling, making it one of the most popular cuts around. You'll need a full-flavored wine with high acidity to break down the fat from the steak to create a mesh of bold flavors in your mouth.
If you prefer white wine, then champagne is your best bet. Champagne has similar acidic and flavor characteristics of red wine, so it can stand up to the boldness of the New York Strip. If you'd rather have a red wine, then you can go a few different ways. Merlot is a popular choice but can have a more substantial taste than others and could overpower the steak. You can choose a lighter Rosé with spicy undertones to bring out the natural flavors of the Strip.
Using Wines when Cooking with Steak
Drinking wine with a steak dinner isn't the only way you can enjoy your brand-new bottle of Malbec. Wine is also an excellent ingredient to cook your steak with or marinate it in before you're ready to set it on the grill.
The key here is to marinate or cook your steak in the wine that you'd also want to drink with dinner. Pair your steak with the right wine for the job and you'll have a seamless steak and wine dinner from start to finish.
Conclusion: Best Wine to Pair with Steak
Wines paired with steak just make sense. With millions of wines to choose from, it can be an overwhelming task to find the perfect fit with your steak. Keep this helpful guide handy as a reference to refer to when you purchase your next steak dinner from the Chicago Steak Company.