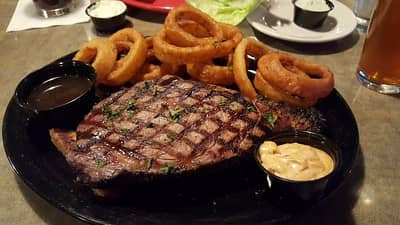 A perfectly cooked prime rib dinner is a party on its own, but the right side dishes will elevate the entire meal to a whole new level. When cooked, the prime rib has a distinct richness that makes it perfect for pairing with flavorful sides that are not too heavy, allowing you to enjoy the taste and texture of the meat without overwhelming your taste buds.
Whether you prefer classic side dishes for prime ribs or more unique options, we're here to make sure you get the best choices presented to you. Read on for more inspiration for your prime rib sides!
Salads:
Looking for a clean and refreshing salad to serve with your prime rib roast? Here are some of the best options you can serve to complement your prime rib meal perfectly:
Beet Salad with Pecans and Blue Cheese
This colorful and appetizing salad combines the earthy, sweet, and tangy flavors of beets, nutty pecans, and creamy blue cheese. The flavors are brought together by a tangy vinaigrette that melds all the deliciousness in a healthy side dish.
Classic Caesar Salad
A timeless favorite, the classic Caesar salad is easy to serve to anyone, regardless of age. The dressing-coated romaine lettuce, topped with crunchy croutons and grated Parmesan cheese, makes for a savory yet fresh taste that's easy to serve with prime rib.
Strawberry spinach salad
Aesthetically pleasing and delicious, this sweet and tangy salad is a healthy option for people trying to add more fruits and vegetables to their diets. The crunchy almonds and tangy feta cheese provide a flavor and texture contrast that's truly enjoyable. If you want to tantalize your taste buds, this is the way to go.
Wedge Salad with Creamy Herb Dressing
Another popular classic, this option combines crisp lettuce and creamy, herb-infused dressing. It's sprinkled with bacon bits to add a distinct crunch and just the right amount of saltiness.
Mediterranean Quinoa Salad
This mostly vegetable side dish features a wide range of Mediterranean flavors. Its trademark flavors come from the combination of feta cheese, olives,  and other fresh herbs. If you aim to eat prime rib without the guilt, this is how you do it.
Vegetables:
Here are five perfect side dishes options that will add depth and flavor to your next prime rib dinner:
Oven Roasted Asparagus
No one can resist biting into crispy oven-roasted asparagus coated with a tangy vinaigrette for just the right amount of acidity. This flavor contrast will have you and your guests coming back for more.
Glazed Carrots
Healthy and sweet, glazed carrots complement rich prime rib roast with its crunchy texture and nutty, buttery flavor. It's a guilt-free side dish that's luxuriously delicious.
Sauteed Mushrooms with Garlic Butter
The earthy flavors of mushrooms go so well with the rich saltiness of garlic butter. These mushrooms are perfectly sauteed, with the garlic adding the necessary punch to wake up anyone's taste buds.
Bacon Brussels Sprouts
Brussels sprouts are a classic vegetable that can be made even better (enough for kids to eat) with some nice, crunchy, and salty bacon. The savory flavor and mildly smoky flavor of bacon cancel out the light bitter taste of the vegetable.
Oven Roasted Vegetables Medley
If you want your taste buds to sing, nothing beats a medley of colorful roasted vegetables, from tomatoes to zucchini. The herbs and spices coat the vegetables to create a satisfying complementary side dish to your prime rib.
Pasta:
When it comes to pasta, there are endless possibilities, but here are two easy yet delicious options that will add variety to your prime rib dish:
Mac & Cheese
Whether it's the classic recipe you can make in 5 minutes or the gourmet version, mac & cheese never fails to please. It's creamy, tart, and flavorful – the perfect pair for hearty prime rib. The velvety cheese sauce levels up everything it touches.
Mushroom Stroganoff
This vegetarian option is a great choice for those watching their diets. The tender mushrooms sauteed to perfection with the creamy stroganoff sauce create a delectable dish that's so hearty and satisfying. It may be common, but no one turns away from a great stroganoff.
Bread:
No meal is complete without some delicious bread, so here are three amazing choices that will upgrade your prime rib feast:
Pull Apart Garlic Bread
This pull-apart bread is a fantastic crowd-pleaser since it is warm, soft, and loaded with the rich flavor of garlic. The crust of the bread is delectably crunchy and gives a pleasant crunch to every bite while being fluffy and soft inside.
Dinner Rolls
Dinner rolls are the definition of comfort food—easy but filling. These tender, fluffy rolls have an appealing flavor that is somewhat sweet and savory, making them ideal for soaking up the juices from your prime rib roast.
No Knead Bread
A substantial dish like prime rib roast goes perfectly with this rustic bread. While the interior is soft and chewy and has a flavor that is both acidic and subtly sweet, the crust is crisp and crunchy. This bread is surprisingly simple to make and, when prepared properly, can be a great showstopper despite its artisanal characteristics.
Potatoes:
Potatoes are the perfect side dish for a rich and flavorful prime rib roast. Here are five options you can choose from:
Mashed Potatoes
This traditional side dish embodies comfort food at its finest. A rich and decadent prime rib is the ideal partner for the creamy, buttery texture of mashed potatoes, making for a warm and welcoming combo.
Candied Sweet Potatoes
Inherently sweet, sweet potatoes are transformed into a genuine delight when they are made into the candied type. The syrupy glaze and the potatoes' natural sweetness combine to provide a side dish that is both opulent and filling.
Scalloped Potatoes
Rich, creamy, and absolutely wonderful, scalloped potatoes go well with cream and cheese spread over the thin slices, which are then roasted until soft and golden. This meal pairs beautifully with a delicious prime rib roast.
Homemade French Fries
When served alongside a tender prime rib roast, homemade french fries are even more popular. The fries are the ideal side dish for individuals who are in the mood for something more decadent because they are crispy and well-seasoned.
Rosemary Roasted Potatoes
When you want a tasty and fragrant side dish, rosemary roasted potatoes are ideal. The roasted potatoes are the perfect vehicle for the fresh herbs and garlic, which create a flavorful and filling side dish.
Conclusion
There is no shortage of delectable options when selecting the ideal side dishes for your prime rib roast. There are many different tastes and textures, such as rich mac and cheese, zesty roasted asparagus, and creamy mashed potatoes. The ideal side dish may improve your prime rib supper and take it to the next level, whether you favor traditional meals or more inventive ones. Take some ideas from these options, then prepare to wow your dinner guests with a beautifully balanced and mouth-watering presentation!