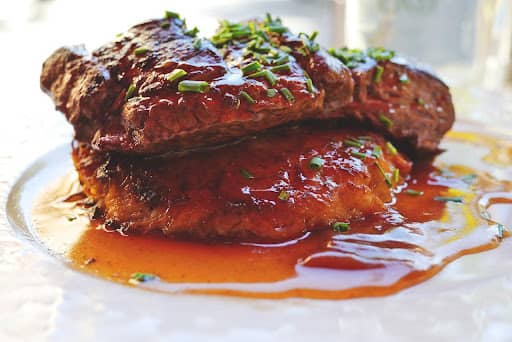 Ribeye steak holds incredible flavor and has one of the most coveted textures of all steak cuts. Still, there's nothing wrong with using a marinade to add a twist to its flavor or tenderize it even more. At Chicago Steak Company, we love a good marinade to build flavor in grilled steak, especially. Although you can find premade marinades at the supermarket, making your own is simple, affordable, and gives you room to experiment with taste.
What Do You Use to Marinate a Ribeye Steak?
There are three must-have components of a successful steak marinade, regardless of the cut of steak:
Acid: An acidic element is a necessary part of tenderizing steak. Ribeye steak is quite tender on its own, but the acidic ingredients can help break down tough fibers to allow the marinade flavor to absorb into the meat. Common acids to use for steak marinade include balsamic vinegar, wine, soy sauce, and Worcestershire sauce.
Fat: Fat plays two important roles in a marinade. First, it keeps the meat moist as the acidic parts travel through. Second, it helps carry the flavorful ingredients through the steak. In steak marinades, you'll typically see olive oil or vegetable oils as the fat component.
Flavoring: The flavoring agents of a marinade make up much of its taste. These include herbs, spices, sauces, and other ingredients used to boost the marinade's flavor. Garlic, chili powder, paprika, thyme, parsley, and mustard are common flavorful additions for a ribeye steak marinade.
As long as you have those components, you can experiment with the rest. And, because there are different ingredients you can use for each component, your ribeye steak marinade can taste completely different each time. For example, check out our Sweet Balsamic Steak Marinade and Teriyaki Pineapple Steak Marinade to see how these ingredients build a tasty marinade for ribeye and other steaks.
How Long Should You Marinate Ribeye For?
We recommend marinating ribeye overnight in the refrigerator, or for about 8-12 hours, for best results. However, you can also marinate your steak for 1-2 hours if you're pressed for time. To make the most of your marinade, be sure to make enough so that it completely covers the steak when it lies flat in the refrigerator. Add the steak to a bowl with a lid or a sealable bag and cover it with the liquid before storing it in your refrigerator.
It's important to note that marinating ribeye for too long is also possible. Avoid keeping your steak in the marinade for longer than 24 hours. After this time, your marinade may break down the steak's fibers too much, resulting in a somewhat mushy texture.
Tips and Tricks for Ribeye Steak Marinade
The following are a few must-know tips for marinating ribeye steak:
Avoid marinating the steak in a metal bowl. The acidic ingredients in your marinade react with the metal, which can interfere with flavor and, sometimes, produce toxins that make their way into your food. Your best bet is to use a food storage bag or glass container.
Pat steaks dry before cooking or grilling. Moisture on the outside of your steak can prevent ribeye from searing well.
Keep steaks at room temperature before cooking. Leave them out of the refrigerator for about 45 minutes to help them warm slightly, which allows them to cook evenly to your desired doneness level.
Grilled Ribeye Steak Marinade Recipe
After marinating ribeye, you can cook it using any steak-cooking method you choose. Try this simple grilled marinated steak recipe to start with. This recipe serves four people.
Ingredients
For the Marinade
3 tbsp balsamic vinegar
Juice of two limes
1 tbsp Worcestershire sauce
1 tbsp brown sugar
1 tbsp fresh parsley, chopped
2 garlic cloves, minced
1 tsp black pepper
¼ cup olive oil
For the Steak
2 lbs. ribeye steak
Salt
Black pepper
Instructions
Combine all marinade ingredients in a medium bowl. Whisk together until fully combined (oil and other ingredients will separate; this is normal).
Place steaks into a food storage bag. Pour marinade over them, ensuring that each steak is immersed in the liquid. Seal the bag and lay it flat in the refrigerator. Marinate for a minimum of one hour, up to 24 hours.
Remove steaks from the refrigerator. Drain the marinade from the bag. Rest steaks at room temperature for 45 minutes.
Preheat the grill to 450-500 degrees. Pat steaks completely dry. Add salt and pepper to both sides of each ribeye.
Grill the steaks for 3-5 minutes on each side until seared. Then, move them to a low-heat area of the grill to continue cooking for another 8-12 minutes for medium rare.
Transfer steaks from the heat to a plate tented with foil to rest for 5-10 minutes before serving.
Experiment with Your Own Ribeye Steak Marinade
Use our ribeye steak marinade recipe above or experiment with your own ingredients to create new flavors. Need some inspiration? Browse our steak marinade recipes at Steak University. When you're ready to serve up some ribeye, look no further than our USDA Prime ribeye selection, which you can order online for home delivery in a few days.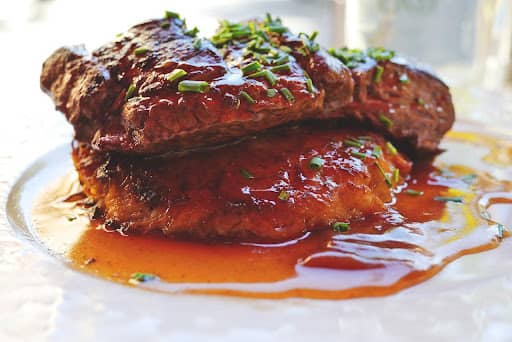 Grilled Ribeye Steak Marinade
Ingredients
For the Marinade
3

tbsp

balsamic vinegar

juice from two limes

1

tbsp

Worcestershire sauce

1

tbsp

brown sugar

1

tbsp

fresh parsley, chopped

2

cloves

garlic, minced

1

tsp

black pepper

1/4

cup

olive oil
For the Steak
2

lbs

ribeye steak

salt, to taste

black pepper, to taste
Instructions
Combine all marinade ingredients in a medium bowl. Whisk together until fully combined (oil and other ingredients will separate; this is normal)

Place steaks into a food storage bag. Pour marinade over them, ensuring that each steak is immersed in the liquid. Seal the bag and lay it flat in the refrigerator. Marinate for a minimum of one hour, up to 24 hours

Remove steaks from the refrigerator. Drain the marinade from the bag. Rest steaks at room temperature for 45 minutes

Preheat the grill to 450-500 degrees. Pat steaks completely dry. Add salt and pepper to both sides of each ribeye

Grill the steaks for 3-5 minutes on each side until seared. Then, move them to a low-heat area of the grill to continue cooking for another 8-12 minutes for medium rare

Transfer steaks from the heat to a plate tented with foil to rest for 5-10 minutes before serving
Notes
*Photo by LUM3N licensed under Pixabay License