No doubt, filet mignon is one of the most coveted cuts of steak. You have the choice to online or in the grocery store. Which one would you choose? Most people automatically think purchasing in-store would save them a lot of money over buying online, so that's their obvious choice. But, if you think like this, you could be missing out on some key factors that make buying filet mignon online one of the best choices you can make for this fabulous steak cut.
What is Filet Mignon?
Filet mignon is considered one of the best cuts of steak – and is also one of the most expensive. But, there's a reason for that. This cut of beef comes from the tenderloin portion of the animal that stretches from the ribs toward the rear. It also consists of the smallest and most tender portion of the tenderloin toward the rib area. The reason it's more expensive than other cuts is that the average animal has no more than 500 grams of filet mignon meat, so it's a much rarer cut than others.
Steak enthusiasts love this cut because of its tenderness that's unmatched by any other type of beef. Its melt-in-your-mouth texture is truly one of a kind. The only downside is it doesn't tend to have a robust steak flavor that some other cuts do. But, it has a unique beef flavor that pairs perfectly with au jus, gravy, or other juices. You'll often see filet mignon wrapped in bacon or cooked in bacon juices for some added flavor.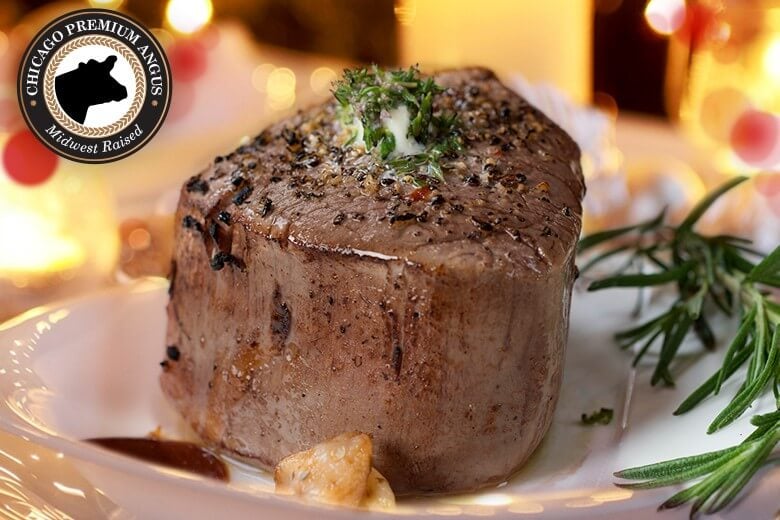 Why Buy Filet Mignon Online?
If you're nervous about buying steaks online, you should know that you're not alone. People are visual beings, so being able to see steaks in the store can help them decide which ones to purchase. Especially when it comes to a high-end steak, people may be hesitant to spend money on something that they can't see until it comes to their door.
But, ordering from Chicago Steak Company is different. Our products are of the utmost quality and packaged to perfection to ensure they arrive as fresh as when they were packaged. Here are a few more reasons why you should buy filet mignon online from Chicago Steak Company:
Convenience
Buying online gives you the ultimate convenient experience for ordering steaks. There are no long lines at the store and no guesswork for finding the best filets. Chicago Steak Company already has the best steaks your money can buy, so you're guaranteed to get USDA-certified steaks shipped right to your door. We vacuum wrap and fresh freeze our steaks in their own juices for exceptional flavor and send them off in insulated coolers with dry ice to ensure they stay as fresh as the day they were packaged. When you order with standard shipping, you can expect your steaks to arrive in 5 to 7 business days, conveniently to your doorstep. With 6 and 12 month delivery options, our steak of the month club is a great way to ensure you'll always have premium cuts of steak to enjoy.
Quality
When you buy filet mignon online from Chicago Steak Company, you'll know you're getting the best. All our beef cuts are USDA-certified and handpicked to meet our standards for marbling, texture, color, and size. We guarantee our promise of excellence, and we stand by our "Simply the Best" statement. There's no need for you to study up on how to buy the best cuts of beef because we've done the hard work for you.
Options
Not all filets are the same. But, supermarkets often treat it like it is. You'll likely find a few pre-packed filets labeled USDA-certified, but is there anything that makes them worth your money? When you buy online from Chicago Steak Company, you'll have options so you can find the perfect cut. Try our Premium Angus Beef Filet Mignon to get a top one-third USDA Choice or higher cut. Or, try our USDA Prime Wet Aged Filet Mignon to experience our unique wet aging process for ultimate flavor and tenderness. And, you can even try our dry aged Bone-In Filet Mignon, offering the largest portion of tender beef from our selection.
Conclusion: Buy Online with Chicago Steak Company
It's no secret that filet mignon is one of the most loved types of steak. But, why spend top dollar in a supermarket when you know you're not getting top dollar quality, convenience, or choices? Chicago Steak Company offers all the above. You order securely and conveniently online, and we do the rest. The next time you want to enjoy quality filet mignon at home, purchase it from Chicago Steak Company and we'll guarantee fresh steaks to your door in 7 days or less.